Travel Blog

Find your inspiration in our stories
11 of Ethiopia's Best Outdoor Experiences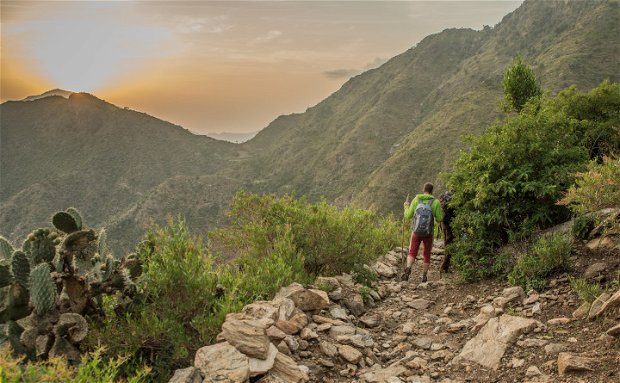 Ethiopia is widely known as 'the cradle of mankind' and home to ancient civilizations with an immense cultural heritage. But did you ever consider the country as an outdoor destination? You definitely should! In this article our Travel Expert Marco shares some of his favorite and Ethiopia's best outdoor experiences!
The country is one of the most diverse in Africa—from rugged landscapes with deep canyons and the highest mountain ranges of Africa to evergreen rain forests with amazing endemic wildlife and deserts where the African Rift Valley pulls apart the continent and active volcanoes arise.
Epic landscapes wherever you go make it an adventurous destination for almost any outdoor activity such as hiking, cycling or running. No matter which style and comfort you prefer, the country has it all. From amazing camping trips or interactive community stays to comfy lodge tours, your outdoor trip can be tailored to your taste.
With so many amazing places to visit and things to do, Marco put together this guide of all his favorite one-of-a-kind outdoor experiences that you don't want to miss on your trip to Ethiopia.
1. Discover the beauty of rural Ethiopia on a community trek
Whereas the urban cities are modernising, the remote mountain regions of Ethiopia offer a chance to experience pristine and active traditional culture. The best way to experience this beauty of rural Ethiopia is on one of our community treks.
While hiking some of the country's scenic trails, you will encounter the day to day lives of the locals. Overnight stays are organised in traditional cottages near villages that benefit from this model of community-based tourism.
These days, a wide range of trekking opportunities exist all over the country. Treks are well established in the Gheralta region up North, or in the mountains around the holy city of Lalibela. New treks have been established in the Simien Mountains National Park and the Ankober Highlands.
2. Cycle the epic Ethiopian Highlands
Ethiopia is not a well-known cycling destination – or not yet. But with its open roads, warm sunshine and spectacular mountain scenery, it certainly should be. It has everything a bike traveller could ask for. Cycling experiences in Ethiopia offer the perfect pace for watching monumental landscapes passing by. Spectacular climbs are followed by endless downhill rides.
Especially, the Northern parts of the country provide perfect conditions for road cycling on empty and safe roads. But it will also be useful to be prepared with some all-terrain gear as well, in order to enjoy more remote gravel roads with their rural and pristine touch. Ethiopia has it all and you can be among the first to discover such an adventure on your own.
On one of our SimienEcoTours bike trips we want you to feel completely free when you ride. We look after your luggage, your refreshments, and any other needs that arise as you ride. We also offer good-quality mountain bikes for hire to our clients.
3. Spot the elusive Ethiopian Wolves while hiking in the Bale Mountains National Park
A trip to the Bale Mountains National Park is perhaps the most beautiful way to experience the endemic flora and fauna of Ethiopia's high mountains. The park offers an amazing mix of habitats and supports a myriad of rare species, many endemic to Ethiopia and some only found here.
The national park with its countless hiking trails offers wonderful nature experiences and bird-watching opportunities. And with a now fairly stable wolf population, it offers the best chances to see the endangered Ethiopian wolf in its natural habitat. In a single park, so many different ecosystems can be discovered: from grasslands and juniper forests to the barren high-altitude moorlands and even evergreen rain forests.
The best pick is a 3-7 night hiking trip through the park but wide parts are also accessible by car on gravel roads and trails either from Dinsho, Goba, or Rira. The eco-friendly Bale Mountain Lodge is located in Rira, the only high range tourist accommodation in the area.
4. Desert trekking in the Danakil Depression
With a diverse desert landscape, adventure awaits you in Ethiopia's Danakil Depression. Long ago, an ocean shaped these lands and left behind fossils, corals, and salt flats. Nowadays active volcanoes shape these landscapes at the edge of the Great African Rift Valley. It's the perfect destination to discover some of the world's most fascinating volcanoes and active geological processes.
This hostile region is the home of the Afar people, who make a living harvesting and transporting precious salt to markets in the Ethiopian highlands. For centuries, camel caravans have plied their way across the deserts carrying salt.
Following their desert treks and encountering traders and villagers along the way is one of the outstanding experiences that can be combined with any visit to the interesting and bizarre Danakil depression.
5. Enjoy the endemic birds from the Great African Rift Valley to Ethiopia's highest mountain peaks
Spanning central Ethiopia, the Great African Rift Valley landscape is rife with deep canyons and chains of tropical lakes. In contrast, the nearby highlands are bare and open.
Ethiopia is the land of Africa's most incredible endemic birds. The 'Roof of Africa' is a rugged and ancient land that is home to no less than 50 endemic and near-endemic bird species. Ethiopia is one of the most fascinating African countries for birding, with new and exciting discoveries being made every year, and is surely also one of the most enjoyable. The wonderful light, diverse habitats, amazing scenery, and very rich and often colourful avifauna provide for the exhilarating birding experiences.
Accompanied by an experienced bird guide you will discover on our birding tours habitats from the low Rift Valley savannas to the high afro-alpine territories of the Bale Mountains National Park with its incredible variation and diversity of birdlife. Some of the rare species we will look for include the Prince Ruspoli's Turaco, Ankober Serin, Rouget's Rail, and the Spot-breasted Lapwing, which can only be found here.
6. Run the Ethiopian Highlands like the famous Ethiopian long distance runners
Ethiopia has produced some of the world's finest long-distance runners, including the pioneering Abebe Bikila, who earned the country its first Olympic gold in 1960 running the marathon barefoot, the double Olympic gold medallist Haile Gebrselassie, and the relative newcomer Tiki Gelana, who set the Olympic record for the woman's marathon in 2012.
The history of long distance running success is often attributed to the high altitudes at which Ethiopian athletes train, something that should be borne in mind by visitors planning on doing a few casual runs while they are on holiday here. Still, if the altitudes and slopes don't deter you, Ethiopia has a wonderful climate for running, and you'll find plenty of locals trotting along the roads of Addis Ababa in the early morning. The 10km Great Ethiopian Run, held in Addis Ababa every November, claims to be the biggest road race in Africa with more than 40,000 participants, and it is almost certainly the highest in terms of altitude.
Some running tours designed around this event give you a great opportunity to test your fitness!
7. Hike the scenic mountains near the holy city of Lalibela
Often related to the Jerusalem of Africa or as one of the wonders of the world, the holy city of Lalibela is a must-visit on most travellers' lists for Ethiopia. Surrounded by the majestic Lasta Mountains most visitors leave without discovering one of Ethiopia's highest mountain ranges where tourism has not really arrived yet.
Just outside town you can start treks ranging from 2 to 5 days through the basalt mountains around Lalibela where communities farm in the age-old way with ox-drawn ploughs and hand tools. Life for the farmers is hard, but they have a ready smile and love to receive guests. From the summit of Mt. Abuna Yoseph, one of Ethiopia's highest peaks, you can overlook the majestic scenery, one of the few places where Ethiopian wolves can be spotted.
Treks can be put together in combination with your stay in Lalibela in order to mix cultural visits to historic churches with your chosen rural hiking adventure. It is an option to stay in hotels or spend the nights in community guest houses.
8. Face to face encounter with the iconic red-breasted Gelada Baboons while trekking in Simien Mountains National Park
Marvel at Mother nature's craftsmanship trekking across the "Roof of Africa", as the Simien Mountains National Park is often called, with its average altitude above 3.500 meters. The steep rocky cliffs and grassy plateaus are inhabited by the endemic Gelada baboons.
Amazing nature experiences are guaranteed when Augur Buzzards and Rupell's Vultures are soaring over Jinbar Waterfall, or when you meet the rare Walia Ibex wild mountain goats while ascending Mt. Ras Dashen, the highest peak of Ethiopia at 4.543 meters.
Start your trekking adventure in the National Park from the historical town of Gondar. Trekkings vary in difficulty and duration. From day trips to 10-day full package trekking adventures, everything is possible. For the longer trips, we provide all equipment, food & cook, as well as pack animals, guides, scouts, and transportation. Trekking trips can easily be arranged in advance or even on the spot.
9. Meet the Hamer ethnic group while trekking in the Omo Valley
The southern region of Ethiopia is known worldwide for its cultural diversity. There, archaic ethnic groups live in the same manner as they did hundreds or even thousands of years ago. Lot's of this originality has disappeared in the Omo Valley with the arrival of new roads and modernisation. But recently, more responsible village tours and trekking trails are possible with the Hamer ethnic group, maybe the best and authentic way to experience the Southern Omo Valley and to help maintain an ancient lifestyle without contributing to the negative effects of mass tourism.
The Hamer Shooshi Trekking is the first-of-its-kind community trekking tour with the Hamar people, and offers a chance to get completely off the tourist trail in the Omo Valley, trek in a stunning remote area, and learn all about their ancient way of life.
Follow traditional Hamer paths through the bushland up to the ancient Buska forest where traditional beehives are still harvested in the ancient manner. Meet them in their ochre paints and with coloured beads on their way to the local market and join villagers for a refreshing 'bunno'. Whilst quenching your thirst, you will learn about the traditional coffee blessing ritual performed by the village elders.
10. Sleep in one of the country's top lodges while exploring the monumental Gheralta Region on foot
Climb the red sandstone mountains in the beautiful Gheralta region, or wander around small subsistence farms in narrow mountain valleys. Discover the first rock-hewn churches of Ethiopia, some of them hidden in barren rock faces, be astonished by their beautifully painted interiors.
Traveling in the Gheralta region combines epic landscapes and profound religious heritage sites with just enough adventure opportunities. It has not become as tourist-frequented as other places, and there are still plenty of undiscovered locations where only small trails lead.
And why not give your stay here a touch of luxury flair by staying in one of Gheralta's fine lodges that are beautifully integrated into this monumental scenery? Let us offer you the best in lodging options and combine it with some hiking for your perfect visit.
11. Slow travel in Choke Mountains in your traditional cottage at Mulu Eco Lodge
Imagine living for several days in a little Ethiopian cottage in the green highlands. Sip coffee made in a coffee ceremony by your new local friend, and take leisurely day trips to neighboring villages and nature highlights, like waterfalls or mountain views to spot wild animals.
If this sounds appealing, then we recommend the Mulu Eco Lodge, a magical place where the emphasis is less on manic sightseeing and more on taking in your surroundings and spending time with local communities.
Here in the Choke Mountains, you will feel like one of the first discoverers on unspoiled paths as this place is yet undiscovered by most tourist companies.
READY TO GET ACTIVE?
Ethiopia offers so many options for those who want to go outdoors to experience incredible landscapes and unique wildlife. Whether traveling by bike or on foot, there are many one-of-a-kind outdoor experiences waiting for you.