Bird Watching Ethiopia: Discover the Endemics in their Refuges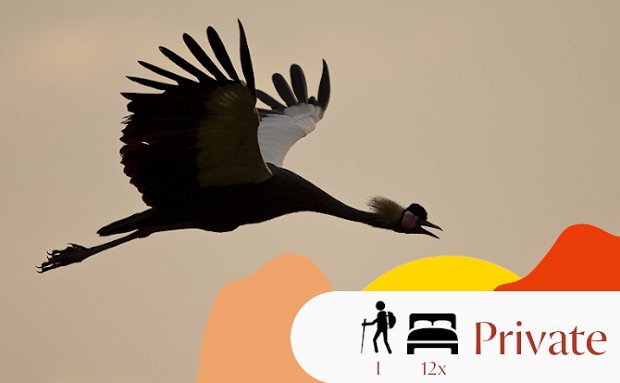 Ethiopia is one of the most fascinating African countries for bird watching, with new and exciting discoveries being made every year, and is surely also one of the most enjoyable, with its wonderful light, diverse habitats, amazing scenery, and very rich and often colorful avifauna. This special tour combines most of Ethiopia's endemics and near endemics with wonderful scenery, diversity of habitats, and some beautiful lodging.
Accompanied by one of our experienced SimienEcoTours Bird Watching Guides (English, Italian, French & German available) you will discover Ethiopia's habitats from the low Rift Valley savannas in Awash, Senkelle Wildlife Sanctuary, and Abijata-Shalla Nationalpark to the high afro-alpine territories of the Bale Mountains National Park and the Ankober Highlands. An incredible variation of the diversity of birds will come to your sights during this tour.
Our guide will not only make it an exclusive birding experience but also brings you to some of the places where Ethiopia's rarest species such as Prince Ruspoli's Turaco, Ankober Serin, Rouget's Rail, or Spot-breasted Lapwing can be found. Overnights are spent in wisely selected and mainly beautifully located lodges in nature settings where birding begins already on your doorstep.
Tour code: CU08
Operator: SimienEcoTours
Gallery
Itinerary & In/Exclusions
Day 1
Peacful nature arrival at the seven crater lakes of Debre Zeit
Travel: 1 h; 50 km
You will meet your guide at Addis Ababa airport and transfer immediately to the lake town of Debre Zeit just a short drive south of the capital. Not only located at the edge of the Great African Rift Valley but also at seven crater lakes, it is your perfect and scenic welcome to Ethiopia. Stop along the way at Chelekleka wetland with its populations of Marabou Storks, Cattle Egrets and Spur-winged lapwings. After some resting you will go on a kayak boat ride in the late afternoon on one of the crater lakes for some birding. Not only waterbirds are common here. The tree tops are often taken by Lapped-faced vultures and Yellow-billed Kites.
Selection of species: Marabou Stork, Cattle Egret, Spur-winged Lapwing, Hadada Ibis, Great Egret, Squacco Heron, Long-tailed Cormorant, Pied Kingfisher, Speckled Mounsebird, Hooded Vulture, Rüpell's Vulture, Tawny Eagle, Yellow-billed Kite
Meals: B/L/D
Accommodation: Kuriftu Resort & Spa (Check-in after 12pm) or similar, Debre Zeit
Day 2
Birding at Lake Ziway & Langano
Travel: 4-5 h; 220 km
Boat trip: 2 h
The Great African Rift Valley spreads all over the African continent and has a vast variety of birds and wildlife. Starting from Debre Zeit this morning your descent leads you to the Rift Valley lakes of Koka and Ziway. The Rift Valley with its more than 400 bird species will give you plenty of chances along your today's drive to make stops. Not only the lakes but also Awash River are good places to spot birds.
African Fish Eagles soar overhead or utter their distinctive yodelling calls from prominent perches. Pied Kingfishers hover over the water surface and tiny Malachite Kingfishers cling to the papyrus stems, while emergent vegetation provides suitable habitat for Black Crakes and handsome African Jacanas balance on the floating lily pads. Where the local fishermen bring their catch ashore we can watch remarkably tame Marabou Storks and Hamerkops. Flocks of Great White Pelicans are frequently present.
In the late afternoon you will arrive at your lodge in the riverside forest around the lake shore of Lake Langano. A motorboat will take you on a sunset cruise for your last birding experience of the day.
Selection of species: Knob-billed Duck, Red-billed and Hottentot Teals, Yellow-billed Stork, Squacco and Purple Herons, Great and Intermediate Egrets, Glossy Ibis, Pink-backed Pelican, Reed (or Long-tailed) Cormorant, African Darter, Western Marsh Harrier, the superb Black Crowned Crane, Black-winged Stilt, Black-tailed Godwit, Marsh and Wood Sandpipers, Little Stint, Ruff, Collared Pratincole, Grey-headed, Black-headed and Lesser Black-backed Gulls, Whiskered and White-winged Terns, and Sand Martin (or Bank Swallow), Black Heron, Lesser Jacana, Allen's Gallinule, Lesser Moorhen
Meals: B/L/D
Accommodation: Hara Langano Lodge or similar, Lake Langano
Day 3
Lesser Flamingoes in Abijata-Shalla National Park
Travel: 2-3 h; 80 km
Birding walk: 1.5 h
With the first sunlight you will go on a bird walk (1.5 hrs.) along the lake shore and into the forest where Silvery-checked Hornbills and Hadada Ibises and the endemic Yellow-fronted Parrots are found.
There is a rich suite of specialities in this area, including such endemics and near-endemics as the gorgeous White-cheeked Turaco, the pretty little Black-winged Lovebird and White-rumped Babbler. Other special birds include the restricted-range Clapperton's Francolin, the sought-after Red-throated Wryneck and the uncommon and localized White-winged Black Tit.
Return for breakfast in the lodge garden and set off for a half day excursion to the picturesque Abijata-Shalla national Park with its three lakes and a resident population of thousands of Lesser and Greater Flamingos. Amongst the shorebirds and other waterbirds present at the lake, we can expect to see Pied Avocet, Kittlitz's Plover and Gull-billed Tern.
Selection of species: Common Ostrich, Southern Pochard, Saddle-billed Stork, African Harrier-Hawk, Gabar Goshawk, Ring-necked, Tambourine and Lemon Doves, Blue-spotted Wood Dove, Speckled Mousebird, Narina Trogon, Black Scimitarbill, Abyssinian Ground Hornbill, Silvery-cheeked and Von der Decken's Hornbills, Red-fronted and Yellow-fronted Tinkerbirds, Bearded Woodpecker, Scaly-throated Honeyguide, Western Black-headed Batis, Slate-coloured Boubou, Grey-backed Fiscal, Red-shouldered Cuckooshrike, Black Saw-wing, Common House Martin, the smart Rüppell's Robin-Chat, Common (or Rufous-tailed) Rock Thrush, Northern Crombec, Willow Warbler, Rattling Cisticola, Tawny-flanked Prinia, Yellow-bellied Eremomela, Buff-bellied Warbler, Eurasian Blackcap, Northern Black Flycatcher, Red-billed Oxpecker, Marico and Beautiful Sunbirds, Baglafecht, Little and Lesser Masked Weavers, Black-cheeked Waxbill, Black-and-white Mannikin and African Citril, Yellow-fronted Parrot, Black-winged Lovebird, Bandet Barbet, Green-backed Honeybird, Red-capped Robin-Chat, Greyish Eagle-Owl, Scaly Francolin, Western Banded Snake Eagle and Green Twinspot
Meals: B/L/D
Accommodation: Hara Langano Lodge or similar, Lake Langano
Day 4
The dryland savanna of Swayne's Hartebeest Sanctuary
Travel: 4-5 h; 200 km
Today's journey lets you discover a rather more impressive savanna landscape in the Swayne's Hartebeest Sanctuary which lies along your way to the Sidama region. Famous for its endemic population of several hundred Swayne's hartebeest antelopes it is the only sanctuary in the country where this game still survives. Furthermore, the beautiful savannas are another opportunity to discover more Rift Valley birds. In the afternoon you continue your drive to the Sidama region at the eastern escarpment where the Rift Valley meets the highlands. Some forests grow around there and will be your birding destination for tomorrow. Overnight in the beautifully located Aregash Lodge with traditional coffee ceremony, campfire and hyena feeding in the evening.
Meals: B/L/D
Accommodation: Aregash Lodge or similar, Yirga Alem
Day 5
Forest birds of Sidama & village walk
Village & Birding walk: 2-3 h
Your day is all on foot today. The thickets of the Sidama forest will need slow movements and careful observation to spot the forest birds around here. In the early morning you set off for a first bird walk in the awakening forests. Hyenas might still cross your path and Colobus monkeys might do acrobatics above your heads before your return to the lodge for breakfast. Later during the day you will go on a village walk to visit Sidama families to learn more about their habits and culture and the Arabica coffee they are growing in traditional ways in these forests. Their will be plenty of opportunities to have your binoculars ready for more birding in the forests today. The endemic Abyssinian Catbird - one of the finest, if not the finest singer of all the birds of Africa - is frequent in these forests.
Selection of species: Abyssinian Catbird, Golden-backed woodpecker, Yellow-fronted Parrot, lack-winged Lovebird
Meals: B/L/D
Accommodation: Aregash Lodge or similar, Yirga Alem
Day 6
The Bale Mountains National Park - one park, many worlds
Travel: 7-8 h; 330 km
Birding walk: 2 h
You will enter the highland ecosystems today leaving the Great African Rift Valley behind for a couple of days. Bale Mountains National Park – one park, but many worlds – is awaiting you and one of the most diverse landscapes in the world! The park is also home to fourteen of Ethiopia's endemic birds and offers superb birding opportunities in the Afro-alpine moorlands and highland forests.
In the following days the awarded Bale Mountains Lodge which is famous for its splendid birding opportunities will be your get away for several excursions to the evergreen tropical forests and the highest plateau in Africa. On your today's long drive to the National Park, you will have the chance to make stops at its northern outposts in the Gaysay grasslands where we will stop to look for Red-chested and Grey-rumped Swallows. We will also stop at regular sites for African Black Duck and Red-knobbed Coot. We undertake a walk in the old juniper forests searching in particular for roosting nightbirds, such as the Cape Eagle-Owl, the poorly-known Abyssinian Owl and Montane Nightjar, and quite possibly also African Wood Owl and Verreaux's Eagle-Owl.
The area is rich in Bohor reedbucks and the endemic Mountain-Nyala-Antelopes as well as highland birds. The endemic Black-headed Siskin is common. Almost always in flocks, this little-known finch inhabits moorlands with giant lobelia, alchemilla, tussock grass and giant heath, highland grasslands and the open areas of montane forests. In the late afternoon you continue your journey to the Southern part of the park crossing the Sanetti plateau on 4,100 masl.
Meals: B/L/D
Accommodation: Bale Mountain Lodge or similar, Bale Mountain National Park
Day 7
Searching the Prince Ruspoli's Turaco - one of the rarest endemics
Travel: 5-6 h; 250 km
Most of Ethiopia's endemic bird species can be found in and around Bale Mountains National Park. Your excursion today will lead you for a full day to the lowlands to find one of the countries rarest and most beautiful endemics. The area around the lowland town of Dollo Mena and Negelle is the habitat of the Prince Ruspolli's Turaco. This turaco is considered to be an endangered species and is included in the "Red Book" of endangered animals of the world. However, recent sightings in juniper forests and especially in dry water courses which include figs, the rubiaceous tree, Adina, and undergrowth of acacia and Teclea shrubs, suggest that the species may be more common than thought.
Around the Genale River we enter prime habitat for the endangered endemic bird. By carefully checking the large fruiting figs we should come across this stunning and charismatic creature. The turaco has a fascinating history as its discoverer, the Italian Prince Eugenio Ruspoli, was killed in 1893 by an elephant that he had shot at and wounded. He died before he could describe the turaco's location (the type specimen was discovered in his baggage) and the species was not rediscovered until the 1940s.
An adventurous day on not easy roads and with some walks to find this species but with the chance to see a rarely seen species.
Meals: B/L/D
Accommodation: Bale Mountain Lodge or similar, Bale Mountain National Park
Day 8
Enjoy the ambience of one of the finest birding lodges
After yesterday's adventure today's schedule is rather easy. You have the opportunity to get a rest day at your forest cottage at Bale Mountains Lodge. Your veranda is a beautiful place to spot wildlife or you go on one of the guided walks around the forests along small rivers and through bamboo forests where the endemic Bale monkeys feed from fresh bamboo leaves. The so called Harenna forests are also one of the last refuges in Ethiopia for the Black-maned lions and your driver is ready to take you on a game drive in the early evening to find them.
Meals: B/L/D
Accommodation: Bale Mountain Lodge or similar, Bale Mountain National Park
Day 9
The afro-alpine Sanetti Plateau and the Ethiopian wolf
Travel: 3-4 h; 100 km
One habitat is still missing on your visit to Bale National Park. The Sanetti high plateau is the highest and biggest plateau landscape on the African continent and you will drive up to 4.100 masl to explore its nature today. Not only the habitat of the largest Ethiopian wolf population (aprox. 300 individuals) which got very rare and endangered almost all over Ethiopia but also for the endemic Rouget's Rail, Wattled Ibis, Blue-winged Goose and the Spot-breasted Plover as well as migratory populations of Wattled Cranes. Sanetti's bare landscapes will stand in contrast to its vast birdlife and open landscapes with wide views give you almost everywhere great opportunities to spot animals. Augur Buzzards are the common birds of prey but commonly seen are also Steppe Eagles and Cape Eagle Owls.
After one of your tours best highland birding opportunities you will get rest in the Wabe Shebelle Hotel before tomorrow's drive to Awash National Park.
Selection of species: Steppe Eagle, Rufous-breasted Sparrowhawk, Common Buzzard, African Snipe, African Olive Pigeon, Dark-capped Bulbul, African Stonechat, African Dusky Flycatcher, Cinnamon Bracken and Brown Woodland Warblers, African Hill Babbler, Montane White-eye, Slender-billed Starling, Sharpe's Starling, Tacazze Sunbird, Abyssinian Crimsonwing, Yellow-bellied Waxbill and Yellow-crowned Canary, Ruddy Shelduck, Red-billed Chough, African Crowned Eagle, Long-crested Eagle, Golden, Black (or Great) Sparrowhawk and Mountain Buzzard, Rouget's Rail, the attractive Spot-breasted Lapwing, Chestnut-naped Francolin, Abyssinian Woodpecker, Ethiopian (or Abyssinian) Oriole, Abyssinian Catbird, Abyssinian Slaty Flycatcher, White-backed Black Tit and Abyssinian Longclaw, Moorland Francolin, Abyssinian Ground Thrush
Meals: B/L/D
Accommodation: Wabe Shebelle Hotel or similar, Goba
Day 10
On the way to Awash National Park
Travel: 8-9 h; 450 km
After some days one of in Ethiopia's highest mountain ranges you will return back to the Great African Rift Valley. A long day's drive will bring you to Awash National Park which is considered one of the country's best sites for birding with approx. 460 species recorded so far. Today's drive will lead you from the Bale Mountains trough the Arsi Mountains slowly down to the Rift Valley again. Along the way there will be short opportunities for stops before you reach your safari lodge at the Awash waterfall right inside the Awash National Park.
Meals: B/L/D
Accomodation: Awash Falls Lodge or similar, Awash National Park
Day 11
The birding paradise of Awash National Park
Game drive: 2-3 h
Bush walk: 2 h
From your lodge you will have one game drive and one bush walk today to discover the nature and wildlife of Awash National Park. The morning game drive leads you through the Southern part of the park crossing grasslands with Oryx Antelopes and Soemmering Gazelles and to the Awash Canyon where your views will be overlooking the tiny Awash River that flows on its foot.
Birds of the park that we will be looking for this morning include the restricted-range Star-spotted Nightjar, the beautiful Rosy-patched Bushshrike, the restricted-range Red-winged Lark and the diminutive Mouse-coloured Penduline Tit. If we are in luck we will encounter the lovely Scissor-tailed (or African Swallow-tailed) Kite or a Grasshopper Buzzard.
Return back for breakfast to the lodge and have a relaxed morning on your own along the river and the waterfall where Nile crocodiles wait for their prey before you set off with your guide on a bush walk in the riverside forest to discover some more birds.
Selection of species: Helmeted Guineafowl, Crested Francolin, Harlequin Quail, Black-headed Heron, Secretarybird, Egyptian and Lappet-faced Vultures, Tawny Eagle, Pallid and Montagu's Harriers, African Fish Eagle, Pygmy and Lanner Falcons, Harlequin Quail, Buff-crested and White-bellied Bustards, Spotted Thick-knee, Black-headed Lapwing, Chestnut-bellied Sandgrouse, Mourning Collared Dove, Emerald-spotted Wood Dove, White-bellied Go-away-bird, Slender-tailed and possibly Plain Nightjars, Blue-naped Mousebird, Abyssinian Roller, Striped Kingfisher, Northern Carmine Bee-eater, Little Bee-eater, Eurasian Hoopoe, Abyssinian Scimitarbill, Northern Red-billed and Eastern Yellow-billed Hornbills, Black-throated Barbet, and Nubian and Cardinal Woodpeckers, Black-crowned Tchagra, Brubru, Northern White-crowned, Isabelline, Steppe Grey, Woodchat and Masked Shrikes, Fork-tailed (or Common) Drongo, Singing Bush Lark, Chestnut-backed Sparrow-Lark, Barn Swallow, Ashy and Desert Cisticolas, Common and Lesser Whitethroats, Rüppell's, Superb and Wattled Starlings, White-browed Scrub Robin, African Grey and Spotted Flycatchers, Common Nightingale, White-browed Sparrow-Weaver, Yellow-spotted Petronia, Red-billed and White-headed Buffalo Weavers, Red-billed Quelea, Green-winged Pytilia, African Silverbill, Long-tailed (or Eastern) Paradise and Straw-tailed Whydahs, and Tawny Pipit.
Meals: B/L/D
Accomodation: Awash Falls Lodge or similar, Awash National Park
Day 12
Excursion to Alledhegi National Park
Travel: 3-4 h; 120 km
Today is another chance to find more lowland bird species and also another chance to explore the highlands again. A contrasting day is awaiting you. You start in the dryland savannas in Awash National Park. The open grasslands and acacia bushlands here are home to the stately, but declining and now much-sought-after Arabian Bustard. The dry plains also hold some interesting mammals, including Hamadryas (or Sacred) and Olive Baboons, Grivet Monkey, Common Warthog, Salt's Dik-dik, Soemmering's Gazelle and Beisa Oryx. With a bit of luck we will also encounter Northern Gerenuk and Northern Lesser Kudu. Interestingly, the Golden Jackals of Africa have recently been split off as a distinct species, African Golden Wolf, on the basis that their genetics place them closer to the wolves and coyotes. There is a good chance of seeing this newly 'promoted' wolf in this area.
Some part of today's drive will lead you along the papyrus fields along the Awash river with its wetland birds before you actually start climbing up to the mountains of Ankober where the little Ankober Serin is resident. Around your lodge you will go for a walk along the escarpment. A reliable site for the endemic Yellow-throated Seedeater, as well as the endemic Banded Barbet, the restricted-range Yellow-breasted Barbet, Scarlet-chested Sunbird, Chestnut-crowned Sparrow-Weaver and Red-headed Weaver.
Selection of species: Somali Ostrich, Hartlaub's Bustard, African Collared Dove, Grey-headed Batis, the little-known Gillett's Lark, Chestnut-headed Sparrow-Lark, Somali Bulbul, Blackstart, Black Scrub Robin, Somali Fiscal, Nile Valley Sunbird
Meals: B/L/D
Accomodation: Ankober Palace Lodge or similar, Ankober
Day 13
Some bird stroll in the highlands and slow return back to Addis Ababa
Travel: 3-4 h; 160 km
You will return back to the capital. Along the way we should have a good chance to see such endemics as Wattled Ibis feeding in the moister pastures. Other species during the journey are likely to include Augur Buzzard, Speckled Pigeon and Cape Crow.
In the afternoon, check-in to your day use room before departure in the evening (in case of a next day departure overnight room can be requested), there might be a chance of doing some souvenir shopping before departure and you will be invited for a traditional farewell dinner with Ethiopian music and dancing. Transfer to the airport.
Meals: B/L/D
Accommodation: ---
Included
Our services include:
all accommodations in double rooms with private toilet/shower in hotels or lodges (6x high-range, 4x mid-range, 2x standard-range);
all transfers and travels in Ethiopia with private car (minivan & 4x4);
full board (1 drink per meal included, alcoholic drinks excluded);
all entrance fees and permissions at tourist attractions, churches, museums and all national parks;
all local guide & ranger fess;
all persons for safety and security (when prescribed);
all taxes and administrative fees;
all tips for meals;
all (mandatory) local guides in the single destinations;
24/7 emergency assistance;
experienced SimienEcoTours Bird Watching Guide (fluently English & Amharic speaking), other language guide on request with surcharge.
Excluded
Our services do not include:
international flights;
travel insurance;
visa for Ethiopia (currently US$ 82);
alcoholic drinks;
tipping;
photo and video fees (if any apply);
all extras and personal expenditures.