Our Story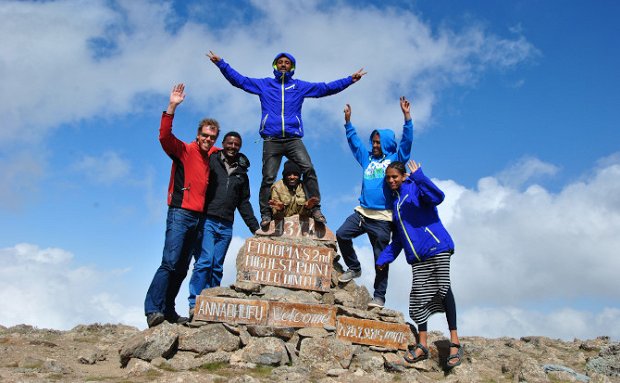 It was our social and ecological commitment in Ethiopia as well as our love for this country that brought us together. Find out more how our tour operator business was born some years back and learn about the highlights of our success story.
WHERE IT ALL BEGAN?
The SimienEcoTours story began in the Simien Mountains National Park in Ethiopia in 2010 when four young entrepreneurs and senior guides of the park, Solomon Girmay, Tadele Molla, Birhan Asmamaw and Yirga Mekuriaw, met each other and realised that it was the perfect time and place to start a travel agency.
At that time there was a steady increase in the number of tourists visiting the Simien Mountains, but there was a lack of professional and well organised trekking agencies. United in the idea to offer exciting trekking tours and to share some of the profits to benefit nature conservation and social projects in the area, SimienEcoTours started its first steps towards the future.
EXPANSION WITH A EUROPEAN TWIST
Successively their friends Franziska Gerling from Germany and Marco Degasper from Italy, who share the love for Ethiopia and responsible travelling as well, joined them and brought in their own international expertise and assistance to improve quality and services on the treks. After months of mutual exploring of several destinations in Ethiopia there was enough expertise to start the first trips with guest beyond the borders of the Simien Mountains. Continuing this momentum, SimienEcoTours reshaped its company design in 2014 and became a registered tour operator offering tours all over the country.
BECOMING A DEMANDED BRAND
As our reputation as a leading tour operator with alternative itineraries and reliable services grow, our responsible approach to tailor-made touring in Ethiopia attracted an increasingly large international client base. In 2015 already the first international-based tour operators started working with us. Becoming their DMC, we operated tours for them and their clients to their full satisfaction. It was a big step for us to widen our markets. Another milestone in 2016 was that one of our group tours got awarded with the GEO Saison Travel Award.
With our Gondar office as home base, SimienEcoTours grew its team of highly-experienced professionals to stay true to our goal always offer the best possible responsible services to our guests.
KEEPING PACE WITH GROWTH
With our company's growth there was also a growing concern among the management that with the growing amount of guests and partners, we might not be able to stick to our ethos to offer the best services and sustainable options anymore.
In 2016 SimienEcoTours launched the first training programs for our teams working for us to maintain services and quality standards upright and even improve them in the long-term. The feedbacks from our guests confirm to this day that these measures have paid off and our services are amongst the most reliable, responsible and committed all over the country.
LEADING THE WAY TO NEW OUTDOOR ADVENTURES
After this period of growth and fine-tuning, we were ready for the next step. Knowing that our founders' roots came from mountaineering, running and cycling we expanded our wide range of products by mountain biking adventures in 2018. At that time we were the only mountain biking operator in Ethiopia and tours skyrocketed to become some of our bestsellers due to the demand for such adventures in a country that is so suitable for mountain biking.
Importing high-quality mountain biking and maintenance equipment in combination with well trained bike guides and mechanics and well-rehearshed logistics bring our saddle adventures among the best in Ethiopia.
THE PANDEMIC AS A CHANCE FOR CHANGE
As a reflection of our ceaseless quest to redefine travel through innovation, 2020 was a year of great change despite the pandemic. After 10 years in operation and in the meanwhile 15 employees, our company ventured another step to professionalize more and step out of infancy. We opened a branch office in Addis Ababa, did a complete overhaul of our branding and internal management structures setting a solid ground for our post-COVID operations.
With the Ride the Rift initiative we launched a unique tourism network together with three other tour operators and Tourism Ethiopia to support tourism service providers in need, explore new destinations and activities at the same time. A new brand, with a charity component, for outdoor adventures in unknown parts of Ethiopia was born.
THE PATH TOWARDS SUSTAINABILITY
With our new face that we shaped in 2020, we also strengthened our sustainability commitment once more. We refreshed our portfolio and internal procedures and policies to make guest experiences more sustainable.
To be assisted on our sustainability track we engaged with Travelife. It is the travel industry's leading international sustainability certification. It covers all aspects of the tourism supply chain from environmental issues, biodiversity and human rights to labor relations. It's in full compliance with UN-supported Global Sustainable Tourism Council Criteria. Its certification process provides us with stringent guidelines to make us one of the first pioneers in true sustainability in Ethiopia.
Accreditation of the partner level will be the first step on an ongoing journey towards more sustainable journeys with SimienEcoTours in the future.
WHO IS SIMIENECOTOURS?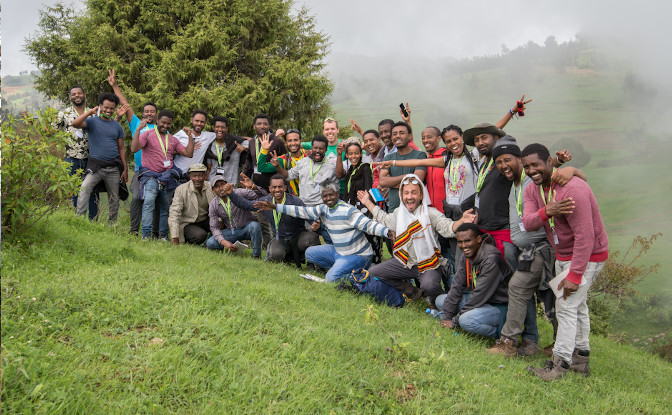 SimienEcoTours is still privately owned and operated by its six founders. Our offices in Addis Ababa and Gondar provide strategic management and operational direction along with a broad range of support functions.
SimienEcoTours is a fully licensed and registered tourism company owned and operated by its shareholders and Marco Degasper as General Manager. There are dedicated teams in place within each destination to support all our tours and specialised product teams.
Despite our size, we remain firmly committed to our roots, providing personalised services while utilising extensive local knowledge and maintaining exceptional attention to detail. We continue to see ourselves not only as travel pioneers, but as a nimble, innovative company that meets and exceeds the demands of clients by pushing the boundaries of what's possible in the region.
OUR VISION
Our vision is to become a driving force for a better and sustainable tourism in Ethiopia.
OUR MISSION
We as founders of SimienEcoTours are 4 Ethiopians and 2 Europeans, brought together by our social and ecological commitment in Ethiopia and our love for this country. With our background and experience in different fields and sectors we give to our clients from all over the world a deep insight into the rich Ethiopian culture and nature. Each of our destinations in Ethiopia consists of a firm idea, a pleasure to explore landscapes and cultures that we want to preserve and communities and economies that we want to support.
For some years now our network is extending in all directions of Ethiopia and beyond. People from various cultures and different social environments are involved, such as cooks, cleaners, porters, drivers, cultural guides, muleteers, coordinators, assistants, mountain guides, and each one of you who joins us on a tour.
For us it is an important concern to treat all persons, who are involved in this teamwork with their professional and hard endeavour, with respect and fair payment, because only then we all can be part and not just consumers of this network.
OUR CORE VALUES
Responsibility
Commitment
Respect
Trust
Transparency
Quality
Customer Satisfaction
Innovation
Teamwork