Hiking the Lasta Mountains in the surroundings of Lalibela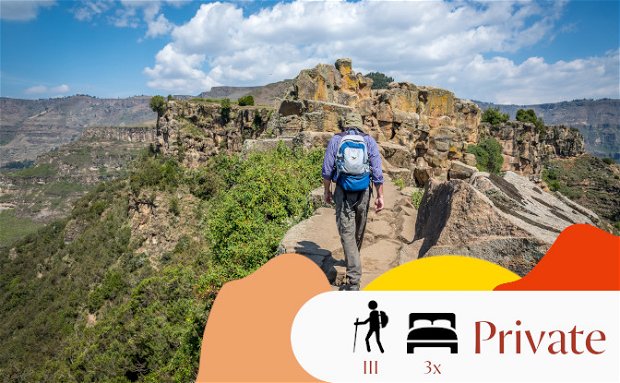 The world-famous rock churches of Lalibela are a must-see for almost every tourist visiting Ethiopia. But did you know that the surrounding mountains are one of Ethiopia's top hiking destinations? Therefore this trip offers you the option to combine your stay in Lalibela with some spectacular hiking through villages and rural parts of Ethiopia. At Mt. Abuna Yoseph Community Conservation Area at more than 4,000 meters you will get a glimpse of nature and might spot the iconic blood-breasted Gelada baboons as well as the Ethiopian Wolves.
Accompanied by one of our experienced SimienEcoTours mountain guides (English, Italian, French, Spanish & German available) a unique and yet unknown hiking trip awaits you. Lalibela is enclosed by the towering Lasta Mountain range. It is the third-highest range in Ethiopia. The trip takes you slowly to the highest summits of the Lasta chain with overnights in simple but beautifully located community lodges.
On the first two days, you hike through green farmlands and small farming villages before the last day brings you to the afro-alpine meadows surrounding the highest peaks. At more than 4,000 meters you have good chances to spot the endemic wildlife of Ethiopia such as the blood-breasted baboons, the Ethiopian wolves, and birds of prey.
Overnight stays are selected in community lodges where your contributions support the life of these rural communities. The trip can be booked individually or as an extension option for groups that spend already some time in Lalibela to see the historical churches.
Tour code: CU26
Gallery
Itinerary & In/Exclusions
Day 1
Arrival and first trek at Mt. Asheton
Travel: 2 h, 50 km
Hiking: 3-4 h, 9 km (difficulty: moderate, altitude difference: ↑400m, ↓100m)
Your journey to Lalibela can be made individually or as part of one of our round trips. On our round trips you usually experience and visit the sights of Lalibela. If not, we will be happy to include this in the itinerary for you this morning.
Your driver meets you either at your hotel in Lalibela or at the airport to transfer you to the trailhead of your trekking. From here mules will take your main luggage to bring it to your community lodge. And you have the opportunity to visit Asheton Monastery (optional: entrance fee US$ 20/person), one of the old religious refuges around Laibela before you start your ascent to Hudad. The trail leads you through green famlands and a small forest with some first splendid lowland views.
Upon arrival at Hudad you will be welcomed with a fresh cup of tea or coffee. Hudad nestles on a table mountain and there will be still time in the afternoon to explore the plateau for some wildlife. Plenty of birds use the shade of the bushes and rock hyraxes can be seen in the steep walls.
Meals: -/L/D
Accommodation: Lalibela Hudad Eco-Lodge, Lasta Mountains
Day 2
A lofty hike crossing the plateau and villages
Hiking: 4-5 h, 10 km (difficulty: moderate, altitude difference: ↑500m, ↓100m)
Hudad already seems like the end of the world in its remote location on the table mountain. However, today's trek will bring you on a short ascent up on the high plateau at 3,600 meters where flourishing farmlands and green fields are surrounded by tiny farmers villages. Crossing the plateau you will be surprised about the rural life up here before finally reaching Degosach mountain with its small community lodge on the top.
Meals: B/L/D
Accommodation: Degosach Eco-Lodge, Lasta Mountains
Day 3
Hike the nature of Mt. Abuna Yoseph Conservation Area
Travel: 2 h, 42 km
Hiking: 4-5 h, 14 km (difficulty: medium, altitude difference: ↑800m, ↓200m)
From Degosach you continue towards the peak of Zigit Mountain which peak is already clearly visible in the distance. The first kilometres are flat along the escarpment with gorgeous views and good chances to spot birds and other wildlife.
A small village marks the border to the conservation area. You can get a rest here and a fresh cup of coffee before you finally start your ascent to Zigit peak. Approaching it from the the North-western face it is a spectacular rocky scenery and you reach its foot over a narrow and scenic path. The last 200 meters in altitude the ascent becomes steeper and to reach its higest point at 4,011 meters a short but safe climb becomes necessary. Enjoy your lunchbox from here before you meet your pick-up vehicle that brings you back to Lalibela for an overnight in a hotel.
Meals: B/L/D
Accommodation: Cliff Edge Hotel or similar, Lalibela
Day 4
Meet an Ethiopian family for lunch
Travel: 0.5 h; 20 km
There is no hassle on your departure day. You will visit an Ethiopian family for lunch and finally move on to the airport for your departure flight.
Flights back to Addis Ababa need to be arranged individually, but we are happy to assist you with your bookings.

Meals: B/L/-
Accommodation: ---
Add extension days
You want to spend more days?
If you decide to get a chance to do some more sightseeing in Lalibela before or after your trekking, you are free to do so. All further activities or excursions can be organized on your own or SimienEcoTours can give you a hand with that.
Included
Our services include:
all accommodations in twin/double rooms (upon request); 1x with private toilet/shower in a hotel in Lalibela and 2x with common toilets/bucket shower in community lodges in the Lasta Mountains (1x mid-range, 2x low-range);
all transfers and travels from/to Lalibela airport with private car (minivan & 4x4);
full board as per itinerary (1 drink per meal included, alcoholic drinks excluded);
all persons for safety and security (when mandatory);
all tips for meals;
all taxes and administrative fees;
experienced SimienEcoTours mountain guide (fluently English & Amharic speaking), other languages upon request.
Optional
Our optional services:
Domestic flights from/to Addis Ababa: extra charge on request;
Entrance to Asheton Mariam Monastery: $20/person
Lodge upgrades: extra charge upon request
Entrance to the main churches: $50/person
Excluded
Our services do not include:
domestic & international flights;
sleeping bag (it is recommended to bring your own);
travel insurance;
visa for Ethiopia (currently US$ 82);
alcoholic drinks;
other tipping (guides, porters, etc.);
photo and video fees (if any apply);
all extras and personal expenditures.