Travel Blog

Find your inspiration in our stories
SimienEcoTours got awarded for Sustainability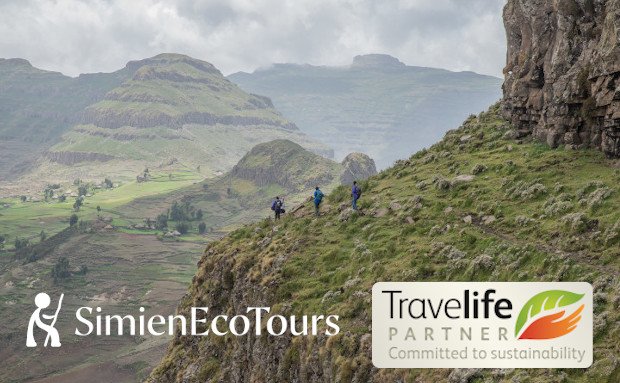 Looking for a true sustainable travel experience to Ethiopia? SimienEcoTours is striving towards a responsible and more sustainable travel approach ever since our foundation in 2014 and recently got awarded with the Travelife Partner level standard. With small steps we walked on this new path for Ethiopian tourism. There has been not so much understanding about Corporate Social Responsibility in tourism including environment, biodiversity, human rights and labour relation when we started, but nowadays SimienEcoTours is on a good way to offer truly better travel adventures. Learn more about our way and read on.
The SimienEcoTours story began in the Simien Mountains National Park in Ethiopia in 2010 when four young entrepreneurs and senior guides of the park, Solomon Girmay, Tadele Molla, Birhan Asmamaw and Yirga Mekuriaw, met each other and realised that it was the perfect time and place to start a travel agency. United in the idea to offer exciting trekking tours and to share some of the profits to benefit nature conservation and social projects in the area, SimienEcoTours started its first steps towards its sustainable future.
As our reputation as a leading tour operator with alternative itineraries and reliable services grow, our responsible approach to tailor-made touring in Ethiopia attracted an increasingly large international client base. Another milestone in 2016 was that one of our group tours for the German market got awarded with the GEO Magazine Travel Award. They recognized and appreciated our approach to actively include new destinations into our itineraries, donate a share of the profits to social projects and visiting local communities to give them an income from tourism.
But with our company's growth there was also a growing concern among the management that with the growing amount of guests and partners, we might not be able to stick to our ethos to offer the best services and sustainable options anymore.
In 2016 SimienEcoTours launched the first training programs for our teams working for us to maintain services and quality standards upright and even improve them in the long-term. The feedbacks from our guests confirm to this day that these measures have paid off and our services are amongst the most reliable, responsible and committed all over the country.
One of our trainings in the Simien Mountains in 2018
Not only our training programs shape our guides and drivers to work more sustainable while on tour, but in 2018 our move to become one of the first mountain biking tour operators in Ethiopia gave us the opportunity to run tours more eco-friendly by changing means of transport.
Since the pandemic working in tourism is not easy, but it was also the chance to strengthen our sustainability commitment once more. We refreshed our portfolio and internal procedures and policies to make guest experiences and internal procedures more sustainable. Among a whole list of measures that we implemented a plastic bottle ban on tours and in our offices are the most obvious achievements that we not only want to want to work more sustainable, but also live it!
That we are doing the right thing also got rewarded now by Travelife. It is the travel industry's leading international sustainability certification. More than 35 national travel associations are promoting the scheme to their members including, KATO, the Kenyan Association of Tour operators, TATO, the Tanzanian Association of Tour Operators, ABTA, The British Travel Association, PATA, the Pacific Asian Travel Association and FTT in South Africa. It covers all aspects of the tourism supply chain from environmental issues, biodiversity and human rights to labor relations. It's in full compliance with UN-supported Global Sustainable Tourism Council Criteria.
On a mountain bike tour with SimienEcoTours
On 13th July 2021 we received the Travelife Partner level award. We are proud that our efforts towards a better tourism for Ethiopia have been seen and recognized. We are among the first batch of tour operators who got awarded and comply with more than 100 criteria, related to an operator's office management, product range, international business partners and customer information. The Travelife Partner level standard is covering the ISO 26000 Corporate Social Responsibility themes, including environment, biodiversity, human rights and labour relation. 
Mr. Naut Kusters, manager of Travelife for Tour Operators, "I am delighted to see that sustainability in the tour operator sector is obtaining momentum. The Partner award of SimienEcoTours will inspire other companies in Ethiopia to follow the same path'.
We hope so too and are committed to stay on this track and reach the next level by involving more of our service providers to follow us on our sustainable track as well by giving them trainings and hopefully soon them and us will strive to eventually reach the Travelife Certified stage.