Travel Blog

Find your inspiration in our stories
SimienEcoTours gets Sustainability Certified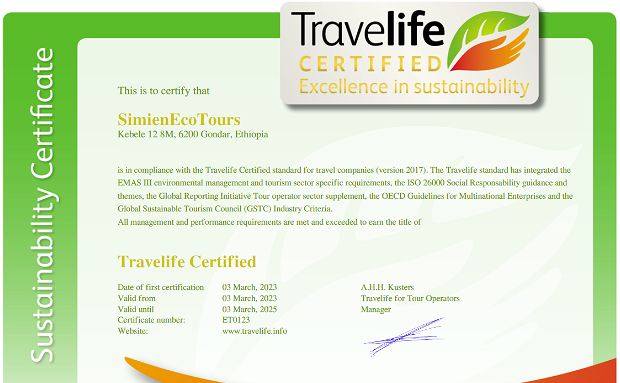 We're happy to announce that after being pioneers among the Ethiopian tour operators for the partner level award we're also among the very first companies in Ethiopia certified by Travelife, confirming our excellence in sustainability and that we're officially recognized and in line with the criteria of the Global Sustainable Tourism Council (GSTC).
Our road towards sustainability started some years ago, but things got serious when we used our free time during the pandemic when we got engaged with Travelife and reached partner level about 1 and a half years ago, fulfilling more than 100 sustainability criteria.
We continued to lead the way when it comes to sustainability in Ethiopia, and in this month of February 2023, after several months of hard work on different policies and codes of conducts, document reviews and audits, we finally got the highest sustainability award from Travelife: the certification, attesting our excellence in sustainability and confirming that we're in line with more than 270 sustainability criteria. We're also delighted that we are one of only two Ethiopian tour operators which got this important achievement, feel free to check the partnered and certified Ethiopian tour operators on the Travelife website here.
On this important occasion we remember our vision as stated on our website: "Our vision is to become a driving force for a better and sustainable tourism in Ethiopia". This achievement motivates us to continue with our efforts. But before, just next week, we're very happy to participate in the official award ceremony taking place at the ITB in Berlin on Tuesday, 7th March at 16:30-17:30h in hall 4.1b. Marco Degasper and Lorenzo Mazzoni, present at this travel exhibition anyway, will accept this award with pleasure.
We would like to thank all other stakeholders who have been engaged with us here in Ethiopia, Christian Sefrin who did a very precious work especially at the beginning of this process, and the staff of CBI (Centre for the Promotion of Imports, Netherlands) for supporting and constantly pushing us in the right direction.