Travel Blog

Find your inspiration in our stories
SimienEcoTours conducts COVID-19 Safety Training for staffs
Posted by Christian on Mon October 19, 2020 in
Covid-19
.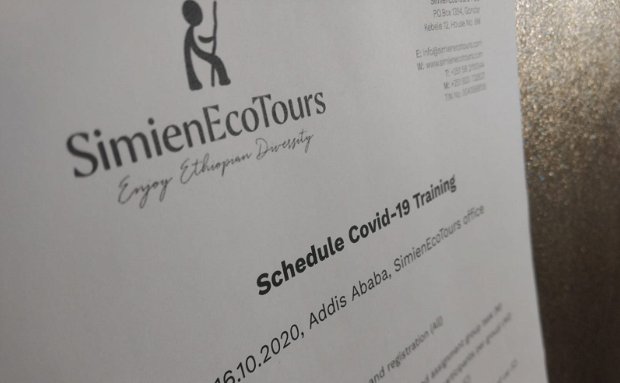 After more than half a year since the outbreak of the pandemic, Ethiopia re-opened for tourism again and we do know that safety will be one of the major concerns of travelers but also for our employees. To support the country's safe travel efforts at attraction sites, in hotels and restaurants tour operators are at the forefront to promote safe travel and train employees accordingly. A first COVID-19 Safe Travel Training has been conducted in our Addis Ababa office on October 16, 2020.
In a first stage we used the last couple of weeks to develop our own Safety Guidelines for our company and travelers (see them HERE). It was quite a process getting there as we had to figure out what is actually possible and needed. Several staff trips over the last months helped us to understand in how far our partners and attraction sites all over the country are ready to guarantee safer travels in the future.
Now we can say that Ethiopia is on a good way and the first traveler reports after the tourism re-opening are very positive and most are surprised about the good hygene standards that are provided.
However, not every single moment of your journeys hygienic toilets or hand wash opportunities will be available that is for fact. Therefore, we decided to do more trainings on Safe Travels with our guides, drivers and employees. Already now, all our tours and guides are equipped with our SimienEcoTours COVID Safety Kits that include reusable and washable cotton masks, sanitizers and regular temperature checks for employees and travelers.
On October 16, 2020 we conducted our first Safe Travel Guidelines Training in our Addis Ababa office that was attended by 13 of our head guides. After more than half a year of practice with the common measures of the pandemic such as personal hygiene and social distancing, we focused more on how to face the actual challenges during tours in these days.
Some of the questions we discussed for example where how to guarantee personal hygiene of guests in remote sites where hand washing facilities are not available or how to prevent spread of the disease among local communities and local staffs.
As a result of these discussions SimienEcoTours will now prepare information flyers for local communities and service providers to create awareness for COVID-19 and give instructions on how to prepare themselves for the first tourist arrivals.
For us as a responsible acting tour operator it is clear that we won't interact with any community or local staff that doesn't want us to visit due to the current pandemic and when visiting local communities social distancing and wearing face masks should be practiced.
Furthermore, sustainability remains one of our utmost concerns in times where masks and empty plastic bottles of sanitizers put additional pressure on waste disposal. SimienEcoTours tries to minimize waste by using reusable and washable masks for travelers and employees, buying sanitizer in bigger bottles instead of small ones. Car cleaning will be done with disinfected washable and reusable towels.
All in all, last Friday's training session produced a wonderful output and everyone is motivated to work accordingly. More training session for our employees in Gondar and Debark will be conducted soon.