Hiking adventure to the impressive Zala Waterfall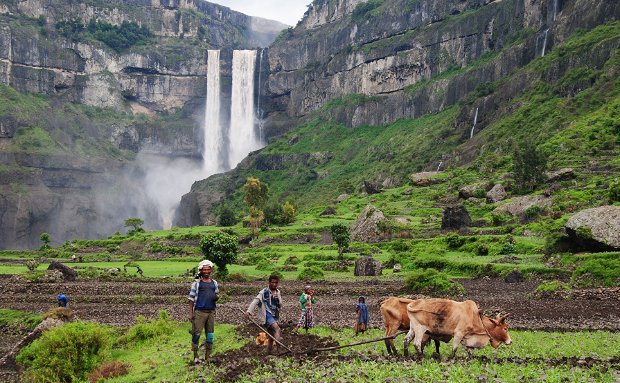 The area around Debre Libanos in North Shoa is full of deep spectacular canyons and deep valleys. Especially in and after the rain season there are lots of impressive waterfalls dropping down from the fertile flat plateaus.
On this hiking trip we will get very close to the many waterfalls of this area, which are hidden in a labyrinth of canyons and gorges. Compared to the well-known waterfalls in Debre Libanos or Derba these waterfalls are more impressive, and the places are being visited very rarely if at all. The camping experience in the farmers village completes a unique adventure completely off the beaten track but still close to Addis Ababa.
Note: Please consider that it's a serious hike of 5-6h on each of the 2 days with 1 night camping. Also the path is not easy: it's very often up and down, and the path is full of stones. So you need to walk concentrated the whole time and be in good physical condition. It's a route for experienced hikers only.
After the first trip run in September 2022 we wrote a blog article about it.
Dates:
GR20-01: September 17 to 18, 2022
GR20-02: October 8 to 9, 2022
GR20-03: October 29 to 30, 2022
GR20-04: November 19 to 20, 2022
GR20-05: January 14 to 15, 2023
Tour code: GR20
Operator: SimienEcoTours
Gallery
ITINERARY & IN/EXCLUSIONS
Day 1
Start the hike in Debre Libanos to reach the farmers village
Travel: 2.5 h; 120 km
Hiking: 5-6 h, 11 km (difficulty: medium-difficult, altitude difference: ↑500m, ↓500m)
We leave in the early morning from Addis Ababa to reach by private car or bus Debre Libanos (no visit), with a short stop for breakfast in Debre Tsige. Close to the monastery we park the car and start our hike through small villages and its green fields. We have to cross two small canyons and rivers and will hike on terraces where farmers live and work, but with some ups and downs. Guided by our SimienEcoTours guide and one from the local community, in the afternoon we reach our campsite in a local farmers village where our cooks awaits us with a snack and will be preparing a delicious dinner.
Meals: -/L/D
Accommodation: Camping
Day 2
Get close to admire the waterfall before climbing up to the highlands
Travel: 2.5 h; 120 km
Hiking: 5-6 h, 11 km (difficulty: difficult, altitude difference: ↑1000m, ↓400m)
After the breakfast we start approaching the main Zala Waterfall. There are different viewpoints from where we can see and admire the water dropping down over the steep cliffs. After several photo stops and a lunch break we make our way back to the main plateau, by climbing up a steep slope and reaching the spot where our car will pick us up and bring us back to Addis Ababa.
Meals: B/L/-
Accommodation: -
Included
Our services include:
1 night accommodations in tents for 2 persons; supplement for single tent $10
all transfers with private car
full board (1 drink per meal included, alcoholic drinks excluded)
all fees and permissions
for the trekking: camping fees, guide, scouts/rangers, mules/donkeys and mulemen, cook, cooking and camping equipment (it's required to bring your own sleeping bag)
all persons for safety and security (when prescribed)
experienced SimienEcoTours tour guide (fluently English & Amharic speaking)
Excluded
Our services do not include:
travel insurance
visa for Ethiopia (currently US$ 82);
sleeping bag
alcoholic drinks
tipping
all extras and personal expenditures