Travel Blog

Find your inspiration in our stories
Ethiopia - A Whole Country to Discover!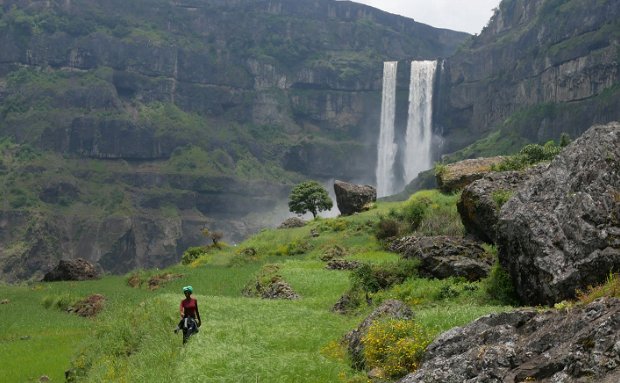 I planned to write a classical report about the hiking trip of last weekend, but when I thought about the title of this blog article, I changed plans and decided to put the focus on the endless possibilities to discover new places in Ethiopia.
Added a new destination to the Ethiopian tourism landscape
It was about 1 month ago when I found an interesting spot on Google Earth and decided to see this place in North Shoa in person. With our guide Elyas I spent 2 days exploring the area - and what we found was absolutely stunning! Spectacular canyons and deep gorges, green fields between isolated villages, friendly farmers living peacefully on the border between Amhara and Oromia Region, plenty of full rivers and high waterfalls dropping down the steep cliffs. As far as those farmers remember, there has not been any visitor in the area, neither foreign tourists nor Ethiopians from anywhere other than the neighbouring villages. The fact that I don't know any other tour operator or hiking group offering tours to this place and that I have never spotted any photo of the area on the web, just confirmed me the farmers' statements, so that I can confidently affirm to have discovered a new place worth visiting.
In short something about the hike itself
After completing some necessary paperwork to get all permissions - usually needed in places off the eaten path - last weekend we brought there our very first small group of adventurous hikers. After a 5 hours walk with a jump over a river we reached our campsite right in front of a huge waterfall which the locals call Zala. A short but heavy rainfall surprised us at arrival, but on the other side this showed us how much water can drop down from the plateaus and create many more additional big and small waterfalls, hundreds of them!
Our cook Fantahun prepared a delicious dinner and accompanied by a bottle of wine we enjoyed the evening before falling asleep with the distant calming sound of the waterfall.
On the second day we approached the main Zala Waterfall and the most keen hikers climbed through quite difficult terrain until the base of it. We were lucky with the weather and enjoyed our way back to the farmers' village through fields of freshly grown green crops. After a lunch break we climbed the slope to reach the plateau where our cars were waiting for us to bring us back to Addis Ababa - via a well deserved beer in a local bar in Muke Turi.
Let me finally also remind that SimienEcoTours contributed with 5,000 Birr to the restoration of a part of the path which was destroyed in rain season. Including the payment for other services like porters, kitchen helpers and others we left over 10,000 Birr in the village.
If you're interested to visit this places and book with us, you find all information about the 2 days hiking trip here.
Marco Degasper