Travel Blog

Find your inspiration in our stories
Paragliding flights are now available in Ethiopia!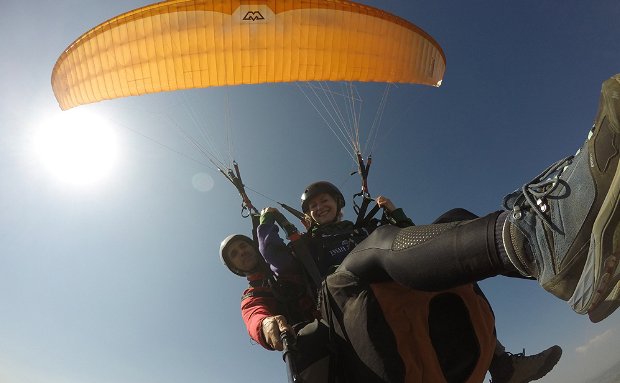 Welcome to the highlands of Ethiopia: contrasting terrain, vital nature, breath-taking landscapes, comfortable climate, beautiful people, ancient history - all ready to be explored with the wings!
Paragliding in Ethiopia offers a wide variety of conditions, breath-taking altitudes, many undiscovered sites and virgin cross-country routes. The mountain terrain and sunny climate in Ethiopia make it truly one of the best places for paragliding.
About paragliding tandem flights in Ethiopia
Since some time we've partnered with a real paragliding champion and instructor from Europe so that we can offer this type of adventure in Ethiopia.
Tandem paragliding is an easy and natural way to feel the magic of flying like a bird. You don't need any previous experience since the instructor is maneuvering the wing. The tandem (bi-place) paraglider is a wing with a big surface and is certified to fly with up to 240 kg totally with pilot and passenger. You just sit in a comfortable seat, attached to the glider and your instructor, who takes care of everything. If you're courageous then you can take the controls and fly the paraglider, or you can just enjoy the view from above.
There are 3 main types of flying sites in Ethiopia:
Hills and mountains in the central part of high plateaus. They work like "heat low" with strong but smooth thermals and allow easy exploration of surrounding flatlands.
Non active slopes of plateaus and ranges. These are mostly northern slopes in winter and the eastern part of main highlands which initiate the transformation of air masses from Arabian Sea. These areas are pleasant for soaring and local thermalling but you can hardly continue cross-country from them.
The active slopes of high plateaus and mountain ranges. These are usually the southern slopes which provide thermal connections between low- and highlands. There are some exceptions like Lalibela, where local north-west valley winds bring warm air to the ridges west of the main mountain range.
Flying conditions vary from place to place and day by day. The flatland flying inside high plateaus is smoothest with 2-4 m/s average climbs. Some mountain sites can be quite strong with 4-6 m/s average climbs and 10 m/s kicks. The main and local winds are usually light. In Ethiopia it's worth flying over and over again, not only because of the endless variety but also because of the unique elements: flatland style flying over big plateaus, hypoxic mountains, scenic views over volcano craters... A real feast for the mind and the soul!
The best conditions for paragliding in Ethiopia are from November until March. December and January are probably the smoothest due to the weaker sun activity.
Join our paragliding tours and adventures in the heart of Africa. Get in touch with us if you want to book a tandem flight. The price per person varies depending on the season and weekday/weekend, and usually includes transportation from Addis Ababa to the flying site and of course the tandem flight itself. All information about this unique day excursion including prices can be found on our tour page Paragliding Tandem Flights in Ethiopia.