Mountain Biking Adventure in Simien Mountains National Park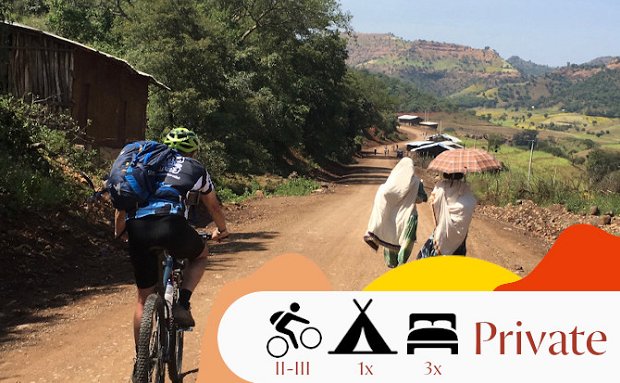 From the old imperial city of Gondar, you set off for a mountain biking adventure in the Simien National Park, probably one of the most spectacular sceneries in the country. Bike along lonely gravel roads with magnificent views. Some climbs are followed by endless descents that wind down into the valleys. The iconic blood-breasted baboons romp along the slopes and in the bushes, klipspringer antelopes emerge from the thicket.
Accompanied by one of our experienced SimienEcoTours mountain biking guides (English & German available) you go on this adventure. Your trip starts in Gondar from where you climb steadily towards the national park. The first night is at the beautiful Kossoye escarpment before you actually enter the park for two bike days in the wild nature of Simiens.
Due to the altitude between 2,800 and almost 4,000 meters, the tour is designed in a way that you have an escort vehicle so that you can manage climbs in your vehicle and enjoy the descents. Overnight stays will take place in lodges and hotels, and one night in a tent inside the national park. Maybe you don't want to do it too basic? Lodge upgrades are available in some destinations for special rates. Ask our Travel Experts.
Tour code: CU23
Gallery
Itinerary & In/Exclusions
Day 1
Cycle from Gondar through the Kossoye highlands
Biking: 3-4 h, 30 km (difficulty: moderate/medium, altitude difference: ↑900m, ↓200m)
Your journey to Gondar can be made individually or as part of one of our round trips. On our round trips you usually experience and visit the sights of the city like the castles from the 17th century. If not, we will be happy to include this in the programme for you this morning.
In Gondar you will receive your mountain bikes. There will be some time for personal bike adjustments. After a small refreshment, you will start from Gondar on the first small mountain stage to the nearby village of Kossoye. The asphalt road winds its way slowly into the mountains and a few times you will ride along a ridge with great views of this beautiful mountainous scenery. Finally you reach your destination, the Kossoye Eco-Lodge. From your bungalows you can relax and enjoy the great views or take advantage of one of the walking and hiking opportunities around the lodge.
Meals: -/L/D
Accommodation: Befiker Kossoye Eco-Lodge, Kossoye
Day 2
The Simien Mountains await you
Travel: 1.5 h, 90 km
Biking: 3-4h, 35 km (difficulty: moderate, altitude difference: ↑500m, ↓500m)
Today you cycle in the middle of the nature of the Simien Mountains National Park. Your vehicle first brings you and the bikes to the small town of Debark, the gateway to Simien National Park, where the tour can begin. First asphalt and finally a good dirt road leads you deeper into the park. On the way is the Ras Buiyt peak (3.300m), an impressive spot with first views and often dozens of blood-breasted baboons grazing here. You continue on to the Sankaber campsite where you will spend the night in a tent camp pampered by our team.
Meals: B/L/D
Accommodation: Sankaber Campsite, Simien Mountains National Park
upgrade option: Limalimo Lodge or Simien Lodge (upon request)
Day 3
Emerge deeper into the national park
Travel: 1 h, 35 km
Biking: 5-6 h, 50 km (difficulty: moderate/medium, altitude difference: ↑800m, ↓800m)
The second day in the National Park takes you to its most spectacular viewpoints. Along the way there are always beautiful places like the Jinbar Waterfall, which plunges more than 400 meters into the depth. In Chennek, incredible views open up on the rugged cliffs of the northeast flank of the massif, which plunge up to 2,000 metres into the depths. At the resting place in Chennek you often meet the rare Walia ibex wild mountain goats. A day to enjoy the landscape in its daily change of mood and you will also get closer to the park's wildlife.
Back at the campsite in Sankaber in the late afternoon your vehicle will take you to Debark, where you will spend the night in a city hotel.
Meals: B/L/D
Accommodation: Tsehay Zeleke Hotel or similar, Debark
upgrade option: Limalimo Lodge or Simien Lodge (upon request)
Day 4
Spectacular downhill ride at the Limalimo escarpment
Travel: 4 h, 200 km
Biking: 4-5 h, 60 km (difficulty: moderate, altitude difference: ↑300m, ↓2.200m)
After two days high up in the mountains, one of the most spectacular descents in the country lies ahead of you today. An old Italian gravel road leads you over 40 kilometers of serpentines into the valleys, which are almost 2,000 meters lower. You will cycle through a centuries-old forest and villages. Definitely a morning to remember.
After a rapid cycle tour for about 4-5 hours you meet our vehicle and continue your journey to Axum, where you will arrive in the late afternoon.
The return or onward journey from Axum as well as city tours, if applicable, will be made individually or as part of one of our round trips.
Optional: For those of you who don't want to continue to Axum there will be also the opportunity to return to Gondar and spend an overnight there for the same price.
Meals: B/L/D
Accommodation: Atranos Hotel or similar, Axum
Day 5
Some sightseeing in Axum
Travel: 0.5 h; 10 km
There is no hassle on your departure day. In the morning your guide will show you some of major sites of Axum. You will discover the seale and the nice archeological museum before your driver brings you to the airport.
Flights back to Addis Ababa need to be arranged individually, but we are happy to assist you with your bookings.
Optional: If you decided the day before to return back to Gondar then you will get a chance to see the castles and Debre Sina Mariam church before you will be transferred to the airport.
Meals: B/L/-
Accommodation: ---
Add extension days
You want to spend more days?
For those ones of you who have the time to spend some more days in Axum, Gheralta, Gondar or cycling in the Simiens, we will be happy to assist you with that and make an offer for you.
Maybe you want to have some relaxing time after the biking? Why not going on our Nature Escape at Lake Tana for a couple of days?
Included
Our services include:
all accommodations in twin/double rooms (upon request) with private toilet/shower in hotels or lodges (2x mid-range, 1x low-range); exceptions are 1x camping in 2 persons tents in Simien Mountain National Park;
all transfers and travels from/to Gondar/Axum airport with private car (minivan & 4x4);
full board as per itinerary (1 drink per meal included, alcoholic drinks excluded);
rental mountain bikes for 4 days (Scott Scale 980, Model 2018/19);
camping equipment incl. mattress;
all entrance fees and permissions at tourist attractions, churches, museums and national parks as per itinerary;
for the biking in Simien National Park: entrance and camping fees, guide, scouts and rangers, mules/dromedaries and mulemen, cook, cooking assistant, cooking and camping equipment (it's recommended to bring your own sleeping bag);
all persons for safety and security (when mandatory);
all tips for meals;
all taxes and administrative fees;
experienced SimienEcoTours tour guide (fluently English & Amharic speaking), other languages upon request.
Optional
Our optional services:
Domestic flights from/to Addis Ababa: extra charge on request;
Lodge upgrades: extra charge upon request
Excluded
Our services do not include:
domestic & international flights;
sleeping bag & mattress;
travel insurance;
visa for Ethiopia (currently US$ 82);
alcoholic drinks;
other tipping (guides, porters, etc.);
photo and video fees (if any apply);
all extras and personal expenditures.