Nature Escape at Lake Tana's Northern Shore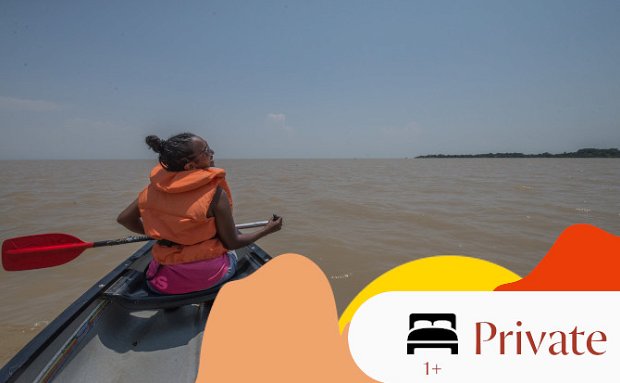 Looking for an escape from the city or want to extend your trip with us with a splendid nature experience? Then this offer might be your choice! Nestled at the Northern lakeshore of Lake Tana in the middle of trees far away from any hassle lies the beautiful Tim & Kim Village. Just a one-hour drive away from the ancient city of Gondar and Gondar Airport it is the perfect nature escape for a couple of days.
This tour can be easily arranged on any trip that passes by Gondar or Simien Mountains. And with a domestic flight coming from Addis Ababa this quiet & cozy paradise is also just a stone's throw away.
Your eyes wander endlessly over a sea of water, kingfishers fish before your eyes, and a papyrus boat paddles past in the distance in the morning light. Welcome to Lake Tana, the largest lake in Ethiopia. Here on its northern shore, nature is still tangible. More than 300 bird species live in the lake region and can be observed very well. You will spend the night with a lake view in the small sleepy fishing village of Gorgora, which looks back on a glorious history. Once upon a time, this warm tropical exclave was the residence of the Ethiopian emperors. Today centuries-old monasteries with colorful frescoes still bear witness to this past.
We book you your spot at the cozy and green Tim & Kim Village for 2 days/1 night or for as long as you want to stay. We assist you with shuttle service from/to Gondar and optionally we can also provide you with rental mountain bikes and a guide to discover Lake Tana's green northern shore. But you are also free to plan your daily activities with the lodge. From short walks to longer hikes to an old Italian lighthouse or to the ruins of the castle of Emperor Susneyos everything is possible. In the village of Gorgora, there is also one of the most beautiful medieval churches in the lake region. The paintings of Debre Sina Mariam are worth a visit. Arrange your itinerary as you like, according to your taste. The lodge also has several kayaks for trips on the lake to islands or for bird watching. Otherwise, the huge garden area with a lake view is always great to find a quiet corner to just relax.
Tour code: CU25
Gallery
Itinerary & In/Exclusions
Day 1
Transfer to the lodge
Please note that this proposed itinerary is just an idea from us for you. As the tour is a private trip you are fully flexible on you time schedule and activities.
Travel: 1 h; 70 km
Your shuttle driver meets you either at your hotel in Gondar or at the airport to transfer you through green hilly landscapes in the Lake Tana basin. Your lodge is located off the track just at the lake shore without any disturbance. The setting is mesmerizing! A green garden oasis right at the lake.
Depending on your arrival time there will be still a chance to go for an activity. The lodge has kayaks to discover the lakeshore with its waterbirds and historic monasteries. Or you take a walk to the village where the 14th century Debre Sina Mariam church offers colorful religious paintings. For later arrivals (due to late arrival at Gondar Airport) the pleasant lodge restaurant will serve you dinner and you will rest in peace under a starry sky.
Meals: -/L/D
Accommodation: Tim & Kim Village, Gorgora
Day 2
Enjoy Lake Tana's nature with activities
Travel: 1 h; 70 km
There is no hassle on your departure day. If you decide for an afternoon return to Gondar or a late flight back to Addis Ababa, you still have half of the day for further activities or a refreshing dip in the lake. Why not taking our mountain bikes today to cycle some stretch of the 70 km back to Gondar (upon request)? Or just get a relaxing morning with an extended breakfast ... It is up to you, of course.
Your shuttle driver picks you from wherever you are to bring you back to Gondar (Airport). Flights back to Addis need to be arranged individually, but we are happy to assist you with your bookings.
Meals: B/L/-
Accommodation: ---
Add extension days
You want to spend more days?
For those ones who have the time to spend some more days at Lake Tana, we can offer you special rates at Tim & Kim Village. All further activities or excursions can be organized on your own or SimienEcoTours can give you a hand with that.

Extra per night incl. full board:
1 pax: US$ 90 (single room)
2 pax: US$ 110 (double room)
3 pax: US$ 190 (double & single room)
4 pax: US$ 210 (two double rooms)
5 pax: US$ 290 (two double one single rooms)
6 pax: US$ 310 (three double rooms)
What about this?
Maybe you want to have some adventurous mountain biking trip in the Simiens before or after your stay? Why not going on our Mountain Biking Adventure in Simien Mountains National Park for a couple of days?
Included
Our services include:
all accommodations in double rooms with private toilet/shower in Tim & Kim Village (mid-range);
transfer from/to Gondar (Airport) (minivan);
one guided kayak expedition on Lake Tana (2 hrs.) or one guided nature hike (2hrs.);
welcome juice upon arrival;
full board as per itinerary (1 drink per meal included, alcoholic drinks excluded) (1x breakfast, 2x lunch, 1x dinner);
all taxes and administrative fees;
24/7 emergency assistance.
Optional
Our optional services:
Rental mountain bikes from SimienEcoTours (Scott Scale 980, model 2018/19, sizes S-XL) (extra charge: US$ 25 per day/bike);
Domestic flights from/to Addis Ababa: extra charge on request;
experienced SimienEcoTours escort guide (fluent in English and Amharic) (extra charge: US$ 50 per group); other languages upon request.
Excluded
Our service do not include:
domestic & international flights;
entrance and guide fees for visits at tourist attractions, churches;
escort guide from Gondar for local assistance;
travel insurance;
visa for Ethiopia (currently US$ 82);
alcoholic beverages;
tips;
photo and video fees (if applicable);
all extras and personal expenses.