Trekking Adventure In The Bale Mountains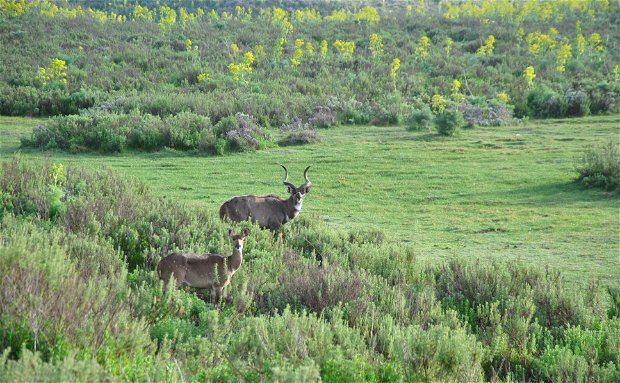 On this hiking tour, you will have the opportunity to visit the Bale Mountains National Park, a well-kept secret among Ethiopia's highland parks. Discover the magnificence of the evergreen rainforests with varying diversity and the desolate high plateaus in between.

This trek takes you to the largest afro alpine habitat in the whole of Africa. It is an area of high altitude plateau that is fragmented by the numerous remarkable volcanic plugs and peaks, beautiful alpine lakes and mountain streams that run down in the deep rocky and gorges on their way to the lowlands .It is heaven for various endemic mammals including Ethiopian wolf, Mountain Nyala, Bale monkey and many endemic birds.
There are Mountain peaks which heights more than 4000m and the second mountain peak of mount "Tullu Dimtu" is located here with an altitude of 4377 meters above sea level.
At the end of the hiking, before returning to Addis Ababa, you will enjoy a day and night of relax at one of the lakes in the rift valley.
Tour code: CU52
Operator: SimienEcoTours
Gallery
ITINERARY & IN/EXCLUSIONS
Day 1
Discover the capital Addis Ababa
After arrival, you will meet your guide at the airport and be transferred to your hotel for some refreshments. Depending on your arrival time, your guide will give you a city tour of Ethiopia's vibrant and bustling capital. In the National Museum you will discover the cradle of humanity where the skeleton of "Lucy" is preserved. Mount Entoto, with its eucalyptus forest, is a short escape from the city to visit Mariyam Church and Menelik's Palace, where emperors used to reside. Others may appreciate one of the city's weekly markets. You may choose your own itinerary with your guide.
Meals: B/L/D
Accommodation: Monarch Parkview Hotel or similar, Addis Ababa
Day 2
Addis Ababa - Bale Mountains National Park
You will have 6-7 hours' drive to the Headquarter of the national park, where the actual trekking will be started. In a few minutes arrival after taking hot drinks and snacks, you will have about 2 hours introductory walk that will give you the highlights of the trekking and you will be able to spot some of the animals and bird lives that are commonly seen around that part of the park. Overnight camping at Dinsho (3100 m asl)
Meals: B/L/D
Accommodation: camping at Dinsho
Hike for 5 -6 hours in the altitudinal range of 3100-3500m asl to Sodota through a water fall named ''Finch Habera'', where the two rivers called Web and Wolla  join together. Today's hike will give you a high opportunity for watching birds, particularly raptors. In addition to the bird lives, spotting the rare and endangered Ethiopian Wolfs and Gaint moral rat will be the gifts of the day. Overnight at Sodota campsite (3500m asl)
Meals: B/L/D
Accommodation: Camping at Sodota
It will be again 5 -6 hours trek to the next camping site to Wasama through a beautiful landscape with stunning views.  The trails also combines a Valley where birds of prey keep nests and Afro Alpine habitat. Overnight camping at Wasama (3700m asl)
Meals: B/L/D
Accommodation: camping at Wasama
Day 5
Wasama- Gebre Guracha
Today's hike will be the longest  that will take you 7-8 hours following a valley and the scenery dramatically changes as you pass through a magnificent sheer cliffs of Mountains. Birds and animals will also be visible on this day while hiking  and the end of the day will be camping at Gebre Guracha (3900m asl)
Meals: B/L/D
Accommodation: camping at Gebre Guracha
Day 6
Bale Mountains National Park – Langano
Take a short trek from Gebre Gurracha up to the Sennati Plateau to meet vehicles. Return half the way back until Lake Langano. Rest from the trekking days and relax at a lodge. Overnight Sabana Lodge.
Meals: B/L/D
Accommodation: Sabana Lodge or similar in Langano
Day 7
Langano - Addis Ababa
Morning visit to Abjatta Shalla Nationa Park, then continue to Ziway for a short boat trip to see some wildlife and to have lunch. From there drive back to Addis Ababa (3h). Enjoy dinner at a traditional Ethiopian restaurant featuring dancers and musicians representing some of the country's many ethnic groups. Transfer to airport for late night departure or additional hotel night booked upon request.
Trekking time: 2 hours.
Meals: B/L/D
Accommodation:-------
Included
Our services include:
all accommodations in double rooms with private toilet/shower in hotels, exception during the trekking: 4 nights in tents for 2 persons;
all transfers and travels in Ethiopia with private car (minivan & 4x4);
full board (1 drink per meal included, alcoholic drinks excluded);
all entrance fees and permissions at tourist attractions, churches, museums and national parks;
for the trekking: entrance and camping fees, guide, scouts and rangers, mules/dromedaries and mulemen, cook, cooking assistant, cooking and camping equipment (it's recommended to bring your own sleeping bag);
all persons for safety and security (when prescribed);
all tips for meals;
all (mandatory) local guides in the single destinations;
all taxes and administrative fees;
24/7 emergency assistance;
experienced SimienEcoTours Tour Guide (fluently English & Amharic speaking), other language guide on request with surcharge.
Excluded
Our services do not include:
international flights;
travel insurance;
visa for Ethiopia (currently US$ 82);
alcoholic beverages;
tips;
photo and video fees (if applicable);
all extras and personal expenses.