Combination Tour Northern and Southern Ethiopia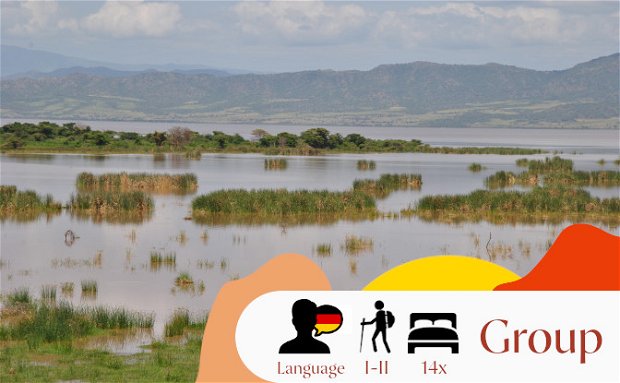 Combine the classical sights of Northern and Southern Ethiopia in just one vacation. This tour is a good mix of Ethiopia's cultural and natural diversity. You will fell like traveling different countries on just one journey.
This tour all about the culture and nature of Ethiopia: From the capital Addis Ababa you will reach the largest lake in the country, Lake Tana, and continue via Simien National Park to the holy churches of Lalibela. Besides lakes and impressive landscapes that accompany you on your journey, the focus is on discovering remote villages and their different ethnic groups in Southern Ethiopia.
Tour code: CU31
Operator: SimienEcoTours
Gallery
Itinerary & In/Exclusions
Day 1
Arrival in Addis Ababa
Welcome to Ethiopia! After arrival in Addis Ababa and completion of the entry formalities, you will be transferred to your hotel where you can rest and refresh yourself. The city tour takes you to the National Museum (skeleton of 'Lucy'), the Shiromeda Market, Trinity Cathedral and the Entoto Mountain at almost 3.000 meters. Alternatively you can visit a local charity project supported by SimienEcoTours.
Meals: B/L/D
Accommodation: Heyday Hotel or similar, Addis Ababa
Day 2
Bahir Dar - the Riviera of Ethiopia & Blue Nile Waterfall
Flight time: 1 h
Travel: 2 h; 70 km
Hiking: 2 h, 5 km (difficulty: moderate, altitude difference: ↑150m, ↓150m)
Domestic flight to Bahir Dar, the green bustling university town on Lake Tana. The largest lake in Ethiopia is the source of the Blue Nile. Bahir Dar, the city situated at 1,800m above sea level, has a pleasant climate and offers excellent freshly squeezed fruit juices and excellent fish dishes. In the afternoon you will visit the Nile Falls, 35 km away, which we experience from different perspectives during a walk.
Meals: B/L/D
Accommodation: Jacaranda Hotel (https://www.jacarandahotelethiopia.com/)  or similar, Bahir Dar
Day 3
Boat trip on Lake Tana
Hiking: 1 h, 2 km (difficulty: easy, altitude difference: ↑50m, ↓50m)
In the morning you will take a boat trip on lake Tana. On this trip you can observe fishermen with their papyrus boats and the diverse fauna of the lake (e.g. pelicans and hippos). Your destination is one of the many islands, where youl visit a monastery church with its paintings and church treasures. In the afternoon you can relax on the lakeside promenade with a fruit juice or alternatively visit the Bahir Dar market.
Meals: B/L/D
Accommodation: Jacaranda Hotel or similar, Bahir Dar
Day 4
The castles of Gondar
Travel: 3 h; 175 km
With your private vehicle you drive northwards to Gondar, the second largest city and until 1855 the capital of Ethiopia. Here the former imperial palace with churches and a bath can be visited. The Fasil Ghebbi Palace from the 17th century is located in the large palace district, which has been declared a UNESCO World Heritage Site. You also visit the Debre Berhan Selassie Church, which is located a little outside the palace, to see the ceiling painted with angels' faces, in addition to the round church architecture typical of Ethiopia.
Meals: B/L/D
Accommodation: AG Hotel or similar, Gondar
Day 5
Day trip into the nature of Simien Mountains National Park
Travel: 3.5 h; 200 km
In the morning the drive takes you through the Ethiopian highlands towards the north-east into the Simien National Park. At a stop in Debark, a small town with about 30,000 inhabitants at an altitude of 2,800m, the formalities are completed at the park's headquarters. In Debark there is the possibility to visit a school for disabled children, which is supported by SimienEcoTours. Leaving Debark behind, you will enter the National Park. Views get better and better the deeper you drive into the park. You meet the endemic Gelada monkeys, a trusty baboon species, which nibble on grasses and roots in packs of up to 100 animals.
Meals: B/L/D
Accommodation: AG Hotel or similar, Gondar
Day 6
Flight to the holy city of Lalibela and first explorations
Flight time: 1 h
Travel: 1.5 h; 40 km
Domestic flight to Lalibela, the place of pilgrimage and holy city for the Ethiopian Orthodox Christians. In the afternoon you will visit the first group of the world famous rock churches. The 11 monolithic churches were carved out of the rock by 16,000 Ethiopians in 23 years of construction in the 12th/13th century and are also part of the UNESCO World Heritage.
Meals: B/L/D
Accommodation: Lalibela Lodge or similar, Lalibela
Day 7
Asheten Mariam Church - Explorations in the Lasta Mountains
Hiking: 3-4 h, 10 km (difficulty: medium, altitude difference: ↑500m, ↓500m)
In the morning you will visit a very special rock church in the surroundings of Lalibela: Asheten Maryam (Amharic for: Mary's fragrance), a still active mountain monastery with a cave church in the mountains above Lalibela. You hike up to this place with a fantastic view for about two hours and later one hour back (it is also possible to do most of the way by car). In the afternoon you visit the second group of rock churches in the town.
Meals: B/L/D
Accommodation: Lalibela Lodge or similar, Lalibela
Day 8
Domestic flight to Addis Ababa & Lake Langano
Flight time: 1h
Travel: 4-5 h; 250 km
In the morning transfer to Lalibela Airport and flight to Addis Ababa. After a refreshment break, the journey continues south to the East African Rift Valley, where you reach the western shore of Lake Langano in the afternoon. There is plenty of time to take a bath in the bilharziosis-free water.
Meals: B/L/D
Accommodation: Sabana Lodge or similar, Langano
Day 9
The Banana Art Museum & drive to Arba Minch
Travel: 5.5 h; 320 km
Today you drive along the East African Rift Valley. In Shashemene, the centre of the Rastafarians, you stop to visit the Banana Art Museum. In the afternoon you reach the town of Arba Minch (Forty Springs). It lies embedded between the two lakes Chamo and Abaja which is with its 1.160 square kilometers the largest lake in the Ethiopian part of the Rift Valley.
Meals: B/L/D
Accommodation: Paradise Lodge or similar, Arba Minch
Day 10
Wildlife on Lake Chamo & visit of the Dorze people
Travel: 2.5 h; 70 km
In the morning you explore the Chamo Lake by boat. In addition to the beautiful scenery, you can watch fishermen on their traditional papyrus boats, herons, birds of prey, pelicans, hippos and crocodiles.
In the afternoon you drive up the serpentine roads to the mountain village of Chencha, the centre of the Dorze people. You will make several stops along the way: visit a pottery family, visit a Dorze village with its characteristic bamboo huts, learn about the process of making bread from the false banana tree and the craft of the cotton weavers who make colourful scarves, clothes and hats. In Chencha you can visit the weekly market.
Meals: B/L/D
Accommodation: Paradise Lodge or similar, Arba Minch
Day 11
Visit the cultural landscapes of the Konso people
Travel: 5 h; 280 km
On the way to Turmi you can get to know a traditional way of honey production. There is also a stop to visit a typical Konso village. The Konso are famous for their terraced fields supported by stone walls, as well as their wooden wakas. Their villages have a solid structure, in which a community house for unmarried men forms a central nucleus.
Meals: B/L/D
Accommodation: Buska Lodge or similar, Turmi
Day 12
Visit the Dasenech and Hamer people
Travel: 2-3 h; 140 km
Today you will go on a half day excursion to Omorate, where the Omo is crossed in a dugout canoe to visit a Dassanech village on the other side. The Dassanech people comprise about 30,000 people, some of whom live in northern Kenya. They are known for their ivory plugs in the earlobe or lower lip and their clay caps. If the opportunity arises, a bull jump is visited. This is an impressive part of the initiation rite for the young people of the Hamar. Alternatively, there is a walk through a Hamar village.
Meals: B/L/D
Accommodation: Buska Lodge or similar, Turmi
Travel: 2-3 h; 120 km
On the way to Jinka you stop in Dimeka, the main town of the Hamar. If this day is a Thursday, you also visit the market in Key Afer ("Red Earth"), where people of different tribes (e.g. Benna and Tsamai) meet. In the afternoon, if you wish, you can visit the research centre and ethnological museum in Jinka to learn more about the different Omo tribes and ethnological research. The centre, which was founded by the German researcher Ivo Strecker, exhibits clothing, household items and jewellery of the different ethnic groups. In addition, conversations between people of different tribes on topics such as marriage, death cult and circumcision are documented.
Meals: B/L/D
Accommodation: Eco Omo Safari Lodge or similar, Jinka
Day 14
Mago National Park & visit of the Mursi people
Travel: 3.5 h; 120 km
In the early morning you drive to the Mago National Park. In this park live the Mursi. They are famous for their lip plates and decorative scars. During the visit of one of their villages they show among other things how they grind their grain. In addition, in the Mago National Park you can see a rich fauna and flora, such as jackals and water buffalos. Later you will go on the trip to Konso.
Meals: B/L/D
Accommodation: Kanta Lodge or similar, Konso
Day 15
Flight from Arba Minch and last day in Addis Ababa
Flight time: 1 h
Travel: 2 h; 90 km
In the morning you drive to Arba Minch and take a domestic flight to Addis Ababa. Until your airport transfer there is enough time to visit a market or various shops, e.g. with handicrafts, and to buy souvenirs and souvenirs if necessary. In the evening you will end our trip with a traditional Ethiopian dinner with music and dance performance. End of the trip and departure depending on flight times.
Meals: B/L/D
Accommodation: ---
Included
Our services include:
all (4) domestic flights in Ethiopia with Ethiopian Airlines in tourist class (Addis Ababa-Bahir Dar, Gondar-Lalibela, Laiblea-Addis Ababa, Arba Minch-Addis Ababa), Note: If the international flight is with a carrier other than Ethiopian Airlines, there will be a supplement of $ 360 for the domestic flights;
all accommodations in double rooms with private toilet/shower in hotels or lodges (3x high-range, 11x mid-range);
all transfers and travels in Ethiopia with private car
2 boat trips on Lake Tana & Lake Chamo;
full board (1 drink per meal included, alcoholic drinks excluded);
all entrance fees and permissions at tourist attractions, churches, museums and national parks;
all persons for safety and security (when prescribed);
all taxes and administrative fees;
all tips for meals;
all (mandatory) local guides in the single destinations;
24/7 emergency assistance;
experienced SimienEcoTours Tour Guide (fluently English & Amharic speaking), other language guide on request with surcharge.
Excluded
Our services do not include:
international flights;
travel insurance;
visa for Ethiopia (currently US$ 82);
alcoholic beverages;
tips;
photo and video fees (if applicable);
all extras and personal expenses.