Small Group Simien Mountains Trekking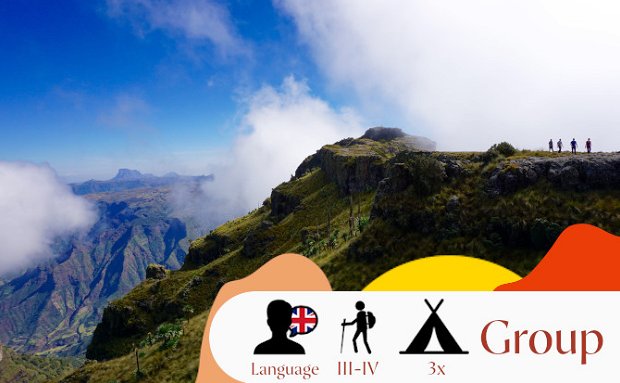 In the main season, we're offering our clients 4 days trekking tours in the Simien Mountains with fixed departure dates - this way you can join other hikers on a Simien Mountains trekking and share the costs with more people.
These trips leave from Gondar twice a week, every Wednesday and every Saturday morning at 7:30 AM, for 4 days / 3 nights trekking in the Simien Mountains. The return to Gondar is on Saturday and Tuesday respectively at about 5 PM.
The cost per person depends from the total number of participants. After an advance payment of 100 USD or EUR per person as confirmation of your participation, you can pay the remaining amount (depending on the final number of people) directly in Gondar, in cash (ETB, USD or EUR) or with credit card in our office.
Please note that we require full payment before starting the trek.
Tour code: GR01
Gallery
Itinerary & In/Exclusions
Day 1
Leave from Gondar and drive into the Simien Mountains
Travel: 3-4 h; 130 km,
Hiking: 2-3 h (incl. breaks), 7-8 km (difficulty: moderate, altitude difference: ↑400m, ↓250m)
In the morning at about 7:30 the vehicle picks us up at the hotel in Gondar and takes us 100 km north on the Ethiopian highland to Debark, a small town of about 35,000 inhabitants at the border to the famous Simien National Park.
After a quick stop for the formalities at the headquarter offices of the national park and for collecting cook and scouts we drive out on a rough road to the Sankaber area at about 3,100 m sea level from where we take a short walk of 2-3 hours to assist the acclimatization process.
We get a first impressive view over the dramatic mountain range and see some typical plants of that area such as big Heather Trees (erica arborea), St. John swort (hypericum revulutum) or the Abissinian Wild Rose (rosa abissinica). This is also the area in which the largest number of Gelada Baboons (theorepticus gelada) can be found. First night in the tents at the Sankaber camp at 3,250m sea level.
Meals: P/D
Accommodation: Sankaber Campsite, Simien Mountains National Park
Day 2
Pass the high Jinbar Waterfall and enjoy a memorable sunset
Hiking: 6-7h (incl. breaks), 13 km (difficulty: medium/difficult, altitude difference: ↑1.000m, ↓720m)
At Sankaber we organize and arrange mulemen and mules which carry our heavy camping and cooking equipment for the next days. So the hikers need to carry only a light daypack with some water, the photo camera, a light jacket and a few personal things that they might need for the hike during the day.
After breakfast (bread, eggs, porridge, coffee, tea,…) we leave the camp at around 8:30 and we traverse along the Northern escarpment before dropping down to get impressive views, for example of the beautiful Jinbar Waterfall. In the large gorge of the waterfall there are many huge circling birds, especially vultures such as the Griffon (Gyps fulvus), Lappet-faced or Nubian Vulture (Torgos tracheliotos) and Lammergeier or Bearded Vulture (Gypaetus barbatus) and other smaller birds as buzzards and ibises. Hopefully we also encounter the endemic Abissinian Catbird (Parophasma galinieri). Among the mammals Klipspringers (oreothragus oreothragus) and Meneliks Bushbucks (Tragelaphus scriptus) can be observed between Sankaber and Geech.
After a short distance (20 min) on the rough road, crossing the Jinbar river where we have the lunch break, we ascend through terraced farmland to our camp at 3,600m. In the evening we have the possibility to walk up (30 min) to the mountain Kedadit (3,760m) and to assist to an unforgettable sunset.
Meals: B/P/D
Accommodation: Geech Campsite, Simien Mountains National Park
Day 3
Trek to the viewpoint Imet Gogo and all along to Chennek
Hiking: 7-8 h (incl. breaks), 15 km (difficulty: medium/difficult, altitude difference: ↑900m, ↓900m)
After breakfast we walk for about 2 hours to the summit of Imet Gogo (3,926m), which is one of the most spectacular viewpoints with 360 degrees and from where we can see Ras Dashen, the highest peak of the country.
After a photo break we trek along the whole escarpment, cross a small valley and climb the peak Inatye (4,070m) where we will take our lunch stop and have a rest. From there we will have a nice view more than 1,000m down to the green fields of the mountain villages Dihwara, Tiya, Amiwalka and Truwata. During the whole day we walk through vast fields of Giant Lobelia (lobelia rhynchopetalum) and sometimes Heather Trees (erica arborea) or Red Hot Poker (kniphofia foliosa).
After the break we descend and reach our camp Chennek in the afternoon (3,620m). Chennek, sometimes called wildlife corridor, is the best place to see the Gelada Baboons (theorepticus gelada), the Walia Ibex (capra ibex) and the Ethiopian Wolf (canis simensis). These animals are best observed around Chennek camp. At the campsite we have the possibility to wash ourselves at the river or pipe water.
Meals: B/P/D
Accommodation: Chennek Campsite
Day 4
Climb the high peak Ras Bwahit and return to Gondar
Travel: 3-4 h; 170 km,
Hiking: 5-6 h (incl. breaks), 12 km (difficulty: medium/difficult, altitude difference: ↑500/830m, ↓0/200m)
In the early morning we leave from our last camp Chennek, where we meet again Walia Ibexes (capra ibex), and first climb up about 600m to the Pass Bwahit (about 4,200m). This is the pass that hikers have to traverse if they want to climb Ras Dashen, but reaching this summit takes at least 2 days more.
If the physical condition allows it, we continue from the pass our climb up to the peak of Ras Bwahit (4,430m), one of the highest in the whole area. Then we descend to Chennek and the car brings us back first to Debark on a 58 km long rough road and from there on the new asphalt road to Gondar, where we will arrive in the afternoon at about 5:00 PM.
Meals: B/P
Accommodation: ---
Included
Our services include:
transfer from your hotel in Gondar to the Simien Mountains and back to Gondar;
accommodation in tents for 2 persons;
full board, lunchbox for the trekking, including drinks (alcoholic drinks excluded);
entrance and camping fees for the Simien National Park;

scouts and park rangers;

mules and mulemen for the transportation of the heavy material;

cook and cooking assistant who will prepare all the meals;

cooking and camping equipment (tents, sleeping mattress);
experienced local tour guide (fluently English & Amharic speaking);
all taxes and administrative fees;
24/7 emergency assistance.
Excluded
Our services do not include:
international flights;
alcoholic drinks;
tipping;
sleeping bag (it's recommended to bring your own);
travel insurance;
visa for Ethiopia (currently US$ 82) ;
photo and video fees (if any apply);
all extras and personal expenditures.