Mountain Biking Trip at Wenchi and Dendi Crater Lakes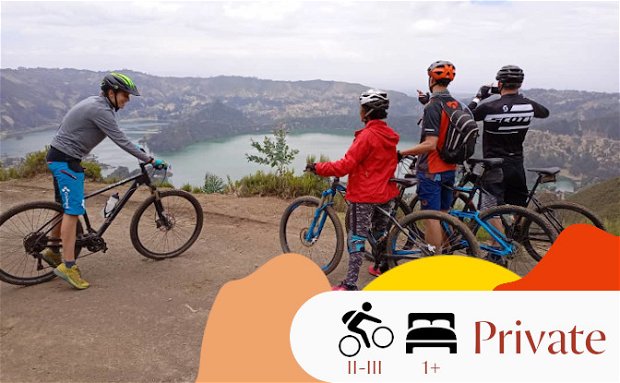 Just a short drive from Addis Ababa lies the magnificent volcanic crater lake of Wenchi. Mountain biking along its rim with terrific vistas into its steep crater is one of the most spectacular cycling tours you can do in Ethiopia. This trip also brings you to the neighboring Dendi double crater lake which is no less spectacular. On unknown roads and trails, your guide will cycle with you through green Oromo villages on top of the dormant volcanoes and through villages. A mountain biking tour with great enjoyment due to some really exhilarating downhill sections.
Accompanied by one of our experienced SimienEcoTours mountain biking guides (English & German available) you go on this adventure. Your trip starts in Addis Ababa with a quick transfer to Lake Wenchi from where you will head off with your rental mountain bikes.
On a nice trail loop, you will discover the beauty of the villages and craters before returning back to the car. Your driver will then transfer you to the nearby Negash Resort for your overnight stay in this old palace of Emperor Haile Selassie with its green garden and some wildlife around. Definitely, a place to relax on your second day and take a dip in the pool filled with warm spring mineral water. Or you just head off for another bike ride the next morning before returning back to Addis Ababa in the late afternoon.
This trip can easily be extended by one or several more days. If you need more info just ask our Travel Experts.
Tour code: CU30
Gallery
Itinerary & In/Exclusions
Day 1
Cycling the crater lakes of Wenchi and Dendi
Travel: 3-4 h, 160 km
Biking: 3-4 h, 40+ km (difficulty: moderate/medium, altitude difference: ↑400m, ↓600m)
Note: The cycling can be extended if you want to do it the harder way. Your guide will give you options on the spot.
Your driver meets you at your appointed place in Addis Ababa at 6:30am and you drive to Wenchi Crater Lake. With some snacks on board you can enjoy the 3 to 4 hour drive. On the northern crater rim you will get ready for your cycling. Your bike guide will help you to prepare the bike for an amazing day.
The first part of the ride follows the Wenchi crater rim, with perfect smooth trails on volcanic ash and beautiful vistas down into the crater. An exhilarating downhill stretch through Oromo villages will bring you to Dendi lake. After following the rim for a while you will then return to Wenchi on a rather flat part through farmlands and villages on a good gravel section.
Meet your driver, load the bikes and drive to Wolisso for your overnight stay at the green gardens of Negash Resort.
Meals: -/L/D
Accommodation: Negash Resort, Wolisso
Day 2
Relax at the lodge or do more cycling
Travel: 3-4 h, 120 km
Optional biking: 3-4 h, 60 km (difficulty: moderate/medium, altitude difference: ↑1.000m, ↓1.000m)
You wake up in the green gardens of the lodge and on your walk from the room to the breakfast table you will see already monkeys in the tree branches and birds are signing their morning songs.
Today is a flexible day. Either you enjoy the peaceful ambiance at the lodge and relax at the swimming pool or at the spa or you take one of the quiet back roads with the bike to Addis Ababa. After 60km you will meet the car and get a transfer for the last 70 km back to Addis. It is also possible to make a shorter bike trip and combine a longer morning at the lodge with an afternoon bike ride.
At approximately 6 pm your driver will drop you at your hotel/home in Addis Ababa.
Meals: B/L/-
Accommodation: ---
Add extension days
You want to spend more days?
For those ones of you who have the time to spend some more days in the area or want to move on for cycling in Gurage region or even at Lake Langano, we will be happy to assist you with that and make a quote for you.
For extensions ask our Travel Experts for prices and itineraries.
Included
Our services include:
accommodations in twin/double rooms (upon request) with private toilet/shower in Negash Resort in Wolisso (1x mid-range);
all transfers and travels from/to Addis Ababa with private car (4x4);
half board as per itinerary (1x breakfast, 2x lunch, 1x dinner; 1 drink per meal included, alcoholic drinks excluded);
rental mountain bikes for 2 days (Scott Scale 980, Model 2018/19);
all entrance fees and permissions at tourist attractions, churches, museums and national parks as per itinerary;
all persons for safety and security (when mandatory);
all tips for meals;
all taxes and administrative fees;
24/7 emergency assistance;
experienced SimienEcoTours bike guide (fluently English & Amharic speaking), other languages upon request.
Excluded
Our services do not include:
international flights;
travel insurance;
visa for Ethiopia (currently US$ 82);
alcoholic drinks;
other tipping (guides, porters, etc.);
photo and video fees (if any apply);
all extras and personal expenditures.