Mountain Bike Expedition & Relax - Bale Mountains, Sidama & Langano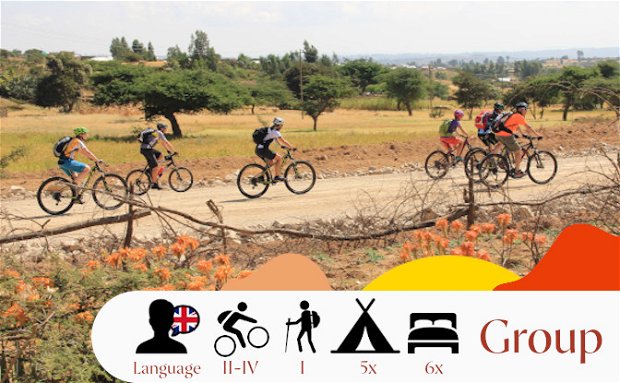 This mountain bike tour leads you on lonely trails through the Bale Mountains National Park. Nothing for the faint-hearted, this trip is a real unique outdoor adventure. After some days cycling in the park, some fine lodging in the Sidama Coffee Region, and in the natural setting of Lake Langano give this tour the comfy end.
The hidden nature gem of Bale Mountains National Park, a well-kept secret among Ethiopia's highland parks, is awaiting you on the mountain bike. Experience the beauty of the barren high plateaus all the way down to evergreen rainforests with a varying diversity changing from day today. This tour is a unique mountain bike adventure accompanied by one of our English-speaking Bike Guides along untouched trails where iconic wildlife such as the Ethiopian wolves or the Bale monkeys live.
It is not all about cycling on this tour. After your adventurous days in Ethiopia's highlands, you set off for the Great African Rift Valley, one of the world's big geological formations. Along its edges, in lush green forest one of Ethiopia's finest coffee beans grow in the Sidama region where you gonna walk through villages to learn more about coffee and the peoples there. Your trip also has a stop at Lake Langano with its amazing African birdlife along the lakeshores and the riverine forests. You discover Lake Langano by boat as well as Abijata-Salla National Park's Lesser Flamingo colonies.
Dates:
GR05-01: October 22 to November 02, 2023
Tour code: GR05
Operator: SimienEcoTours
Gallery
Itinerary & In/Exclusions
Day 1
Discover the capital of Ethiopia and meet your travel mates
Travel: 1-2 h, 50 km
Welcome to Ethiopia! After your arrival at Addis Ababa Bole International Airport you will meet your guide and be transferred to your hotel in town, just a stone throw away from the airport. Relax and get your first Ethiopian coffee and you will have a city tour to the capital's sights. The hustle and bustle of a mega city awaits you. Some breaks along the way will offer great opportunities to get to know your fellow travelers.
Meals: B/L/D
Accommodation: Heyday Hotel or similar, Addis Ababa
Day 2
Flight to Bale Mountains National Park and first accustom bike trip
Flight time: 2 h
Travel: 1 h, 30 km
Biking: 1 h, 5 km (difficulty: easy, altitude difference: ↑100m, ↓100))
Time to start your adventure! Your car transfers to the airport for your domestic flight to a nature's paradise, Bale Mountain National Park. At Goba airport, the local hub for Bale, you will be picked and transfered to your Hotel. Your bicycles already await you there for the first assembling and short accustom trip in and around the town of Goba.
Meals: B/L/D
Accommodation: Wabe Shebelle Hotel or similar, Goba
Day 3
Cycle in the lush Harenna Forest
Travel: 1 h, 30 km
Biking: 2-3 h, 40 km (difficulty: easy/moderate, altitude difference: ↑100m, ↓2.000)
Today you gonna accustom yourself with the environment and the altitudes. You drive up to the to the Sanetti-Plateau on 4.100 masl. In a barren and windy landscape you get your bikes on the gravel road and do a fast-paced and beautiful downhill ride to the evergreen jungle of Harenna. You roll down through different ecosystems with changing flora and fauna. An enjoyable ride in one of Ethiopia's remote corners. Today you camp at a jungle campsite in the Harenna forest.
Meals: B/L/D
Accommodation: Rira Camping, Bale Mountains National Park
Day 4
Visit the coffee village of Manyette
Biking: 2 h, 40 km (difficulty: easy/moderate, altitude difference: ↑100m, ↓500)
Hiking: 1-2 h, 3-4 km (difficulty: moderate, altitude difference: ↑150m, ↓150)
Another day in the jungle. The early birds can have a forest hike before breakfast is ready. Finally, you leave the camp in the morning to cycle further south. The thickets become denser alongside the gravel road. You discover the biodiversity of the Harenna forest from your saddle. After another downhill ride you reach the coffee village of Manyete where some of Ethiopia' finest coffee beans grow. On foot, you discover the rural coffee plantations and learn more about cultivation of coffee. You meet up with coffee farmers and camp in their village tonight.
Meals: B/L/D
Accommodation: Manyette Camping, Manyette village
Day 5
Trail biking on the Sanetti Plateau at 4,100 meters
Travel: 2-3 h, 60 km
Biking: 2-3 h, 20 km (difficulty: medium, altitude difference: ↑200m, ↓400)
Optional hiking: 1-2 h, 3-4 km (difficulty: moderate, altitude difference: ↑300m, ↓300)
The Sanetti-Plateau calls you today again. You pack all our equipment to the cars and drive up to the plateau. Up on the plateau you get on the bikes and gonna leave the gravel and get on the little trails. Your luggage will be carried by mules to your wilderness camps in the next days while you rock the Bale Mountains on your bikes. Our first day brings you from Sanetti to Mt. Wassama (4,200 masl) where you set camp at its foot in frosty 3,900 masl. Optional you can climb Mt. Wassama for sunset.
Meals: B/L/D
Accommodation: Wassama Camping, Bale Mountains National Park
Day 6
Go completely off the beaten track
Biking: 4-5 h, 35 km (difficulty: medium, altitude difference: ↑200m, ↓600)
Today's ride takes you through the territory of the shy Ethiopian wolves. You cycle on trails through the hilly landscapes of the Moraro valley. Birds of prey about your heads and always on the lookout for the red fox-like endemic wolves. The mineral springs of Worongo are a pleasant stop to refresh yourself before you reach your campsite in Sodota where your cook awaits you as usual with delicious foods.
Meals: B/L/D
Accommodation: Sodota Camping, Bale Mountains National Park
Day 7
Cycling along the Web Valley into old juniper forests
Biking: 3-4 h, 35 km (difficulty: medium, altitude difference: ↑200m, ↓700)
Your last day on the bikes. From Sodota you cycle along the Web River valley. At Finch Habera waterfall you get a nice chance again for a picknick lunch with the opportunity to dip yourself in the cold but crystal clear mountain waters. Finally, the first villages pop up in the barren landscapes and you enter the little town of Dinsho through farmlands. Its juniper forests are a nice escape from town to have a last camp night out among jackals and antelopes that live in the forests.
Meals: B/L/D
Accommodation: Dinsho Camping, Bale Mountains National Park
Day 8
The Sidama Region - People and culture
Travel: 7-8 h; 330 km
You can have a morning stroll in the juniper forests and breathe the fresh Bale air before you say goodbye to the beauty of Bale Mountains, your crew and mountain bikes. From now on you have some relaxing days ahead with some nature hikes in some of Ethiopia's finest nature lodges. Today's drive brings you to the edge of the Great African Rift Valley to the Sidama Region. The Sidama culture is very special and unique and you get the time to discover the area and taste its coffee. In the late afternoon you will arrive in Yirga Alem, the capital of Sidama.
Meals: B/L/D
Accommodation: Aregash Lodge or similar, Yirga Alem
Day 9
Birds, hyenas, coffee and the Sidama people
Hiking: 1-2 h, 3-4 km (difficulty: easy/moderate, altitude difference: ↑150m, ↓150)
The lodge is set in a lush green forest and early in the morning the songs of the birds and the laughter of the hyenas wake you. Your guide takes you around the forest and shows you some of the birds and monkeys. Some hyenas might also cross your way. After an energizing breakfast, you will start for a village walk to visit the Sidama people and learn about their culture. In the afternoon, you can grab a book and relax before at dusk the group will gather at the camp fire to have an evening coffee ceremony while the hyenas sneaking out of the forest for their feeding.
Meals: B/L/D
Accommodation: Aregash Lodge or similar, Yirga Alem
Day 10
The Great African Rift Valley
Travel: 4-5 h, 120 km
Hiking: 1-2 h, 3-4 km (difficulty: easy/moderate, altitude difference: ↑150m, ↓150)
Ethiopia's diversity is enchanting. You travel into the Rift Valley's savanna landscapes which are so different from the last couple of days. On the way you visit the Abijata-Shalla National Park to spot the Lesser Flamingos that gather along the lakes. Then you head further to the peaceful nature of Lake Langano to your lodge.
Meals: B/L/D
Accommodation: Hara Langano Lodge or similar, Lake Langano
Day 11
Relaxing and bathing at Lake Langano
Boat Cruise: 2 h
The Eastern shore of Lake Langano is a true nature's paradise with its papyrus covered lake shore and riverine forests. With the boat you go for a ride along the lake to spot hippos, fish eagles and other colorful water birds. The alkaloid Lake Langano is the only lake in Ethiopia that is safe to swim in, so the afternoon is all yours for a bath or just relaxing in one of Ethiopia's most beautiful nature settings.
Meals: B/L/D
Accommodation: Hara Langano Lodge or similar, Lake Langano
Day 12
Return to Addis Ababa and return flight home
Travel: 6-7 h, 280 km
Take a last dip in the waters of Lake Langano before driving back to Addis Ababa through the beautiful Rift Valley.  In town there will be time for some last farewell shopping and a group dinner before your return flight.
Upon request an extra day-use room or overnight in Addis Ababa can be arranged for you.
Meals: B/L/D
Accommodation: ---
Included
Our services include:
one domestic flight in Ethiopia (Addis Ababa-Robe), Note: If the international flight is with a carrier other than Ethiopian Airlines, there will be a supplement of US$ 80 for the domestic flights;
all accommodations in double rooms with private toilet/shower in hotels or lodges (2x high-range, 3 mid-range, 1 low-range); exception in the Bale Mountains: 5 nights in tents for 2 persons;
all transfers and travels in Ethiopia with private car;
permanent escort vehicle for bicycle and material transport from day 1 to 8 (exception from day 6 to 7);
1 boat cruise on Lake Langano;
full board (1 drink per meal included, alcoholic drinks excluded);
all entrance fees and permissions at tourist attractions, churches, museums and national parks;
for the Bale Mountains: entrance and camping fees, guide, scouts/rangers, cook, cooking assistant, cooking and camping equipment (it's recommended to bring your own sleeping bag);
all (mandatory) local guides in the single destinations;
all taxes and administrative fees;
24/7 emergency assistance;
experienced SimienEcoTours Bike Guide (fluently English & Amharic speaking).
Optional
Our optional services:
Rental mountain bikes from SimienEcoTours (Scott Scale 980, model 2018/19, sizes S-XL) (extra charge: US$ 200)
Extra night in Addis Ababa at the end of the trip (US$ 70 in double room or US$ 60 in single room incl. airport shuttle)
Day room at the end of the trip in Addis Ababa (US$ 60 in a double room or US$ 50 in a single room).
Excluded
Our services do not include:
international flights;
travel insurance;
sleeping bag;
visa for Ethiopia (currently US$ 82);
alcoholic beverages;
tips;
photo and video fees (if applicable);
all extras and personal expenses.