Hiking on the 'Roof of Africa' in the Simien Mountains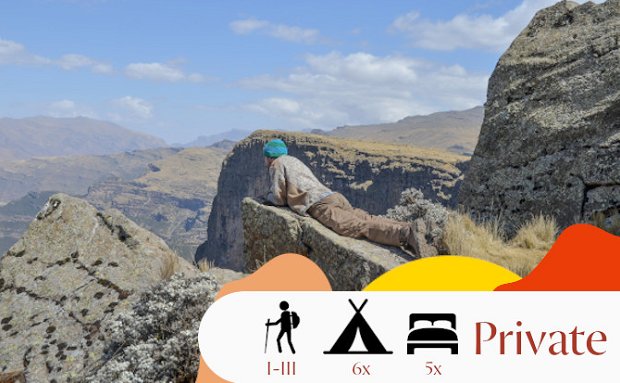 This hiking tour looks like a classic historical Northern route. In fact, the trip combines the highlights of Northern Ethiopia including the UNESCO World Heritage Sites in Lalibela and Gondar as well as the Biosphere Reserve at Lake Tana. But it offers much more than this. You're going to explore extensively the Simien Mountains hiking from the well-known plateaus with amazing views down to its inhabited and less-visited lowlands where you're going to get in touch with the locals.

Accompanied by one of our experienced SimienEcoTours guides (English, Italian, Spanish, French & German available) you will visit the sights in Lalibela and Gondar before heading to the 'Roof of Africa' in the Simien Mountains National Park. Your 7 days/ 6 nights trek is accompanied by our team of muleteers and a cook that make your trekking experience unforgettable. You can enjoy the spectacular scenery of the mountains with your light backpack and get comfortable in our overnight camps with good food. The trails lead you along the lofty high plateaus with unique flora and fauna and later down into the lowlands where farmers plow their lands. There will be plenty of time to meet locals and some camps are right inside the villages.
Overnights are spent in wisely selected and mainly beautifully located standard to mid-range hotels and lodges and during the trek in campsites. Upgrades to more atmospheric high-range lodges in some destinations are possible. Talk to our Travel Experts.
Tour code: CU42
Operator: SimienEcoTours
Gallery
Itinerary & In/Exclusions
Day 1
The sights of Addis Ababa
Travel: 1 h, 30 km
After your arrival & immigration you will meet with your guide at the airport and you will be transferred to your hotel/lodge for some refreshment. Depending on your arrival time your guide will go on a city tour through Ethiopia's vibrant and lively capital. In the National Museum you can discover the cradle of mankind where the skeleton of "Lucy" is kept. Entoto Mountain with its Eucalyptus forest is a nice short escape out of town to see Mariyam Church and Menelik Palace the place where the Emperors resided. Others might enjoy one of the city's weekly markets. You can choose your itinerary with your guide.
Meals: B/L/D
Accommodation: Zeist Lodge or similar (check-in after 12pm), Addis Ababa
Day 2
Get an insight in Ethiopia's medieval history in Lalibela
Flight time: 1 h
Travel: 1 h, 30 km
A domestic flight will bring you to the holy city of Lalibela (UNESCO World Heritage Site). Its 12th century eleven rock-hewn churches are truly mysterious as they are chiselled out of solid rock. Legends claim this miracle as the work of angels. You arrive at Lalibela town in the morning for your check in at the hotel. 
Today you are entering the heart of the holy city. On your guided personal tour you walk though the labyrinths of trenches and tunnels to discover the eleven rock churches of Lalibela. Beta Medane Alem ("Church of the World Saviour") and Beta Gyorgis ("St. Geogre Church") are architectural masterpieces counting among the biggest rock churches in Ethiopia. Beta Mariam ("Church of St. Mary") with its beautiful painted interior and its frescoes is not less impressive as the churches of the southern cluster which used to be an old fortress with narrow confusing pathways. You will have the day to discover these churches in its details before your sunset dinner will be with splendid views in the Lasta Mountains.
Meals: B/L/D
Accommodation: Cliff Edge Hotel or similar, Lalibela
Day 3
The castles of Gondar
Flight time: 1 h
Travel: 1 h, 50 km
Today you will fly to the ancient capital of Gondar. Gondar's 17th century castles are listed as UNESCO World Heritage. You will visit the Royal enclosure with its 5 palaces. The late afternoon sun puts them in a good light on your guided tour through the compound. In the evening you will have a good traditional dinner in one of the local restaurants. Who feels like dancing is welcome to visit one of the bars around town where the Ethiopian shoulder dance ('eskista') is pretty famous.
Gondar is also the most common starting point for Simien Mountains Trekking. So tomorrow you will head towards the national park from here.
Meals: B/L/D
Accommodation: Inn of the Four Sisters or similar, Gondar
Day 4
Dive deeper in the sights of Gondar and visit a charity project
Travel: 3-4 h, 130 km
In the morning you will have some more time to dicover Gondar even closer and you will visit the Debre Birhan Selassie Church (Church of the Holy Trinity) which interior is beautifully decorated with 17th century religious paintings. Truly one of Ethiopia's most beautiful churches.
After lunch you continue through the Ethiopian highlands to the gate of the Simien National Park. In Debark, a small town with about 30,000 inhabitants at 2,800m altitude, some formalities need to be done in the administration offices of the park (SimienEcoTours will do this). In the meantime you have the possibility the hospital or a school for disabled children that SimienEcoTours supports. Overnight in hotel in town.
Meals: B/L/D
Accommodation: Tsehay Zeleke Hotel or similar, Debark
Day 5
First trekking day from Sankaber to Geech
Travel: 1 h, 36 km
Hiking: 6-7 h, 13 km (difficulty: medium, altitude difference: ↑1.000m, ↓800m)
The National Park and UNESCO World Heritage Site was established to protect endemic animals such as the Walia Ibex Capricorn, Ethiopian Wolf, Blood-breasted Baboons and several bird species such as the Thick billed Raven and the Bearded Vulture. The roof of Africa is also home to the highest mountain in Ethiopia - Ras Dashen, at 4,550 metres. On your hikes in the next days you will discover changing and overwhelming landscapes, endless views and rugged cliffs at striking vantage points. You will also get to know the already rare afro-alpine flora with juniper, St. John's wort and heather, Kniepofia, tree heather species and the Kosso tree.
Today you drive to the Sankaber camp (3,250m). You get a first impressive view over the dramatic mountain range. Here you meet the Gelada monkeys, a docile baboon species, which gather up to 100 animals and spend most of the time nibbling on grass and roots. During the entire trekking, a kitchen team provides for our physical well-being and we are accompanied by a local guide and park ranger, while donkeys and mules carry our heavy luggage.
From Sankaber the path leads through an area with vegetation such as bushes and giant heather trees. Like on a cliff, we look down on a gigantic waterfall, while various birds are circling in the thermic of the gorge, including vultures and buzzards. Above the former village of Geech (3,600m) we install your tent camp. In the evening you can climb another half an hour to a splendid viewpoint and watch the sun disappear fiery red in the haze on the horizon.
Meals: B/L/D
Accommodation: Geech Campsite, Simien Mountain National Park
Day 6
Along the spectacular North-Eastern walls of the Simien Mountains
Hiking: 6-7 h, 15 km (difficulty: medium, altitude difference: ↑900m, ↓900m)
First, the hike leads you up to Mount Imet Gogo (3,926m). The path is lined with giant lobelias, which grow up to 10m high here and stretch their antennae-shaped flower candles far into the sky. Once a lot of these plants were cut down, and only with strict regulations by the national park administration the stock could recover. From Imet Gogo, the trail goes first over the 4,000m peak Inatye (4,070m) and then down to your second camp Chennek (3,650m). Overnight in tent.
Meals: B/L/D
Accommodation: Chennek Campsite, Simien Mountain National Park
Day 7
Climb Bwahit Pass at 4,200 m - the highest point during the trek
Hiking: 7-8 h, 17 km (difficulty: medium/difficult, altitude difference: ↑700m, ↓1.300m)
Today you may see the endangered Walia Ibex. At a stop on the Bwahit Pass (4,200m) you enjoy the wide view over the Ethiopian mountains and then descend to the village of Sona (3,500m). Just below the village at 3,200m altitude is a nice campground. Overnight in tent.
Meals: B/L/D
Accommodation: Sona Campsite, Simien Mountain National Park
Day 8
Entering the lowlands and villages
Hiking: 5 h, 9 km (difficulty: medium, altitude difference: ↑300m, ↓1.400m)
The first part of today's trek leads slightly more than 1,000 meters steeply down to the river Ansiya. Here we take lunch in the shade of the trees and can swim and wash ourselves in the river. In the afternoon we walk in about two hours to the Camp Mekarebya (1,900m), where SimienEcoTours financed the construction of a water well for the village people. Overnight in tent.
Meals: B/L/D
Accommodation: Mekarebya Campsite, Simien Mountain National Park
Day 9
Steep valleys and rivers to cross
Hiking: 5-6 h, 11 km (difficulty: moderate/medium, altitude difference: ↑800m, ↓700m)
Again you walk down to the river Ansiya and then turn into a side valley. A beautiful small lake invites you to take a bath again, then we ascend to the village of Hawaza before continuing straight to your last camp in the village of Mulit (2,000m). Last night in the tent.
Meals: B/L/D
Accommodation: Mulit Campsite, Simien Mountain National Park
Day 10
Last trekking day to the village of Adi Arkay & drive to Lake Tana
Travel: 5-6 h, 240 km
Hiking: 2-3 h, 6 km (difficulty: moderate, altitude difference: ↑200m, ↓600m)
After just 2-3 hours of easy walk, we reach Adi Arkay. It is located along the main road to Axum and so we are back in civilization. The vehicle is already waiting for us and we drive to the small fishing village of Gorgora at the Northern Shore of Lake Tana. Dinner at the lodge restaurant and overnight in the pleasant Tim & Kim Village Lodge.
Meals: B/L/D
Accommodation: Tim & Kim Village or similar, Gorgora
Day 11
Ending your trip at Lake Tana
Your eyes wander endlessly over a sea of water, kingfishers fish and a papyrus boat paddles past in the distance in the morning light. Welcome to Lake Tana, the largest lake in Ethiopia. Here on its northern shore, nature is still alive. More than 300 bird species live in the lake region and can be observed very well. You will spend the day with lake view in the small and sleepy fishing village of Gorgora, which looks back on a glorious history. Once upon a time this warm tropical exclave was the residence of the Ethiopian emperors. Today, centuries-old monasteries with colorful frescoes still bear witness to this past. The church can be visited a short walk or you do a kayak trip on the lake with the lodge guide. The perfect day to relax and slowly say goodbye to Ethiopia.
Meals: B/L/D
Accommodation: Tim & Kim Village or similar, Gorgora
Day 12
An adventure comes to an end
Flight time: 1,5 h
Travel: 1 h, 65 km
On a short drive you will be transferred to the airport in Gondar. A domestic flight will take you then back to the capital Addis Ababa. After a nice traditional farewell dinner, you will be transferred to the airport.
Meals: B/L/D
Accommodation: ---
Included
Our services include:
all (2) domestic flights in Ethiopia with Ethiopian Airlines (Addis Ababa-Lalibela, Lalibela-Gondar, Gondar-Addis Ababa), Note: If the international flight is with a carrier other than Ethiopian Airlines, there will be a supplement of US$ 180 for the domestic flights;
all accommodations in double rooms with private toilet/shower in hotels or lodges (5x mid-range), exception during the trekking: 6 nights in tents for 2 persons;
all transfers and travels in Ethiopia with private car (minivan & 4x4);
full board (1 drink per meal included, alcoholic drinks excluded);
all entrance fees and permissions at tourist attractions, churches, museums and national parks;
for the trekking: entrance and camping fees, guide, scouts and rangers, mules/dromedaries and mulemen, cook, cooking assistant, cooking and camping equipment (it's recommended to bring your own sleeping bag);
all persons for safety and security (when prescribed);
all tips for meals;
all (mandatory) local guides in the single destinations;
all taxes and administrative fees;
24/7 emergency assistance;
experienced SimienEcoTours Tour Guide (fluently English & Amharic speaking), other language guide on request with surcharge.
Excluded
Our services do not include:
international flights;
travel insurance;
visa for Ethiopia (currently US$ 82);
alcoholic beverages;
tips;
photo and video fees (if applicable);
all extras and personal expenses.