Hiking & Culture - Relaxed travels through Northern Ethiopia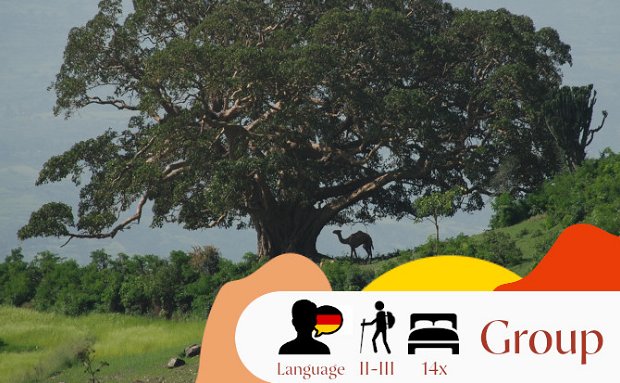 Centuries old cultural sites, high mountains with a huge variety and spectacular landscapes make this trip to Ethiopia a real enchanting experience. On this award-winning easy hiking tour through northern Ethiopia you explore the country in a refreshingly different way. You have plenty of time to experience people, culture and nature. You will see the insider tips off the beaten track, hike on the Menz Guassa Plateau and in the Lasta Mountains near Lalibela. You stay overnight in small local guesthouses and thus support the local communities and nature conservation projects of the region.
But also the culture lovers will get their money's worth. Plenty of time will be available to discover the rock churches of Lalibela or the medieval castles of Gondar and Lake Tana Region.
Accompanied by a German speaking guide this 17 days trip is the perfect mix of being active in pristine nature destinations and not missing out the classics. Awarded as a sustainable tour in 2016 by the German travel magazine GEO SAISON. On hikes off the beaten track you take our time and get in touch with the people and nature of Ethiopia. By consciously choosing two accommodations in nature reserves you support the communities in these sensitive regions and the development of sustainable tourism in Ethiopia. You observe blood-breasted baboons, go on a stalk for the Ethiopian wolf and other mountain dwellers.
On the way through Ethiopian history you visit wonders of church architecture in Lalibela and experience the Christian Orthodox religion, as well as the castles of Gondar with their glorious history. At the highest lake in Africa, Lake Tana, you explore medieval monasteries and admire the flying skills of colorful tropical birds. Lake Tanasee is a highlight for bird watching. More than 300 species of birds live here and with a little luck you will spot storks and crown cranes.
Dates:
GR11-01: September 30 to October 15,2023
GR11-02: December 27, 2023, to January 11, 2024 (SPECIAL DEPARTURE FOR CHRISTMAS HOLIDAY: € 100 extra)
GR11-03: January 16 to 31, 2024 (SPECIAL DEPARTURE FOR Ethiopian Epiphany(Timiket) HOLIDAY:  € 100 extra)
GR11-04: March 23 to April 07, 2024(SPECIAL DEPARTURE FOR Easter (Fasika) HOLIDAY: € 100 extra)
Tour code: GR11
Operator: Partner of SimienEcoTours
Gallery
Itinerary & In/Exclusions
Flight time: 7 h
Scheduled flight to Addis Ababa
The tires roll, the plane picks up speed, we are pressed into the seat. Arriving at the top: A feeling of freedom. Through the depths of the night we head for Ethiopia.
Meals: during flight
Accommodation: Monarch Parkview Hotel or similar, Addis Ababa (if late evening arrival)
Day 2
The first Ethiopian coffee
Travel: 1-2 h, 50 km
Hiking: 1h
Excursion to the Entoto, visit to the National Museum o.a. Breathe deeply. The fresh scent of eucalyptus in the air - up here on the Entoto. Relaxed wandering around Addis Abbas' local mountain, soaking up the overwhelming view of the city. The smell of fresh coffee leads to one of the traditional coffee houses. Dive deeper into the country's history during the subsequent visit to the museum. An experience that gets under your skin.
Meals: B/L/D
Accommodation: Monarch Parkview Hotel or similar, Addis Ababa
Day 3
Into the green mountain landscape
Travel: 9 h, 390 km
Three days in the Choke Mountains: Transfer from Addis Ababa to Mulu Eco Lodge.
After the colorful, lively city life, we go deep into the nature of Ethiopia. It becomes more and more silent and green during the drive past the Nile Gorge and the ancient volcanic massif of Choke Terara. The drive is long and a short hike at the canyon near Debre Libanos does you good. The journey continues through grasslands and moorlands. At over 3000 meters, at the source of the blue Nile, lies the Mulu Eco Lodge. The cozy eco-lodge in the middle of nature is our place for the next days.
Meals: B/L/D
Accommodation: Mulu Eco Lodge 
Day 4
Life at 3000 meters altitude
Three days in the Choke Mountains: Various daily activities. Imagine living for three days in an Ethiopian cottage in the green highlands at an altitude of over 3000 meters. Exploring the nearby surroundings, hiking to neighboring villages and enjoying coffee prepared at a traditional coffee ceremony. This type of so-called slow travel is a mindful, respectful way of traveling that preserves the environment and brings us closer to the culture and environment of a country in a very special, deep way.
Meals: B/L/D
Accommodation: Mulu Eco Lodge 
Day 5
Local customs and vast landscape
Various daily activities nature, culture and society as a natural unity: this philosophy of Mulu Eco Lodge also applies to us on this trip. Hikes in the surrounding landscape, market visits, horseback riding or attending local customs together with locals to dive even deeper into the culture. To get to know a country means also to linger, to spend the day freely and to enjoy the time.
Meals: B/L/D
Accommodation: Mulu Eco Lodge
Day 6
Drive Through the highlands
Travel: 8-9 h, 456 km
Transfer from the Choke Mountains to Gorgora. Farewell to the Choke Mountains, the journey through the highlands of Ethiopia continues. Along rugged mountain landscapes lie hidden ancient rock churches. Stop now and then for a snack. The untouched nature gives a feeling of freedom. Arrived at the northern shore of Lake Tana is the small town of Gorgora.
Meals: B/L/D
Accommodation: Tim & Kim Village or similar, Gorgora
Day 7
Boat trip on Ethiopia's Largest lake
Hiking: 1 h, 2 km (difficulty: easy, altitude difference: ↑100m, ↓100m)
Boat trip on Lake Tana, visit of Ura Kidane Mihret Church Shimmering and deep blue Lake Tana stretches to the horizon. A relaxing boat trip takes you past small islands with rustic monasteries. The chirping of some of the more than 300 resident bird species accompanies the hum of the engine. A relaxed walk through the coffee forest on the peninsula; it smells pleasantly of jasmine. The round building of the Ura Kidane Mihret church looks inconspicuous from the outside. Is it a church? The colorful paintings on the interior walls leave no doubt and captivate everyone.
Meals: B/L/D
Accommodation: Tim & Kim Village or similar, Gorgora
Day 8
The Kingdom of Gondar
Travel: 1 h, 60 km 
Transfer Gorgora to Gondar, city tour Gondar: old town, palaces, Debre Birhan Selassie church, moated castle. Countless palaces and castles were built in the old imperial city. You will walk along old streets to old castles and palaces. Especially the Debre Birhan Selassie Church stands out. Countless paintings adorn the walls and every wall here bears witness to centuries of history. The streets are bustling with activity. In the afternoon we visit a local street children project. Impressive how social support can come from Ethiopia itself.
Meals: B/L/D
Accommodation: Goha Hotel or similar, Gondar
Day 9
The mountain world of Simien National Park
Travel: 2 h, 110 Km
Hiking: 4-5 h, 11 km (difficulty: moderate/medium, altitude difference: ↑300m, ↓300m)
Day trip to Simien National Park (also called Semien National Park)
What makes Simien National Park so special? Over the centuries, massive erosion on the Ethiopian plateau has created a spectacular landscape. The jagged mountain peaks and deep valleys leave no doubt that we are in a unique place. What is that standing back there on the mountainside? Is that a Walia ibex? Many animals here in the national park are found nowhere else in the world. It is not for nothing that the National Park is a UNESCO World Heritage Site.
Meals: B/L/D
Accommodation: Goha Hotel or similar, Gondar
Day 10
The village of the godless
Hiking: 11 h, 590 km
Transfer Gondar to Lalibela, on the way visit Awra Amba, A life far away from any religion. Hardly conceivable in Ethiopia. In Awra Amba, however, everyday life. To become happy without faith is the goal. Guests are welcome. The founder of the community has a lot to tell and provides insights into the life of the community. Wherever our feet take us: a friendly welcome everywhere. The exciting excursion raises many questions. In the evening we reach the pilgrim city of Lalibela and relax with a delicious dinner with a view of the Lasta Mountains.
Meals: B/L/D
Accommodation: Lalibela Lodge or similar, Lalibela
Day 11
Ethiopia's Jerusalem
Hiking: 2-3 h, 6 km (difficulty: moderate, altitude difference: ↑50m, ↓400m)
Sightseeing of Lalibela, ascent to Lalibela Hudad Monolithic rock churches, laboriously carved in stone over decades. The ruins, over 800 years old, are relics of former palaces. History and culture at every corner. Candle scent in the nose. With our luggage strapped tightly to the backs of our mules, we make our way over hill and dale to the high plateau 500 meters above the city. Towards the small eco-lodge, an oasis in nature with a 360-degree mountain panorama. Far away from the hustle and bustle of the city. Sustainability, local culture and nature are very important here.
Meals: B/L/D
Accommodation: Hudad Lodge or similar, Lalibela Hudad
Day 12
History lesson with a view
Hiking: 4-5h, 11Km (difficulty: moderate, altitude difference: ↑300m, ↓300m)
Hike to Asheten Mariam Church In the morning light, after a fortifying breakfast, continue up to Ashetan Table Mountain. Immersion in history and culture. A priest presents medieval parchment writings and crosses in the Asheten Mariam Church. The return trip rewards with views of the region's mountains. Just stop, pause, enjoy.
Meals: B/L/D
Accommodation: Hudad Lodge or similar,Lalibela Hudad
Day 13
Immersion in the rural culture of Ethiopia
Hiking: 2-3 h, 11 km (difficulty: easy, altitude difference: ↑150m, ↓150m)
Hiking on the high plateau, traditional coffee ceremony with locals
The small huts of the villagers look unusual, very different from home. A feeling of foreignness? No, the traditional foot washing ceremony is a testimony to Ethiopian hospitality. For refreshment: fresh coffee during the Ethiopian coffee ceremony. The smell of incense is already a familiar companion. Surrounded by people whose language you do not understand and yet: a feeling of connectedness. Our German speaking guide will help you to communicate.
Meals: B/L/D
Accommodation: Hudad Lodge or similar, Lalibela Hudad
Day 14
Hike at Mount Abuna Yoseph
Travel: 1:30 h, 38 km
Hiking: 8 h,17 Km  (difficulty: easy, altitude difference: ↑400m, ↓1000m)
Long hike to Abuna Yoseph, late afternoon transfer to Lalibela to the hotel.
Shrublands, dry mountain forests, Afroalpine rough grasslands and evergreen forests. The hike along Mount Abuna Yoseph is like a dazzling mosaic of colorful landscapes alternating. Up here in the lonely forests the Ethiopian wolf is at home. With a bit of luck we can observe one of the very rare animals. What is that sound? Over there in the grasses. A herd of Gelada baboons. A hike that will be remembered for a long time!
Meals: B/L/D
Accommodation: Lalibela Lodge or similar, Gondar
Day 15
Goodbye in Ethiopia
Travel: 1-2 h
Domestic flight to Addis Ababa, free time, departure Without hustle and bustle by plane back to the capital. Maybe a last nap in the day room before the return flight? Or one more coffee in the city? Strengthened by the last dinner together, we head back home. Unbelievable how fast time flies.
Meals: B/L/D
Accommodation: Monarch Parkview Hotel or similar, Addis Abeba (only for day use)
Arrival at home
Meals: On the plane
Accommodation: 
Included
Our services include:
Scheduled flight from Frankfurt to Addis Ababa and back (other airports on request and possibly extra charge);
Airport tax / security fees;
Domestic flight Gondar to Addis Ababa;
Transfers and rides in private bus and four-wheel drive vehicle (4 days) according to the program;
Extra airport transfers for individual arrival and departure;
14/15 overnight stays, 9 of which in double rooms with shower/WC in mid-range lodges and guest houses, 5 in community lodges with simple shared bathrooms in double rooms (3 nights for large groups in triple or quadruple rooms) and 1 on the return flight in the plane (before departure day-use room in Addis Ababa)

Note: On this trip you can choose half a double room. You share the room with a fellow traveler of the same sex. If no roommate is found up to 4 weeks before the start of the trip, you pay the full single room supplement for this trip.;

Early check-in on arrival in Addis Ababa or room on arrival in the evening of day 1;
Day-use room in Addis Ababa on the last day of your trip;
Full board (breakfast, lunch and dinner including one non-alcoholic drink each) from the 2nd to the 16th day of travel, 1st and 17th day of travel meals during the flight;
For Menz Guassa: own cook from Addis Ababa and equipment (incl. stand-by 2-person tents for guests who may wish to stay in the tent);
Excursion program with sightseeing and hiking tours as described;
German speaking tour guide;
English speaking mountain guide in Lalibela, cook and pack animals as described;
Drinking water in the bus (we recommend bringing a reusable drinking bottle);
Entrance fees and national park fees according to itinerary;
TRESCHER travel guide book "ÄTHIOPIEN" by Christian Sefrin.
Optional
Our optional services:
Flight deduction possible; price on request;
Flights from/to other European airports: extra charge on request;
Rail&Fly tickets available on request
single room supplement

€ 240 (GR11-01)
€ 390 (GR11-02)
€ 260 (GR11-03)
€ 350 (GR11-04)
€ 350 (GR11-05)
€ 450 (GR11-06)
€ 350 (GR11-07)
Excluded
Our services do not include:
optional excursion to Yemrehanna Christos church (plus US$ 30 per person);
travel to and from Frankfurt Airport (Rail&Fly tickets available on request)
sleeping bag;
visa for Ethiopia (currently US$ 82);
alcoholic beverages;
tips;
photo and video fees (if applicable);
all extras and personal expenses and meals (approx. € 50 to € 100);

possible increases of fees and/or kerosene surcharges.