Covid-19 Update for Ethiopia
HEALTH & HYGIENE PREPARATIONS
Hygiene and security (next to flexibility) will be major factors to take into account for travel going forward.
To this end, we have set up standard operating procedures (SOPs) across our supply chain, in accordance with SAFE TRAVEL guidelines set out by the World Travel & Tourism Council (WTTC). This starts with measures that will be taken by our staff, ground teams, guides, and drivers. We are communicating with suppliers (hotels, restaurants, sites, airlines) regarding their best practices and participating in a panel of tourism companies who are focused on corona-safe travel.
Please see the details of our safe travel efforts HERE.
ETHIOPIA & COVID-19
February 14th, 2022: The Ethiopian Public Health Institute (EPHI) is regularly sending out updates about the current status of new cases, deaths and other statistics. From these updates we see that there is a clear relief in the Covid-19 situation in Ethiopia, as for several weeks and months the curve of daily cases has practically gone down zu zero (source: Worldometers).
November 5th, 2022: The Ethiopian Public Health Institute (EPHI) just issued a new directive which effectively ends almost all Covid-19 measures in Ethiopia. There is no obligation to be vaccinated to enter the country, only the rule to test if symptomatic and to wear a mask or isolate.
So, effective from now, for those travelling to Ethiopia there is no requirement to show the vaccination certificate or a test result. More and updated information can be found as usual on the Ethiopian Airlines website (see "Ethiopia Entry Requirement").
As one can see from the available statistics (source: Worldometers), since several months the curve of daily cases has flattened down completely.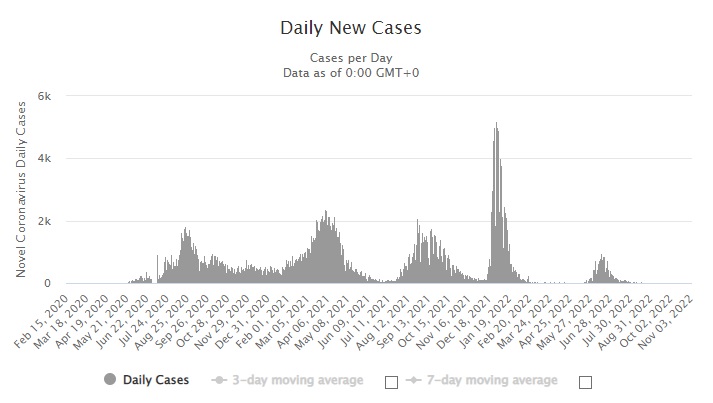 April 6th, 2022: While the infection rates in Ethiopia are as low as they have never been in Ethiopia since the outbreak of the pandemic (currently average of daily 20-30 new positive cases, see graph below), we're happy to announce that the Ethiopian government through its institutions decided to change the entry regulations starting from the current month of April. There are now alternatives to the expensive PCR test which was mandatory until a few days ago. Effective starting from 1st of April visitors entering Ethiopia who are fully vaccinated are not required to show a negative PCR test result. Please be advised that "fully vaccinated" means 2 weeks after taking of the single dose of Johnson & Johnson, or 2 doses for Astra Zeneca, Sinopharm, Sinovac, Moderna, or Pfizer.
The above is the major change affecting visitors wishing to enter the country (as we suppose that large part of our clients are vaccinated by now), but beside this the new directive of the Ethiopian Public Health Institute (EPHI) contains different other provision. You can download the complete directive HERE, or check the summary that is published on the website of Ethiopian Airlines (see "Ethiopia Entry Requirement").
February 1st, 2022: The new variant Omicron reached Ethiopia as well and had its impact on the Covid-19 numbers. Peak values of daily new cases in December 2021 have been more than doubling the top values until then. There has been a wave of dangerously increasing cases, but after a few weeks starting from 2022, the daily infections returned to a low level (300-500) as quickly as they had increased with the arrival of the new variant.
November 26th, 2021: While in Europe in autumn 2021 the Covid-19 cases are increasing there most countries are facing a new wave, in Ethiopia cases are still very low.
June 22nd, 2021: Ethiopia was hit by 2 waves of COVID-19 infections in summer 2020 and in March/April 2021. Totally the present numbers (22nd June 2021) show about 275,000 infections and 4.280 deaths, so relatively small numbers compared to a lot of other countries in Africa and especially on other continents. Currently, the numbers are as low as they have never been since the beginning of the pandemic and not alarming with an average of 150 daily new infections. Medical services are not overloaded and proper health care in the best hospitals in Addis Ababa is available.
March 22nd, 2021: Within the last six weeks Ethiopia faces an increase in COVID cases as compared to other countries as well. Most cases occur in Addis Ababa whereas regions are less affected. There is a high probability of unreported cases as the number of total laboratory tests is low. Testing is mainly done when people show symptoms.
However, comparatively free traveling in Ethiopia is possible as only a few restrictions apply for visitors. We would advise all our travelers to take all necessary precautions to avoid getting infected or spreading the disease. The best way to do so is to travel in nature and book outdoor trips.
February 9th, 2021: Ethiopia was awarded by the World Travel & Tourism Council (WTTC) with the Safe Travels Stamp – the world's first-ever global safety and hygiene stamp. This comes following major steps implemented by the Ministry of Culture and Tourism last year to ensure safety for residents, travelers, workers, and businesses in the tourism value chain, as Ethiopia reopened its borders to international visitors. Eligible businesses in Ethiopia such as hotels, restaurants, airlines, tour operators, restaurants, outdoor shopping, transportation, and airports, will be able to use the stamp once the health and hygiene protocols, outlined by WTTC, have been implemented.
December 20th, 2020: The regulation of the mandatory 14 days quarantine has been lifted if a negative PCR test certificate is presented on arrival (SOURCE: governmental e-visa website).
All passengers traveling to Ethiopia MUST present a negative RT PCR test certificate for COVID-19 before boarding a flight. The certificate validity shouldn't exceed 120 hours on arrival from the date sample is given.
Children less than or equal to 10 years of age are exempted from the RT PCR test certificate requirement.
There shall be no COVID-19 test to be done on arrival at Addis Ababa.
A Rapid diagnostic test (RDT antibody test) will not be accepted for this purpose.
The above requirement does not apply to transit passengers.
SEPTEMBER 14th, 2020: The Ministry of Culture and Tourism released an official letter confirming Ethiopia to restart tourism with the beginning of October 2020 following the national tourism protocols. For the complete letter please click HERE
LINKS TO CURRENT TRAVEL ADVISORIES BY SELECTED COUNTRY
Q&A
With all of the uncertainty going around, we know there are a lot of questions. Here are answers to some of the more common ones.
Is it safe to travel in Ethiopia?
Safety is our utmost concern. As such, our best advice is to follow the advice of the WHO, the CDC and other government institutions. For those of us living here, life continues mostly as normal. By taking sensible precautions such as wearing a face mask and regularly washing hands and using sanitiser, the real-life risk of contracting the virus remains minimal.
How do you ensure safety of guests?
Preparedness is the first step in ensuring guests' safety. Prior to arrival, guests are encouraged to purchase masks and hand-sanitiser from their home countries. Additionally, they are briefed on precautions to take such as washing hands frequently, avoiding crowded areas, to avoid touching their faces, and so on. Although it is not compulsory in any of our destinations, we do also encourage guests to wear face masks when they are out in public. Our guides and drivers will also be wearing face masks when interacting with guests.
How are postponements handled?
Travel plans can be postponed to any later date for up to 12 months after the original travel date. We will facilitate future arrangements at no cost on a case-by-case basis. In these cases, we will hold paid deposits as credit for your next booking and allow maximum flexibility in rerouting to other destinations that are deemed safer to travel to. When non-refundable payments and deposits have been mentioned in the booking process, these will remain in place until suppliers change their policies.
How late can I wait to cancel or postpone a trip?
You can cancel any booking until 30 days before departure at NO COST. Cancelations on shorter notice will be handled with flexability and only costs incurred will be charged. Additionally, you can postpone your travels for up to 12 months from the original travel date, offering a great deal of flexibility to make changes as needed.
Is it safe to book travel for later this season?
Given the current trajectory of coronavirus, nobody is certain whether travel plans made now for any time this year will follow through. However, it's safe to say that sooner or later this virus WILL pass. Because of the current situation, many hotels and suppliers are offering incredible discounts. Combined with our new flexible cancellation and postponement policy we feel that now is a great time to book future trips.
How are things looking from 2024 onwards?
As of now there are no indications that this crisis will continue into 2024. However, we are prepared for any scenario and are offering postponement or rerouting to any destination free of charge to ensure our guests have a great holiday in Ethiopia in 2024.