Bike & Hike the Ethiopian Highlands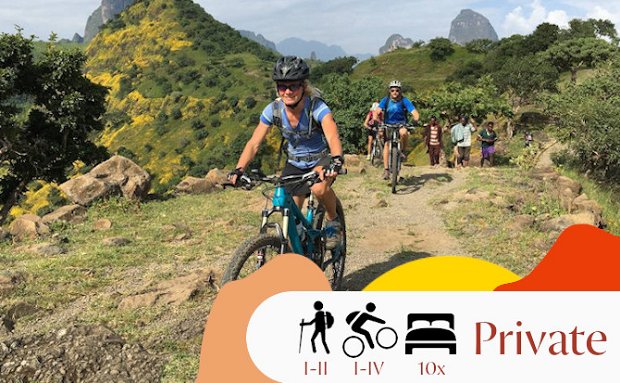 This tour is a great multi-active mountain biking and hiking adventure where you discover the natural beauty of Northern Ethiopia from the highlands down to the Lake Tana basin. Discover the Simien Mountains - staying at one of the country's top lodges - on foot and on the bike with stunning views and breath-taking rides. Move on to a picturesque lodge at Lake Tana for some kayaking and then exploring Lalibela's labyrinth of medieval churches from the 12th century.

Accompanied by one of our experienced SimienEcoTours guides (English, Italian, Spanish, French & German available) you discover the Simien Mountains National Park in the saddle through trails and gravel roads with stunning views and breathtaking downhill rides. This tour really shows you new routes and doesn't miss some classics such as Gondar, Lake Tana & Lalibela.
Overnights are spent in wisely selected and mainly beautifully located mid-range to high-range hotels/lodges. Lodge upgrades are available in some destinations. Talk to our Travel Experts.
Tour code: CU44
Operator: SimienEcoTours
Gallery
Itinerary & In/Exclusions
Day 1
Discover the capital in your pace
Travel: 1 h, 30 km
After your arrival and immigration you will meet your guide at the airport and you will be transferred to your hotel/lodge for some refreshment. Depending on your arrival time your guide will go on a city tour through Ethiopia's vibrant and lively capital. In the National Museum you can discover the cradle of mankind where the skeleton of "Lucy" is kept. Entoto Mountain with its Eucalyptus forest is a nice short escape out of town to see Mariyam Church and Menelik Palace, the place where the emperors resided. Others might enjoy one of the city's weekly markets. Alternatively the newly established parks (united park) in the city are open and you can rearrange your itinerary with your guide.
Meals: B/L/D
Accommodation: Zeist Lodge or similar (check-in after 12pm), Addis Ababa
Day 2
First encounter with Gondar's history
Flight time: 1 h
Travel: 1 h, 30 km
Today you will fly to the ancient capital of Gondar. Its 17th century castles are listed as UNESCO World Heritage Sites. You will visit the Royal enclosure with its 5 palaces and the Debre Birhan Selassie Church (Church of the Holy Trinity) which its interior is beautifully decorated with 17th century religious paintings. Truly one of Ethiopia's most beautiful churches. In the evening you will have a good traditional dinner in one of the local restaurants. Any one Who is interested in dancing is welcome to visit one of the bars around town where the Ethiopian shoulder dance ('eskista') is pretty famous.
Meals: B/L/D
Accommodation: Inn of the Four Sisters or similar, Gondar
Day 3
Drive to Simien Mountains National Park
Travel: 3-4 h, 230 km
Biking: 1-2h, 15-20km (difficulty: moderate, altitude difference: ↑50m, ↓1.500m)
In the morning you continue through the Ethiopian highlands to the headquarter of the Simien Mountains National Park. In the small town Debark some formalities need to be done in the headquarter of the park (SimienEcoTours is in charge) and you will find your mountain bikes for your first ride in the National Park.
In Debark you will meet your bike guide and make your first bike ride in to the Simiens. You follow the gravel road towards the Limalimo Escarpment with splendid mountain and forest views. An old Italian road brings you through the forests down to the Simien lowlands. An unforgettable downhill experience with a drop of more than 1,200 m. Down at the bottom you will meet your car again that brings you back again to Simien Lodge where you will spend the night. During most of the biking a stand-by vehicle will be available to give you lifts in case of exhaustion.
Meals: B/L/D
Accommodation: Simien Lodge, Simien Mountain National Park
Day 4
Hiking & Biking in Simien Mountains National Park
Hiking: 2-3h, 8km (difficulty: medium/difficult, altitude difference: ↑350m, ↓350m)
Biking: 1h, 16km (difficulty: medium)
This National Park which is the UNESCO World Heritage Site was established to protect endemic animals such as the Walia Ibex Capricorn (the endemic mammals to this National Park), Ethiopian Wolf, Blood-breasted Baboons and several bird species. The roof of Africa is also home to the highest peak in Ethiopia - Ras Dashen, at 4,550 meters. You will discover changing and overwhelming landscapes, endless views and rugged cliffs at striking vantage points and get to know the rare afro-alpine flora with juniper, St. John's wort and heather, Kniepofia, tree heather species and the Kosso tree. Today you will hike from Sankaber (3,250m) to Jinbar Waterfall, You get a first impressive view over the dramatic mountain range. From Sankaber the trail leads you through an area with vegetation such as bushes and giant heather trees. Like on a cliff, you look down on a gigantic Jinbar waterfall, while various birds are hovering in the thermic of the gorge, including vultures and buzzards. From the Jinbar waterfall you can cycle back to the lodge
Meals: B/L/D
Accommodation: Simien Lodge, Simien Mountain National Park
Day 5
From Bwahit Pass along the Mesheha River
Biking: 3-4h, 50km (difficulty: medium/difficult)
After your breakfast your car brings you to Bwahit Pass at 4.100m. From there it is a hilarious ride down to Mesheha river before you cycle up and down southwards along the plateau next to the river gorge with beautiful vistas. In the afternoon you will meet your car and will be transferred back to the lodge.
Meals: B/L/D
Accommodation: Simien Lodge, Simien Mountain National Park
Day 6
Through the highlands to Kossoye
Biking: 5-6h, 90km (difficulty: difficult)
It is time to leave the Simien Mountains, but today will be not less spectacular. Especially the second part of your cycling today will open views to the western lowlands towards Sudan. This morning you will slowly make your way back towards Gondar and follow the road to Debark and then to Kossoye. Almost all of the way is asphalted, but only few vehicles are on the road, so cycling is a pleasure. In the late afternoon you will arrive at Kossoye in the lodge. Some trails around the lodge are wonderful to go on a late stroll to spot some Gelada baboons rushing down the walls to their overnight resting places.
Meals: B/L/D
Accommodation: Kossoye Befikir Lodge or similar, Kossoye
Day 7
From Kossoye to Lake Tana
Biking: 1-2 h, 40km (difficulty: easy/medium)
Travel time: 2 h; km:100
From Kossoye you will pass by the city of Gondar and then move onwards to Lake Tana. The flat basin of Lake Tana offers great cycling opportunities in a different setting compared to the last days. Rolling through irrigated farmlands in a warm and tropical climate is something you will really enjoy.   The end of the road is the small fishing village of Gorgora at the Northern Shore of Lake Tana. Dinner at the lodge restaurant and overnight in the pleasant Tim & Kim Village Lodge.
Meals: B/L/D
Accommodation: Tim & Kim Village or similar, Gorgora
Day 8
Lake Tana Biosphere Reserve on foot or by kayak
Hiking: 2-3 h, 8 km (difficulty: easy, altitude difference: ↑100m, ↓100m)
Your eyes wander endlessly over a sea of water, kingfishers fish and the papyrus boat paddles past in the distance in the morning light. Welcome to Lake Tana, the largest lake in Ethiopia. Here on its northern shore, nature is still alive. More than 300 bird species live in the Lake region and can be observed very well. You will spend the day with the Lake view in the small and sleepy fishing village of Gorgora, which looks back on a glorious history. Once upon a time this warm tropical exclave was the residence of the Ethiopian emperors. Today centuries-old monasteries with colorful frescoes still bear witness to this past. The church can be visited in a short walk, you do a kayak trip on the Lake with the Lodge guide or you set off for a short hike along the Lake shore.
Meals: B/L/D
Accommodation: Tim & Kim Village or similar, Gorgora
Day 9
The holy city of Lalibela
Flight time: 30 min
Travel time: 2 h; km: 100
On a short drive you will be transferred to the airport in Gondar.  In the morning you will catch your domestic flight to the holy city of Lalibela (UNESCO World Heritage Site). Its 12th century eleven rock-hewn churches are truly mysterious as they are chiseled out of solid rock. Legends claim this miracle as the work of angels. You arrive Lalibela town for your check in at the hotel. In the late afternoon you will meet the Ethiopian family for a cooking class. The '' Beyaynatu'', a vegan platter, is a staple food in the fasting season in Ethiopia. You will have a delicious dinner with the family.
Meals: B/L/D
Accommodation: Cliff Edge Hotel, Lalibela
Day 10
Visit the churches of Lalibela
Today you are entering the heart of the holy city. In your guided personal tour you walk though the labyrinths of trenches and tunnels to discover the eleven rock churches of Lalibela. Beta Medane Alem ("Church of the World Savior") and Beta Georgis ("St. George Church") are architectural masterpieces counting among the biggest rock churches in Ethiopia. Beta Mariam ("Church of St. Mary") with its beautifully painted interior and its frescoes is not less impressive as the churches of the southern cluster which used to be an old fortress with the narrow confusing pathways. You will have a full day to discover these churches in detail. For lunch you return back to your hotel where fresh garden food and some time for relaxation are waiting before you set off for the second part of your church tour in the afternoon. A sunset dinner at the campfire with splendid views into the surrounding Lasta Mountains and into the endless skies will make it a memorable day.
Meals: B/L/D
Accommodation: Cliff Edge Hotel, Lalibela
Day 11
Return back to Addis Ababa
Flight time: 1 h
Travel time: 1 h; km: 50
Wake up early and transferred to the churches to get the spiritual atmosphere in the early morning. Spend a few hours seeing the churches you have not yet visited, before returning to your hotel for a brunch and to pick your bags before transferred to the airport for the afternoon flight to Addis Ababa. We will pick you up at the domestic airport in Addis, if COVID tests are needed we will assist (excluded in the price) and include a chance to buy a few last minute souvenirs and have dinner before beginning your journey home.
Meals: B/L/D
Accommodation: ---
Included
Our services include:
all (3) domestic flights in Ethiopia with Ethiopian Airlines in tourist class, Note: If the international flight is with a carrier other than Ethiopian Airlines, there will be a supplement of € 220 for the domestic flights;
all accommodations in double rooms with private toilet/shower in hotels or lodges (3x high-range, 7x mid-range);
all transfers and travels in Ethiopia with private car (minivan & 4x4);
rental bikes for 6 days in Simien NP & at Lake Tana (Scott Scale 980, Model 2018/19)
full board (1 drink per meal included, alcoholic drinks excluded);
all entrance fees and permissions at tourist attractions, churches, museums and national parks;
for Simien National Park: entrance and camping fees, guide, scouts and rangers;
all persons for safety and security (when prescribed);
all tips for meals;
all (mandatory) local guides in the single destinations;
all taxes and administrative fees;
24/7 emergency assistance;
experienced SimienEcoTours Bike/Tour Guide (fluently English & Amharic speaking), other language guide on request with surcharge.
Excluded
Our services do not include:
international flights;
travel insurance;
visa for Ethiopia (currently US$ 82);
alcoholic beverages;
tips;
photo and video fees (if applicable);
all extras and personal expenses.