Best of Ethiopia - North and South Combined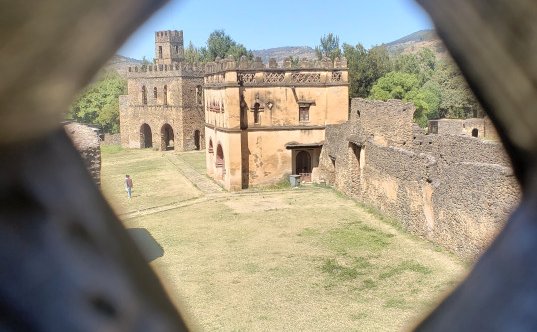 Combine the classical sights of Northern and Southern Ethiopia in just one vacation. This tour is a good mix of Ethiopia's cultural and natural diversity. You will feel like traveling to different countries on one journey.
Led by one of our experienced English speaking guide, you'll be able to visit the best of Northern and Southern Ethiopia in just 2 weeks. You'll also enjoy the company of a few other international travellers in a small group ranging from 4 to maximum 10 participants. The group size is small to guarantee you nice encounters with locals.
Dates:
GR22-01: October 8 to 21, 2023  (English speaking guide)
GR22-02: November 19 to December 02, 2023  (German speaking guide)
GR22-03: December 31 to January 13, 2023/24  (English speaking guide) SPECIAL DEPARTURE FOR CHRISTMAS HOLIDAY: € 160 extra
GR22-04: January 28 to February 10, 2024 (German speaking guide)
GR22-05: March 10 to 23,2024 (English speaking guide)
Tour code: GR22
Operator: SimienEcoTours
Gallery
ITINERARY & IN/EXCLUSIONS
Day 1
Arrival Addis Ababa, city tour
Travel time: 1h; km: 20 km
Arrival in the morning. Transfer to the hotel (if the rooms are ready for occupancy). Sightseeing tour through the capital, which is located at an altitude of up to 2,450 masl. A city of contrasts with modern skyscrapers next to corrugated iron huts, donkey and horse carts next to modern means of transport, colourful traditional markets next to supermarkets. Besides the most important historical monuments, you visit the National Museum, where the famous skeleton Lucy is kept.
Meal: Breakfast, Lunch, Dinner
Accommodation: Sunspot Hotel or similar, in Addis Ababa
Day 2
Flight Addis Ababa - Bahir Dar, Blue Nile Falls
Flight time: 1h Travel: 2 h; 70 km

Hike: 2-3 h, 4-5 km (difficulty: moderate; altitude difference: ↑150m, ↓150m)
Domestic flight to Bahir Dar, the green bustling university town on Lake Tana. The largest lake in Ethiopia is situated at 1,800m above sea level, has a pleasant climate, and offers excellent freshly squeezed fruit juices and squeezed fruit juices, and excellent fish dishes. In the afternoon you will visit the Nile Falls, 35 km away, which we experience from different perspectives during a walk.
Meals: B/L/D
Accommodation: Jacaranda Hotel  or similar, Bahir Dar
Day 3
Boat trip on Lake Tana with visit to island monasteries
Travel: 0.5 h; 5 km
In the morning you will take a boat trip to Lake Tana. On this trip, you can observe fishermen with their papyrus boats and the diverse fauna of the lake (e.g. pelicans and hippos). Your destination is one of the many islands, where you'll visit a monastery church with its paintings and church treasures. In the afternoon you can relax on the lakeside promenade with fruit juice or alternatively visit the Bahir Dar market.
Meals: B/L/D
Accommodation: Jacaranda Hotel or similar, Bahir Dar
Day 4
Drive Bahir Dar - Gondar, afternoon visit of the castles
Travel: 3 h; 175 km
With the private vehicle, you drive north to Gondar, the second-largest city and until 1855 capital of Ethiopia, where the former imperial palace with church and baths can be visited. The Fasil Ghebbi Palace from the 17th century is located in the large palace district, which has been declared a UNESCO World Heritage Site. You also visit the Debre Berhan Selassie Church, which is located a little outside the palace, to see the ceiling painted with angels' faces, in addition to the round church architecture typical of Ethiopia.
Meals: B/L/D
Accommodation: Goha Hotel or similar, Gondar
Day 5
Day Trip to the famous Simien Mountains
Travel: 3.5 h; 200 km
In the morning the drive takes you through the Ethiopian highlands towards the north-east into the Simien Mountains National Park. At a stop in Debark, a small town with about 60,000 inhabitants at an altitude of 2,800m, the formalities are completed at the park's headquarters. In Debark there is the possibility to visit a school for disabled children, which is also supported by SimienEcoTours. After leaving Debark behind, you will ride on a bus for a while to the entrance of the national park. Already here you have several views of this imposing, wildly rugged mountain landscape. We meet the endemic Gelada monkeys, a trusty baboon species, which nibble on grasses and roots in packs of up to 100 animals.
Meals: B/L/D
Accommodation: Goha Hotel or similar, Gondar
Day 6
Flight Gondar - Lalibela, afternoon visit of the rock hewn churches
Flight time: 1h
Travel: 1.5 h; 30 km
Domestic flight to Lalibela, the place of pilgrimage and holy city for the Ethiopian Orthodox Christians. In the afternoon you visit the first group of the world-famous rock churches. The 11 monolithic churches were carved out of the rock by 16,000 Ethiopians in 23 years of construction in the 12th/13th century and are also part of the UNESCO World Heritage.
Meals: B/L/D
Accommodation: Lalibela Lodge or similar, Lalibela
Day 7
Visit of the churches and explore Lalibela town
Travel: 0.5 h; 10 km
In the morning you will visit the second group of rock churches in the town and then will have a free afternoon or optionally can hang out in the small town and interact with the people. 
Meals: B/L/D
Accommodation: Lalibela Lodge or similar, Lalibela
Day 8
Transfer from the Northern highlands to the South
Flight time: 2 h
Travel: 0.5 h; 10 km
You will be transferred into your connecting domestic flight to Arba Minch via Addis Abeba. The town, situated between the two Rift Valley Lakes Chamo and Abaya is the hub for Southern Ethiopia and where your cultural adventure can start. 
Meals: B/L/D
Accommodation: Paradise Lodge or similar, Arba Minch
Day 9
Experience the traditions of the Dorze villages and see Lake Chamo
Travel: 2.5 h; 70 km
In the morning you explore Chamo Lake by boat. In addition to the beautiful scenery, you can watch fishermen on their traditional papyrus boats, herons, birds of prey, pelicans, hippos, and crocodiles.
In the afternoon you drive up the serpentine roads to the mountain village of Chencha, the center of the Dorze people. You will make several stops along the way: visit a pottery family, visit a Dorze village with its characteristic bamboo huts, learn about the process of making bread from the false banana tree and the craft of the cotton weavers who make colorful scarves, clothes, and hats. 
Meals: B/L/D
Accommodation: Paradise Lodge or similar, Arba Minch
Day 10
Day Trip to the UNESCO heritage of Konso
Travel: 3-4 h, 190 km
Today you have a full day to visit some of the non-touristic Konso villages in the surrounding highlands. Strolling around the fortressed villages your guide will explain a lot about Konso's beliefs and cultures. Generation trees are erected on a central court in the village not only telling the history of the villages but also being used as sacrificial sites for the locals. The Konso are among only a few peoples in Ethiopia that established permaculture as a means of getting more and better harvests in dry environments which makes them well off compared to other ethnic groups in this region. These are just some of the interesting things to discover while visiting Konso. A meeting with their friendly king (if available) will also give you another chance to learn more about the Konso before you will set off in the late afternoon to Arba Minch.
Meals: B/L/D
Accommodation: Paradise Lodge or similar, Arba Minch
Day 11
Drive Arba Minch - Yirgalem.
Travel: 5-6 h, 250 km
Another gorgeous breakfast overlooking nature awaits you this morning before you will start heading north where the huge Lake Abaya accompanies your journey for quite some hours before you reach the coffee forests of the Sidama region where some of the finest coffee beans grow. In the early evening, you will get a chance to experience your first Ethiopian coffee ceremony watching, smelling, and tasting while hyenas lace from the woods and their laughter echoes all over the place.
Meals: B/L/D
Accommodation: Aregash Lodge or similar, Yirga Alem
Day 12
Visit the green coffee plantations in Yirga Alem
Hiking: 2-3 h, 6 km (difficulty: easy, altitude difference: ↑100m, ↓100m)
This morning you awake in your traditional bamboo-woven house (traditional Sidama houses) surrounded by the sounds of birds and hyenas. Early birds are welcome to go on a nature walk with the lodge guides to spot some black and white colobus monkeys in the treetops. After breakfast, your guide will take you on a village tour on foot to the Sidama villages. A truly unique experience close to the locals and their culture on lush forest trails and through farmlands. Free afternoon at the beautiful lodge.
Meals: B/L/D
Accommodation: Aregash Lodge or similar, Yirga Alem
Day 13
Drive Yirgalem - Langano, visit Abjatta-Shalla Park
Travel: 2-3 h; 100 km
On today's drive to Lake Langano, in the afternoon you will have an excursion to the picturesque Abijata-Shalla National Park with its three lakes and a resident population of the thousands of Lesser and Greater Flamingos.
Meals: B/L/D
Accommodation: Bishangari Lodge or similar 
Day 14
Drive Langano - Addis Ababa, shopping, dinner, departure
Travel: 4-5 h; 230 k
Your last day takes you back to the capital. Before the way back you can enjoy the nature around the lake with its green landscape and vast birdlife. Once in Addis Ababa and if there is time left, you'll have the opportunity to buy some souvenirs for friends and family at home. After a nice traditional farewell dinner, your guide and driver will transfer you to the airport.
Meals: B/L/D
Accommodation: ---
Included
Our services include:
all domestic flights in Ethiopia with Ethiopian Airlines in tourist class (extra of €330 if the international flight is not booked with Ethiopian Airlines)
all accommodations in double rooms with private toilet/shower in hotels or lodges; supplement for single room €360
all transfers and travels in Ethiopia with private car
full board (1 drink per meal included, alcoholic drinks excluded)
all entrance fees and permissions at tourist attractions, churches, museums and national parks
all (mandatory) local guides in the single destinations
experienced SimienEcoTours tour guide (fluent in English & Amharic speaking)
Excluded
Our services do not include:
International flights
Travel insurance
visa for Ethiopia (currently US$ 82);
Alcoholic drinks
Tipping
Photo and video fees (if any)
All extras and personal expenditures