Southern Ethiopia's Cultural Treasures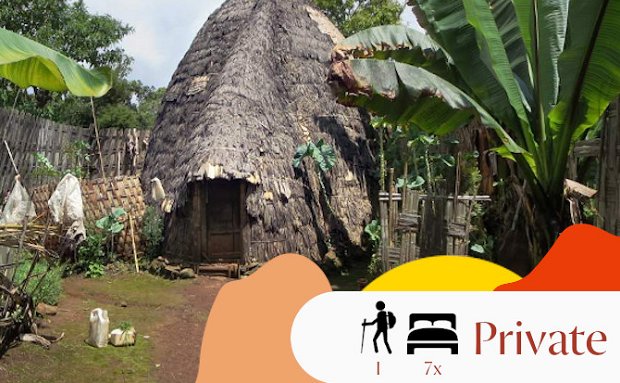 Our short itinerary to Southern Ethiopia focuses on the rich cultural diversity in this part of Africa. Comparable to our long itinerary this tour spares out the more active part in Bale Mountains National Park.
The tour takes you through the Great African Rift Valley and you discover some peoples off the beaten track. This journey deliberately omits some of the supposed 'must sees' in order to give you intensive and everlasting impressions of some non-touristic places that showcase what Southern Ethiopia is like in an authentic way.
Accompanied by one of our experienced SimienEcoTours guides (English, Italian, Spanish, French & German available) you will spend time with the Konso tribe wandering around their villages and learn about their ways of living. In the Dorze highlands lush green villages with friendly villagers await you. The Dorze are well known because of their dome-shaped houses and their rich weaving culture. Further north the picturesque villages of the coffee farmers in the Sidama Region will be a different experience. You will finalize your tour in the warm climate shaded under huge trees at the lakeshore of Lake Langano. It is the perfect spot for a swim in beautiful scenery and to recap a wonderful journey before you head back home.
Overnights are spent in wisely selected and mainly beautifully located mid-range to high-range hotels and lodges.
Tour code: CU20
Operator: SimienEcoTours
Gallery
Itinerary & In/Exclusions
Day 1
Addis Ababa - the third highest capital in the world
Travel: 1 h, 30 km
After your arrival & immigration you will meet with your guide at the airport and you will be transferred to your hotel/lodge for some refreshment. Depending on your arrival time your guide will go on a city tour through Ethiopia's vibrant and lively capital. In the National Museum you can discover the cradle of mankind where the skeleton of "Lucy" is kept. Entoto Mountain with its Eucalyptus forest is a nice short escape out of town to see Mariyam Church and Menelik Palace, the place where the Emperors resided. Others might enjoy one of the city's weekly markets. You can choose your itinerary with your guide.
Meals: B/L/D
Accommodation: Zeist Lodge or similar (check-in after 12pm), Addis Ababa
Day 2
Flight to Arba Minch and onwards to the Konso villages
Flight time: 1 h
Travel: 2-3 h, 130 km
You will be transferred to your domestic flight to Arba Minch. The town is the hub for Southern Ethiopia and from here your journey moves on along Lake Chamo through fertile regions where most of the countries tropical fruits are grown to the Konso highlands where your cultural adventure can start. Kanta Lodge will be your get away to visit the people of the Konso tribe.
Meals: B/L/D
Accommodation: Kanta Lodge or similar, Karat Konso
Day 3
UNESCO World Heritage of the Konso
Travel: 3-4 h, 160 km
Today you have a full day to visit some of the non-touristic Konso villages in the surrounding highlands. Strolling around the fortressed villages your guide will explain a lot about Konso beliefs and cultures. Generation trees are erected on a central court in the village not only telling the history of the villages but also being used a sacrificial sites for the locals. The Konso are among only few peoples in Ethiopia that established permaculture as a means of getting more and better harvests in dry environments which makes them well off compared to other tribes in this region. These are just some of the interesting things to discover while visiting the Konso. A meeting with their friendly king (if available) will also give you another chance to learn more about the Konso before you will set off in the late afternoon to Arba Minch.
Meals: B/L/D
Accommodation: Haile Resort or similar, Arba Minch
Day 4
The weavers of the Dorze people
Travel: 3-4 h, 100 km
This morning you will have a sunrise breakfast overlooking Nechisar Nationalpark crammed between the two lakes Abaya and Chamo. Certainly, one of the best breakfast spots in Ethiopia! After breakfast a motor boat will sway you to crocodile beach on Lake Chamo to see the massive Nile crocodiles warming up in the morning sun. You will have good chances to see hippos and plenty of waterbirds as well.
Back in town for lunch before you head for your next cultural experience with the Dorze people that live up in the Chencha highlands. Your car brings you to meet the villagers and their homesteads. The false banana tree supplies them with their staple food kojo. How? You will learn about tis amazing technique. The Dorze are also skilful weavers that market their cotton shawls all over Ethiopia. Late afternoon return to Arba Minch to the lodge.
Meals: B/L/D
Accommodation: Haile Resort or similar, Arba Minch
Day 5
Drive to where the coffee grows
Travel: 5-6 h, 250 km
Another gorgeous breakfast overlooking nature awaits you this morning before you will start heading north where the huge Lake Abaya accompanies your journey for quite some hours before you reach the coffee forests of the Sidama region where some of the finest coffee beans grow. In the early evening you will get a chance to experience your first Ethiopian coffee ceremony watching, smelling and tasting while hyenas lace from the woods and their laughter echoes all over the place.
Meals: B/L/D
Accommodation: Aregash Lodge or similar, Yirga Alem
Day 6
Spend your day with the Sidama people
Hiking: 2-3 h, 6 km (difficulty: easy, altitude difference: ↑100m, ↓100m)
This morning you awake in your traditional bamboo-woven house (traditional Sidama houses) surrounded by the sounds of birds and hyenas. Early birds are welcome to go on a nature walk with the lodge guides to spot some black and white colobus monkeys in the tree tops. After breakfast, your guide will take you on a village tour on foot to the Sidama villages. A truly unique experience close to the locals and their culture on lush forest trails and through farmlands. Free afternoon at the beautiful lodge.
Meals: B/L/D
Accommodation: Aregash Lodge or similar, Yirga Alem
Day 7
National Parks in the savannahs of the Great African Rift Valley
Travel: 2-3 h; 100 km
Today is a rather short drive to Lake Langano which gives you plenty of time to make stops along the way. The lake town Hawassa with its vibrant fish market is an excellent stop to try fresh fish. And before reaching Lake Langano you can discover the lakes of Abijata-Shalla National Park with their resident population of the thousands of Lesser and Greater Flamingos. A rather more impressive savannah landscape is the Swayne's Hartebeest Sanctuary which can be visited instead. Famous for its endemic population of about 300 Swayne's hartebeest antelopes it is the only sanctuary over the country where this game still survives.
Discuss with your guide the night before what you prefer for today's activity. Some relaxing at Lake Langano, the only lake in Ethiopia that is suitable for swimming, can be another alternative towards the end of the trip.
Meals: B/L/D
Accommodation: Hara Langano Lodge or similar, Lake Langano
Day 8
Enjoying the last moments in the Rift Valley
Travel: 4-5 h; 230 km
Your last day takes you back to the capital. Before the way back you can enjoy the nature around the lake with its green landscape and vast birdlife. Once in Addis Ababa and if there is time left, you'll have the opportunity to buy some souvenirs for friends and family at home. After a nice traditional farewell dinner your guide and driver will transfer you to the airport.
Meals: B/L/D
Accommodation: ---
Included
Our services include:
all (1) domestic flights in Ethiopia with Ethiopian Airlines (Addis Ababa-Arba Minch), Note: If the international flight is with a carrier other than Ethiopian Airlines, there will be a supplement of US$ 80 for the domestic flights;
all accommodations in double rooms with private toilet/shower in hotels or lodges (4x high-range, 3x mid-range);
all transfers and travels in Ethiopia with private car (minivan & 4x4);
full board (1 drink per meal included, alcoholic drinks excluded);
boat cruise on Lake Chamo;
all entrance fees and permissions at tourist attractions, churches, museums and national parks;
all persons for safety and security (when prescribed);
all tips for meals;
all (mandatory) local guides in the single destinations;
all taxes and administrative fees;
24/7 emergency assistance;
experienced SimienEcoTours Tour Guide (fluently English & Amharic speaking), other language guide on request with surcharge.
Excluded
Our services do not include:
international flights;
travel insurance;
visa for Ethiopia (currently US$ 82);
alcoholic beverages;
tips;
photo and video fees (if applicable);
all extras and personal expenses.