Short Mountain Biking Trip in the Bale Mountains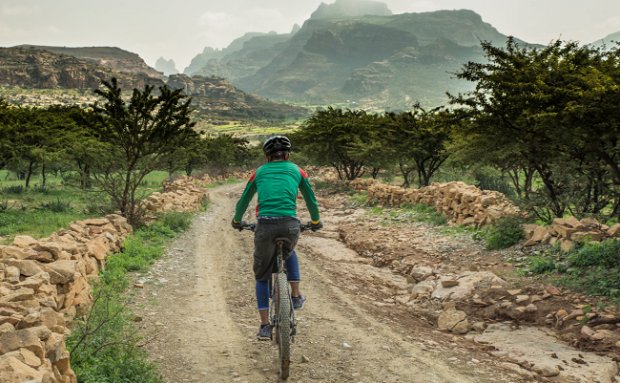 The hidden nature gem of Bale Mountains National Park, a well-kept secret among Ethiopia's highland parks, is awaiting you to be explored on the mountain bike. Experience the beauty of the barren high plateaus all the way down to the evergreen rainforests with a varying diversity.
The tour requires a good fitness due to the high altitudes and medium-long biking routes. Apart from some gravel roads the main mountain biking will be on small tracks or even off road. The relatively flat and grassy environment in the Bale Mountains makes mountain biking definitely possible but sometimes a bit challenging. High quality mountain bikes are necessary or can be rented through us. Temperatures can drop below 0°C in the night time. Warm and professional sleeping gear is needed. During the day temperatures will probably not exceed 15°C.
Dates:
October  25 to 29, 2023
February 21 to 25, 2024
Tour code: GR21
Operator: SimienEcoTours
Gallery
ITINERARY & IN/EXCLUSIONS
Day 1
Drive from Addis Ababa to Dinsho (370 km)
Travel: 6-7 h, 370 km
Biking: -
The adventure begins! Todays drive will bring you through Adama and Assela to your starting point of the tour. After a long day with scenic stops in the Arsi Mountains or at Wabe waterfall we will arrive our camp around the Nationalpark HQ and our cook prepares some mouth-watering dinner.
Meals: -/L/D
Accommodation: Camping
Day 2
Mountainbiking trip from Dinsho (2.900 m) to Sodota Campsite (3.500 m)
Travel: -
Biking: 5-6 h, 20 km (difficulty: moderate/medium, altitude difference: ↑700m, ↓200m)
Good gear is needed when we are finally leaving the gravel and start climbing the beautiful Web Valley on little tracks. After some ten kilometers we are in the park cycling in flat terrain along the gigantic Web River. Chances are good to spot the rare Ethiopian Wolves and birds of pray, just as the Augur Buzzard, are circling above our heads. On some scenic detours on and off the bike we will reach our second tented camp in the afternoon.
Meals: B/L/D
Accommodation: Camping
Day 3
Mountain biking trip Sodota (3.500 m) to Sanetti Campsite (4.100 m)
Travel: -
Biking: 6-7 h, 32 km (difficulty: difficult, altitude difference: ↑1200m, ↓500m)
Todays goal is the scenic Sanetti-Plateau at 4.100 meters asl the highest moorland in Africa. Our tracks are high up but luckily only gently rising. It will feel like we are out of space all alone when we are passing the Woronga Valley accompanied by the 4.200 meters high Mt. Woronga or when we rest at the "Grey Lake" (Gebre Guracha) and refresh ourselves. In the afternoon we will arrive at the Sanetti campsite where we will enjoy our last night in the wild under the stars.
Meals: B/L/D
Accommodation: Camping
Day 4
Mountain biking trip Sanetti Campsite (4.100 m) to Goba
Travel: -
Biking: 3-4 h, 30 km (difficulty: moderate/medium, altitude difference: ↑100m, ↓1600m)
After three days of uphill we reward ourselves with a spectacular downhill drive from Sanetti to Goba at the foot of the plateau. After some early hike around our camp trying to spot wildlife we will make our way down, riding through moorlands, giant heather forests and gorges with spectacular views.
Finally we arrive in Goba where we will enjoy our last night at the Wabe Shebelle Hotel.
Meals: B/L/D
Accommodation: Wabe Shebelle Hotel
Day 5
Drive back to Addis (450 km)
Travel: 7 h, 450 km
Biking: -
Time to say goodbye to everyone. Today we head back to Addis passing Shashamene, Lake Langano and Debre Zeit with the opportunity to get dropped somewhere along the road for those who want to extend their adventures. 
Meals: -/B/L
Accommodation: -
Included
Our services include:
All hotels and camping during the trip
Full board (2 meals a day and 1 lunchbox incl. 2l of water)
Cook during camping and trekking tours
Camping & cooking equipment is provided
All transfers and drives in Ethiopia incl. driver, fuel and insurance
All entrance fees and guiding fees
Scout fees and mules for luggage and equipment transport



Excluded
Our services do not include:
Rental bike (can be rented from us for 90 USD extra)
On request we will also book you a return flight from Addis to Robe and back (starting from 50 USD)
Warm sleeping bag
Tipping
Alcoholic beverages
Visa