Relaxing & Hiking at Wenchi Crater Lake and Negash Resort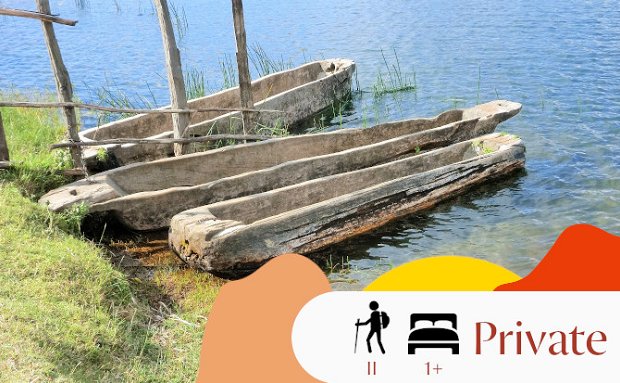 Wenchi Crater Lake in the vicinity of Addis Ababa is yet a pretty much-unexplored gem that can be easily combined with a relaxing stay at the green gardens of Negash Resort in Wolisso. Take a refreshing dip in their pool or a massage in the spa after getting back from your explorations in the nature of Lake Wenchi.
Accompanied by one of our experienced SimienEcoTours driver guides (English available) you depart for a two days trip to the town of Wolisso and Wenchi Crater Lake west of the capital. Our car is available anytime to bring you to the lake for some walking, boating or horse riding or you even go on a hike along the trails around the crater. You will be surprised by the pristine beauty of the churches, villages, valleys and hot springs of the area.
Trips can be easily extended at Negash Resort or you go on a longer loop to Gurage region and down into the Great African Rift Valley spending some more time at Lake Langano.
Tour code: CU29
Gallery
Itinerary & In/Exclusions
Day 1
Drive to Wenchi Crater Lake from Addis Ababa
Please note that this proposed itinerary is just an idea from us for you. As the tour is a private trip you are fully flexible on you time schedule and activities.
Travel: 3-4 h; 120 km
Your driver meets you at your appointed place in Addis Ababa at 6:30am and you drive to Wenchi Crater Lake. With some snacks on board you can enjoy the 3 to 4 hour drive. Upon arrival a cosy pick nick spot will be prepared for you breakfast before the hiking. Take this chance to decide with your local guide which hiking route is best for you as there are easy and flatter trails along the crater rim and more challenging and steeper ones down into the crater or even surrounding the lake.
Your time at Wenchi will be wonderful as the scenery is beautiful everywhere no matter if you do some walks around the shore or if you cross by boat to discover more remote parts of the crater. Locals provide also horses to do some parts on the horse back.
After your visit your driver will bring you to Negash Resort in Wolisso for your overnight stay.
Meals: B/L/D
Accommodation: Negash Resort, Wolisso
Day 2
Relaxed morning and return back to Addis Ababa
Travel: 3-4 h; 100 km
Negash Resort is settled in the town of Wolisso and the garden provides a beautiful green escape from the downtown hussle. The morning is all yours today. Sleep long, take a swim in the pool or visit the spa before you head back to the capital. Check out is at 11am but fascilities can be used longer and you can depart back to Addis Ababa latest around 4pm and arrival back in Addis will be around 7pm.
Meals: B/L/-
Accommodation: ---
Add extension days
You want to spend more days?
For those ones who have the time to spend some more days in Negash Resort, we can offer you overnight stays on B&B base or trip extensions to Gurage Region and Lake Langano. All further activities or excursions can be organized on your own or SimienEcoTours can give you a hand with that.
For extensions ask our Travel Experts for prices and itineraries.
Included
Our services include:
all accommodations in twin/double rooms (upon request) with private toilet/shower in Negash Resort;
transfer incl. fuel from Addis Ababa to Lake Wenchi/Wolisso and back in your private 4x4;
experienced SimienEcoTours tour guide (fluent in English & Amharic speaking)
meals as per itinerary (1 drink per meal included, alcoholic drinks excluded);
guided nature walk (max. 5 hrs.);
all (mandatory) entrance fees and local guide fees;
all taxes and administrative fees;
24/7 emergency assistance.
Optional
Our optional services:
experienced SimienEcoTours nature guide for bird watching (fluent in English and Amharic) (extra charge: US$ 100 per group); other languages upon request.
Excluded
Our services do not include:
travel insurance;
visa for Ethiopia (currently US$ 82);
alcoholic beverages;
tips;
photo and video fees (if applicable);
all extras and personal expenses.