Paragliding

Explore the Ethiopian skies
Paragliding Tandem Flights in Ethiopia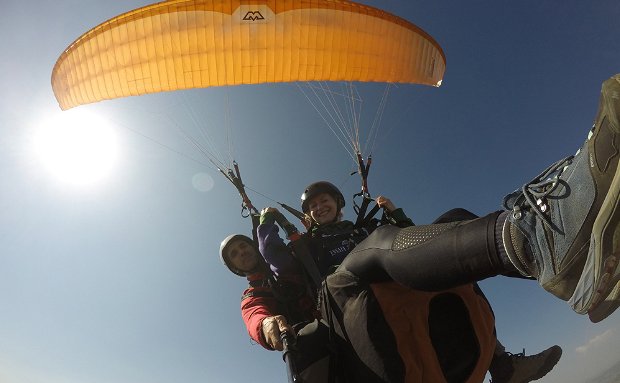 Contrasting terrain, vital nature, breath-taking landscapes, comfortable climate, beautiful people, ancient history - all ready to be explored with the wings of a paraglider. The mountain terrain and sunny climate in Ethiopia make it one of the best places for paragliding.
Accompanied by our car with driver and our experienced paragliding instructor from Bulgaria you go on this one-day escape from Addis Ababa. Your trip starts at your home in Addis Ababa where we will pick you up in the morning and transfer you to one the nearby flying sites which are located around Sendafa, Aliltu other similar place in the East of the capital.
Paragliding is an activity highly depending on weather and season. Usually flights are offered from November to March, as in rain season weather and wind conditions are not suitable and flying is not possible. The price per person is 175 USD (9,700 ETB) for groups with 3 and more people. The price will be increased if the site for flying is not one of the closer ones (Sendafa, Aliltu, Sululta). Prices are valid until March 2024 and payment can be done in Ethiopian Birr. This includes transportation from Addis Ababa to the flying site and back, all needed shuttle for the flight and of course the tandem flight itself. Don't forget your packed lunch and some good footwear for the start and landing. We also strongly recommend to wear some old clothes, as you will be landing in the fields and you never know if there is high grass or some small bushes which could damage your clothes (happens very rarely). Of course you should be free from vertigo and motion sickness. The weight of the clients should be min. 40 and max. 90kg. No other requirement or equipment is needed. We'll provide all technical equipment including a helmet for you. Before the flight the pilot will give you a briefing about the risks and some instructions on how to minimize them. Despite all precautions we are aware that there are risks which are out of our control and for this reason we'll ask you to sign a standard letter of release of responsibility.
If you'd like you can have some photos and videos done with a GoPro and selfie-stick (1,000 ETB to be paid directly to the paragliding instructor).
In case you need more information just ask our Travel Experts.
Tour code: CU38
Gallery
Itinerary & In/Exclusions
Day 1
Daytrip to Sendafa or other location for paragliding
Travel: 2-3 h, 120 km
Flying: about 15 min
Your driver meets you at your appointed place and agreed time in Addis Ababa and you drive to the the outskirts of Addis. There are different flying sites and your instructor will choose the most suitable one depending on the wind conditions of the day.
Once the wing and whole equipment is ready you'll get some instructions, and the off we go! You will set off and fly over eucalyptus forests, villages and farmlands. A service car will accompany you, in case of an emergency or to serve as shuttle between start and landing site.
After all participants have had their tandem flight experience, you'll pack all your stuff and return back to Addis Ababa.
Please note also that flying highly depends on the weather and wind conditions, so there could be the possibility that the flight will be cancelled, in which case we'll refund the money, deducted by 1,000 Birr for the transportation.
Meals: -/-/-
Accommodation: -
Included
Our services include:
15min tandem paragliding flight;
all transfers from/to Addis Ababa with private car (4x4 or minivan);
stand-by service & shuttle vehicle;
24/7 emergency assistance;
experienced paragliding instructor from Bulgaria (fluently English speaking).
Excluded
Our services do not include:
photos from the sky with professional GoPro selfie cam (1000 Birr);
meals and drinks;
travel insurance;
visa for Ethiopia (currently US$ 82);
all extras and personal expenditures.