Community Hiking in Ethiopia's Green Gurage Zone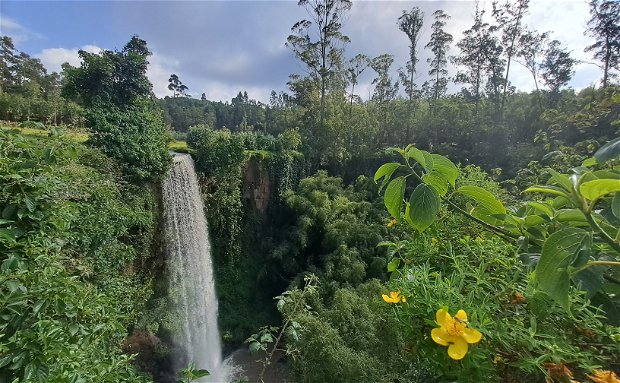 Enjoy a short 3 days get away from Addis Ababa to discover the hidden green highlands while hiking through the neat Gurage villages and learning about their unique lifestyle, culture and food. A real adventure off the beaten track awaits you there, where the fields, forests and hills are green all year around. Besides this, the Gurage people are one of the most hospitable in whole Ethiopia.
This hiking experience in Gurage is definitely the highlight of this trip, but you need at least 2-3 days in this extraordinary area for a complete experience, while Wenchi Crater Lake and Lake Ziway can be done also as a daytrip from Addis Ababa. If you have already seen or been to Wenchi or Ziway, we can easily skip this part and the trip will be shortened by 1 or 2 days. The price will be reduced accordingly. This is a truly unique opportunity for someone passionate about hiking and who wants to discover new places for a really good value-for-money deal.
Tour code: CU36
Operator: SimienEcoTours
Gallery
Itinerary & In/Exclusions
Day 1
Drive West to the extinct volcano Wenchi
Travel: 3-4 h; 120 km
In the morning your driver meets you at your appointed place in Addis Ababa and you drive to Wenchi Crater Lake. With some snacks on board you can enjoy the 3 to 4 hour drive. The iconic and beautiful volcanic lake has its own feature with extreme hospitality of in habitants. Depending on the fitness and interest you can pick a route of one to five hours of hiking. Take this chance to decide with your local guide which hiking route is best for you as there are easy and flatter trails along the crater rim and more challenging and steeper ones down into the crater or even surrounding the lake. Locals provide also horses to do some parts on the horse back.
In case you decide for the longer hike, the route back to the car takes you through a breath-taking green valley with lots of water streams and hot springs. Boat trip in quiet and non-fishing lake of Wenchi is something you will remember for long time.
After your visit your driver will bring you to Negash Resort in Wolisso for your overnight stay. The beautiful garden, the unique structure of rooms which represent most of the ethnicities and the indoor and outdoor hot spring swimming pools are good plus to enjoy the evening and night.
Meals: -/L/D
Accommodation: Negash Resort, Wolisso
Day 2
Continue westwards into the green Gurage highlands
Travel: 2 h; 100 km
Hiking: 3 h; 7 km
Driving from Woliso to Gurage will take you about 2 hours. Through passing the towns Welkite and Gubrie we will drive up to the highland of Gurage. You'll start hiking in the beautiful and breath taking villages and landscape of Gurage. Our destination for today, after hiking 2 to 3 hours, is a campsite in a rural area close to a forest and waterfall. In our campsite fresh and delicious dishes will be served as soon as you arrive. First night in the tent.
Meals: B/L/D
Accommodation: Camping
Day 3
Full day hiking past waterfalls and local villages
Travel: -
Hiking: 6-7 h; 13 km
After breakfast we hike further eastwards, witnessing closely the traditional way of life of the Gurage ethnic group. It's yet another spectacular journey for nature lovers. The evergreen hills, the beautiful rivers, the traditional godjo houses in every village and the morning smile of Gurage people are all in one pack ahead of us. Upon arrival in our next host community, you'll have some time to relax, then have dinner and the second night in a tent at a local family's property.
Meals: B/L/D
Accommodation: Camping
Day 4
Last half day trek to reach the road and drive into the Rift Valley
Travel: 2 h; 80 km
Hiking: 3 h; 8 km
Today you will be crossing a green valley and climbing a few 100m uphill on the other side where the vehicle is waiting. Drive down into the Rift Valley to Ziway (2.5 hours). Then driving to Ziway will open another spectacular adventure in the Great African Rift Valley of Ethiopia. We have an option to explore the beauty of one of the lake in the valley during a relaxed walk along the newly built shore promenade. Overnight at Haile Resort on the lake.
Meals: B/L/D
Accommodation: Haile Resort, Ziway
Day 5
Relax on the Rift Valley lake and head back to Addis Ababa
Travel: 3 h; 180 km
Relax and rest in the morning after the hiking adventure. In the late morning, through a boat tour we will witness closely the diversified birdlife and spot some hippos. If you like, you can try some fresh fish for lunch and then return to Addis Ababa through the newly built express way (approx. 3 hours).
Meals: B/L/-
Accommodation: -
Included
Our services include:
all accommodations in double rooms with private toilet/shower in hotels or lodges (mid-range), exception during the trekking: nights in simple huts or tents for 2 persons;
all transfers and travels in Ethiopia with private car (minivan or 4x4);
full board (1 drink per meal included, alcoholic drinks excluded);
all entrance fees and permissions at tourist attractions, churches, museums and national parks;
for the trekking: entrance and camping fees, guide, scouts and rangers, mules and mulemen or porters, cook, cooking and camping equipment (it's recommended to bring your own sleeping bag);
all persons for safety and security (when prescribed);
all tips for meals;
all (mandatory) local guides in the single destinations;
all taxes and administrative fees;
24/7 emergency assistance;
experienced SimienEcoTours Mountain Guide (fluently English & Amharic speaking), other language guide on request with surcharge.
Excluded
Our services do not include:
international flights;
travel insurance;
visa for Ethiopia (currently US$ 82);
alcoholic beverages;
sleeping bag;
tipping;
photo and video fees;
all extras and personal expenses.