Trekking Expedition Gunda Gunde in your private Group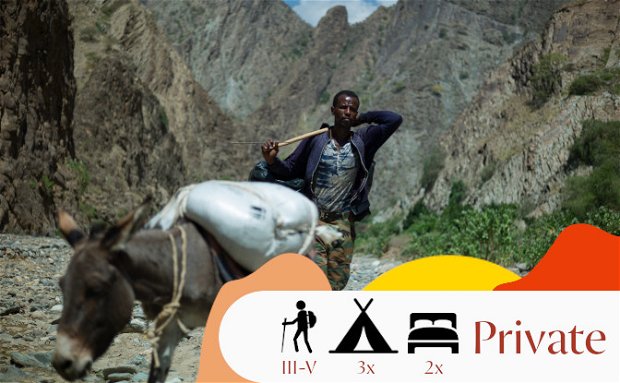 Why not try something truly exceptional? Choose our new itinerary to the unknown Irob land and discover some of the secrets of Ethiopia's far north. Our expedition leads you through the extraordinary mountains of Irob land, close to neighboring Eritrea and the Danakil Depression. Only a few tourists have tried this trekking tour: be among the first to explore this impressive and unexpected part of Ethiopia.
Meet the semi-nomadic and very hospitable Irob people along your trip and stay at their homesteads for 6 days/ 5 nights. Their mountainous homeland is impressive: steep mountains, breath-taking scenery, and especially the 3.200 meters high Mt. Assimba makes this area a perfect and challenging destination for hikers. Along the way, we visit the 14th century Gunda Gunde monastery, once one of the most influential monasteries of Northern Ethiopia. Even today, monks living out of time carefully guard their monastery and its precious possessions including ancient manuscripts.
Returning to Gheralta area in the Tigray highlands, our trip finds comfort and repose at the posh Gheralta Lodge, from where more trekking options and tour extensions are possible. Transport to Mekelle airport included. Optional extension nights at Gheralta Lodge can be organized at our special discount.
Tour code: CU17
Gallery
Itinerary & In/Exclusions
Day 1
Meet your guide at Mekelle Airport and drive to Adigrat
Travel: 2-3 h; 120 km
Individual morning arrival at Mekelle Airport. Meet your guide at Mekelle airport and after a first get-together-lunch transfer to Adigrat for your first overnight in Agoro Lodge.
Along the way lies the Wukro Archaeological Museum which has some nice artefacts from excavations at pre-axumite sites around Tigray region. Its excellent exhibition has been set up by a team of Ethiopian and German archaeologists. After its visit you depart for a short afternoon walk through the Tigray landscape before setting of for the last bit to Adigrat.
Meals: -/L/D
Accommodation: Agoro Lodge or similar, Adigrat
Day 2
Start your adventure trekking
Travel: 3-4h; km: 120 km,
Hiking: 3-4 h, 10 km (difficulty: moderate/medium, altitude difference: ↑100m, ↓500m)
Departure to Irobland. Your 4WD vehicles will bring you to Irob this morning. Heading north you take a turn on a gravel road along the Eritrean border before reaching the administration town of Irob where some paperwork needs to be done before moving onwards to the trailhead near the 3.200 meters high Mt. Asimba.
Landscapes change dramatically. Irobland is at the edge of the Great African Rift Valley and steep mountains and deep valleys make this part of Ethiopia almost inaccessible by roads. Your trek will lead you far away from the known Ethiopia into the traditional world of the semi-nomadic Irob people. At the trailhead you load your luggage on mules and start your first hiking day. Before descending you can have magnicifant views from Mt. Assimba (3.200 m) with views to neighboring Eritrea and the Danakil Depression.
Accompanied by our SimienEcoTours guide as well as a local Irob guide, homesteads of locals are open for you everywhere and you first night will be at a farmers compound half way down into the valley. Meals will be prepared by your cook.
Meals: B/P/D
Accommodation: Community stay with Irob people/ Camping
Day 3
Hike through spectacular scenery to Gunda Gunde Monastery
Hiking: 5 h, 15 km (difficulty: medium/difficult, altitude difference: ↑100m, ↓1.500m)
Enjoy your breakfast in the local Irob homestead where you spent your night. Today you trek deeper into the valley. Today's destination will be the 14th century Gunda Gunde Monastery which is still home to a few monks once one of the most influential monastery of Northern Ethiopia.
First the trail is gently downhill and you are passing by some few Irob homesteads. During the wetter season the Irob people are settling here to grow grain in the their beutifull terraced farmlands along the steep slopes of the mountains. Rest for a picknick and a coffee at a farm and learn more about the semi-nomadic life of the people.
After lunch your trail gets steeper and zigzags down into a narrow river valley. Along the river monks and farmers irrigate a beautifully green oasis and grow juicy oranges and bananas that are all transported on mulebacks to the highlands to supply Tigray region with seasonal fruits. Your trail follows along the irrigated fields and the river. Take a short refreshing dip before reaching Gunda Gunde Monastery where you will spent the night and get the opportunity to see old manuscripts from the 14th century.
Meals: B/P/D
Accommodation: Overnight with the monks in the monastery/ Camping
Day 4
Hiking on old trade routes
Hiking: 5 h, 15 km (difficulty: difficult/challenging, altitude difference: ↑1.000m, ↓100m)
Wake up in the monastery and get another refreshing bath in the river before breakfast. Gunda Gunde lies at 1.200 meters and the only trail to make your way back to the highlands is on the other side of the valley. First you follow the riverbed and the fruit farms for some kilometres. Some little seasonal villages lie along the way that are quite busy this time of the year when harvest is going on.
Spent the morning hours of your hike exploring before your trail leads up into a small side valley and winds up to 2.200 meters where your next host farm is located. Your last night with the Irob is spent in a pleasant homestead again with a local family that lives along the trail where fruits are traded to the highlands.
Meals: B/P/D
Accommodation: Community stay with Irob people/ Camping
Day 5
Move on to Gheralta region
Travel: 2-3 h; 90 km
Hiking: 3-4 h, 9 km (difficulty: medium/difficult, altitude difference: ↑900m, ↓100m)
In the morning you set up the donkeys one last time for the last few kilometres back into the Tigray highlands. Slowly the geological formations of the Great Rift Valley disappear and Tigray's sandstones landscapes take over. Today's hike is comparatively flat but still uphill along a wider trail. After some 4 hours hiking through more populous areas than in the days before you finally reach a gravel road where your cars are waiting you to bring you for a late afternoon relaxing time to the beautiful Gheralta Lodge. The afternoon you are on your own here but there will be also some time to explore one of the rock-hewn churches in the region on your own expenses. We can provide you some assistance to organize it as well. In the evening the lodges provides us some cocktails and a great farewell dinner.
Meals: B/P/D
Accommodation: Gheralta Lodge, Hawzen
Day 6
End of the trip or why not enjoying a bit longer
Travel: 2-3 h; 120 km
Every adventure has to come to an end. This morning you can enjoy to sleep long and have a late breakfast. You definitely deserve it! A late morning shuttle at around 11am brings you to Mekelle airport where your trips ends. Flights back to Addis need to be arranged individually, but we are happy to assist you with your bookings.
Optional: For those ones who have the time to spend some more days in Tigray, we can provide you special rates at Gheralta Lodge. All further activities must be organized on your own. SimienEcoTours can also make you an offer for activities as well.

Meals: B/P/D
Accommodation: ---
Included
Our services include:
all accommodations in twin/double rooms (upon request) with private toilet/shower in hotels or lodges (1x high-range, 1x mid-range); exceptions are 3x camping/community stays during the trek with local dry toilets and no showers (one time bathing in the river);
all transfers and travels from/to Mekelle airport with private car (minivan & 4x4);
full board as per itinerary (1 drink per meal included, alcoholic drinks excluded, lunchboxes during the trekking);
during Irob trekking: local guide, mules, muleman, permits & fees, cook, cooking & camping equipment;
VAUDE 2 persons rental tents;
all entrance fees and permissions as per itinerary;
all persons for safety and security (when mandatory);
all tips for meals;
all taxes and administrative fees;
experienced SimienEcoTours tour guide (fluently English & Amharic speaking).
Excluded
Our services do not include:
domestic & international flights;
additional church entrances in Gheralta region;
sleeping bag & mattress;
travel insurance;
visa for Ethiopia (currently US$ 52);
alcoholic drinks;
other tipping (guides, porters, etc.);
photo and video fees (if any apply);
all extras and personal expenditures.