Highlights of Northern Ethiopia on a Glimpse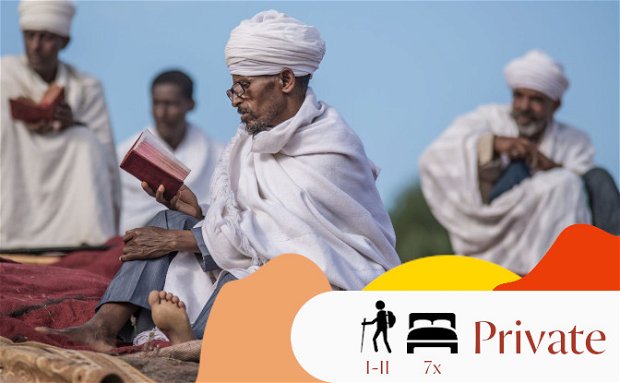 Get a glimpse of Ethiopia's highlights. The North is rich in historical sites within a setting of the highest mountain ranges in Africa. This tour combines the highlights of Northern Ethiopia including the UNESCO World Heritages at Gondar, Axum and Lalibela and the naturally spectacular Simien Mountains National Park.
Accompanied by one of our experienced SimienEcoTours guides (English, Italian, Spanish, French & German available) you will visit Ethiopia's historic capital of Gondar with its 17th century castles, then go for short walks in Ethiopia's highest mountain range and trek along its lofty plateaus, eyes peeled for grazing troops of Simien baboons and other endemics. Move on to see mythical rock-hewn churches in Lalibela carved out solid rock. Discover the ruins of the first great civilisation in East Africa in the city of Axum. And finally, in Gheralta region you will be blown away by the "Arizona" of Ethiopia with its towering red sandstone mountains where rock-hewn churches are hidden in the ostensively unreachable hilltops.
Overnights are spent in wisely selected and mainly beautifully located mid-range to high-range hotels and lodges. Upgrades to more atmospheric lodges in some destinations are possible and highlighted in the itinerary. Talk to our Travel Experts.
Tour code: CU19
Operator: SimienEcoTours
Gallery
Itinerary & In/Exclusions
Day 1
Ethiopia's capital Addis Ababa
Travel: 1 h, 30 km
After your arrival & immigration you will meet with your guide at the airport and you will be transferred to your hotel/lodge for some refreshment. Depending on your arrival time your guide will go on a city tour through Ethiopia's vibrant and lively capital. In the National Museum you can discover the cradle of mankind where the skeleton of "Lucy" is kept. Entoto Mountain with its Eucalyptus forest is a nice short escape out of town to see Mariyam Church and Menelik Palace the place where the Emperors resided. Others might enjoy one of the city's weekly markets. You can choose your itinerary with your guide.
Meals: B/L/D
Accommodation: Zeist Lodge or similar (check-in after 12pm), Addis Ababa
Day 2
Ancient castles of the Gondar time
Flight time: 1 h
Travel: 1 h, 30 km
This morning you will transfer to the airport for your domestic flight to the ancient capital of Gondar. Gondar's 17th century castles are listed as UNESCO World Heritage. After your check in at the hotel you will visit the Royal enclosure with its 5 palaces and then move on to the Debre Birhan Selassie Church (Church of the Holy Trinity) which interior is beautifully decorated with 17th century religious paintings. Truly one of Ethiopia's most beautiful churches.
Meals: B/L/D
Accommodation: Inn of the Four Sisters or similar, Gondar
Day 3
The natural beauty and scenic views of Simien Mountains National Park
Travel: 3-4 h, 130 km
Hiking: 2 h, 4k m (difficulty: easy/moderate, altitude difference: ↑100m, ↓150m)
This morning you will continue your journey into the impressive Simien Mountains. The National Park and UNESCO World Heritage Site was established to protect endemic animals such as the Walia Ibex Capricorn, Ethiopian Wolf, Blood-breasted Baboons and several bird species such as the Thick billed Raven and the Bearded Vulture. The roof of Africa is also home to the highest mountain in Ethiopia - Ras Dashen, at 4,550 metres. On easy walks you will discover changing and overwhelming landscapes, endless views and rugged cliffs at striking vantage points. You will also get to know the already rare afro-alpine flora with juniper, St. John's wort and heather, Kniepofia, tree heather species and the Kosso tree. Overnight in a lodge inside the national park.
Meals: B/L/D
Accommodation: Simien Lodge or similar, Simien Mountain National Park
Day 4
Flight to the holy city of Lalibela with its medieval churches
Flight time: 1 h
Travel: 4-5 h, 160 km
You will return back to Gondar for you domestic flight to the holy city of Lalibela (UNESCO World Heritage Site). Its 12th century eleven rock-hewn churches are truly mysterious as they are chiselled out of solid rock. Legends claim this miracle as the work of angels. You arrive at Lalibela town in the late afternoon for your check in at the hotel. On the way from the airport to town you will have the chance to enjoy views of the Lasta mountains and your guide will show you the Neakto Laab Church out of town which was build inside a cave where holy water drops down from the cliff. Its forest is also a beautiful spot to rest and do some birdwatching.
Meals: B/L/D
Accommodation: Cliff Edge Hotel or similar, Lalibela
Day 5
Legends & myths - rock-hewn churches of Lalibela
Today you are entering the heart of the holy city. On your guided personal tour you walk though the labyrinths of trenches and tunnels to discover the eleven rock churches of Lalibela. Beta Medane Alem ("Church of the World Saviour") and Beta Gyorgis ("St. Geogre Church") are architectural masterpieces counting among the biggest rock churches in Ethiopia. Beta Mariam ("Church of St. Mary") with its beautifull painted interior and its frescoes is not less impressive as the churches of the southern cluster which used to be an old fortress with narrow confusing pathways. You will have a full day to discover these churches in its details before your sunset dinner will be with splendid views in the Lasta Mountains.
Meals: B/L/D
Accommodation: Cliff Edge Hotel or similar, Lalibela
Day 6
Ancient monuments from an extincted empire
Flight time: 1 h
Travel: 1,5 h; 35 km
Today's domestic flight takes you to the former capital of the legendary Axumite Empire (1st century BC to 9th century AD). Axum was once a very rich and powerful city at the crossroads of important ancient trade routes in a fertile and forested region. Today it conveys a rather rural picture, it is dry, hot and dusty. However, its sights are listed as UNESCO World Heritage and among the main attractions of Ethiopia, with many archaeological secrets still waiting to be explored.
You will visit the ruins and monuments of the Axumite Empire with its stelae which served as graves of the ancient kings. The adjoining archeological museum displays an extensive collection of artefacts from the graves under the stelae. 
Meals: B/L/D
Accommodation: Yared Zema Hotel or similar, Axum
Day 7
Ethiopia's hidden rock churches
Travel: 3-4 h, 180 km
Hiking: 2-3 h, 8 km (difficulty: moderate/medium, altitude difference: ↑400m, ↓400m)
You leave Axum eastwards and pass the Adua Mountains before you turn southwards to the Gheralta province. The journey continues along narrow serpentines with deep valleys. The typical rectangular stone houses of the Tigray are omnipresent along the way. In the late morning, you will reach the picturesque Gheralta region near Hawzen, with fantastic views of the sandstone massifs rising out of the flat landscape. After your lunch you will start a steep hike up the Gheralta Mountain to enjoy panoramic views from its top and the colourfully painted Mariam Korkor Church. You are flexible to choose easier hikes as well: Discuss with your guide if a hike though the flat Papaseti Valley with its nice Mariam Papaseti Church might be the better alternative for the less fit among you.
Meals: B/L/D
Accommodation: Gheralta Lodge or similar, Hawzen
Day 8
Archeological Museum in Wukro and return home
Flight time: 1.5 h
Travel: 3-4 h, 100 km
On a short drive through epic landscapes you will be transferred to the airport in Mekelle. On your way lies the well sorted archeological museum of Wukro which will give you an overview of the pre-axumite times in Ethiopia (7th century to 1st century BC). One of its spectacular artifacts is an almost completely preserved 2.500 years old sacrificial altar. A domestic flight will take you then back to the capital of Addis Ababa. After a nice traditional farewell dinner you will be transferred to the airport.
Meals: B/L/D
Accommodation: ---
Included
Our services include:
all (4) domestic flights in Ethiopia with Ethiopian Airlines (Addis Ababa-Gondar, Gondar-Lalibela, Lalibela-Axum, Mekelle-Addis Ababa), Note: If the international flight is with a carrier other than Ethiopian Airlines, there will be a supplement of US$ 320 for the domestic flights;
all accommodations in double rooms with private toilet/shower in hotels or lodges (2x high-range, 5x mid-range);
all transfers and travels in Ethiopia with private car (minivan & 4x4);
full board (1 drink per meal included, alcoholic drinks excluded);
all entrance fees and permissions at tourist attractions, churches, museums and national parks;
all persons for safety and security (when prescribed);
all tips for meals;
all (mandatory) local guides in the single destinations;
all taxes and administrative fees;
24/7 emergency assistance;
experienced SimienEcoTours Tour Guide (fluently English & Amharic speaking), other language guide on request with surcharge.
Excluded
Our services do not include:
international flights;
travel insurance;
visa for Ethiopia (currently US$ 52);
alcoholic beverages;
tips;
photo and video fees (if applicable);
all extras and personal expenses.